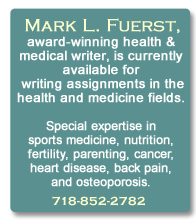 Welcome

On your next project, why not take advantage of my 30-plus years of experience, honing the craft of highest quality writing. My award-winning work includes professional and consumer newsletters, magazines, books, and websites.
My areas of expertise include Fertility, Parenting, Sports Medicine, Nutrition, Back Pain, Heart Disease, Osteoporosis, and Cancer.
I look forward to working with you. To see samples please click on the links below.