If you have heart failure and practice Tai Chi, you'll feel better about your life, your mood will lift, and you'll be more likely to keep on exercising.
Those are the results of the largest study of the effects of Tai Chi on heart failure, reported this week in the Journal of the American Medical Association.
"The multi-component nature of Tai Chi – the combination of physical exercise, stress reduction, and social support – along with its integration of multiple body systems makes it an ideal way to prevent and rehabilitate heart disease," says one of the co-authors of the study, Peter Wayne, PhD. Director of Tai Chi and Mind-Body Research Programs, Harvard Medical School's Osher Research Center.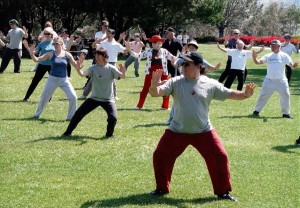 "Tai Chi can potentially prevent and aid the management of heart disease by providing a form of aerobic exercise, more efficient breathing, improved circulation, greater muscle strength, stress reduction, mood elevation, and encouragement of behavior changes."
Heart failure is a particularly hard disease to live with due to the shortness of breath and low energy that results from the heart's inability to pump enough blood. "Historically, patients with chronic systolic heart failure were considered too frail to exercise and, through the late 1980s, avoidance of physical activity was a standard recommendation," writes the authors, led by Harvard's Gloria Yeh, MD, MPH.
The Harvard researchers recruited 100 people with chronic heart failure and randomly assigned half of them to receive a 12-week Tai Chi program designed specifically for heart failure. The other half got a heart health education program.
The Tai Chi program involved some traditional warm-up exercises, including arm swinging, gentle stretches, breathing, and visualization techniques.
Then patients learned five simple movements adapted from Master Cheng Man-Ch'ing's Yang-style Tai Chi, which the Harvard researchers have subsequently used in other clinical trials, all funded by the National Institutes of Health.
The patients also received an instructional videotape, and were encouraged to practice Tai Chi at home at least 3 times a week.
After 12 weeks, the patients in the Tai Chi group showed greater improvements in quality of life, in feelings of well-being, and in the confidence to perform exercise-related activities, compared with the education group.
Importantly, more than three-quarters of the participants came to the Tai Chi classes and many continued to practice Tai Chi at home when the researchers checked up on them 6 months later.
"This tells us that Tai Chi is enjoyable and can be safely incorporated into regular activities, even if you have chronic heart disease," says Wayne.
One Response to "Tai Chi Good for the Heart"