If you run into breathing problems when you exercise, you may have what sports medicine doctors call exercise-induced asthma.

Asthma attacks usually result from exposure to environmental factors, but they may be induced by exercise.
Mild symptoms can be managed by reducing the intensity of exercise or with the help of an inhaler.
To prevent an attack, take a slow, prolonged warm-up and a longer, but slightly less vigorous aerobic activity period.
An inhaler can be used before exercise, if necessary.
If you are participating in an organized sport or activity, let the coach or instructor know of your condition.
Also make sure someone knows the location of your inhaler and whom to call in case of an emergency.
The American College of Allergy, Asthma and Immunology (ACAAI) has developed a new, free, easy-to-use online tool to help track your asthma symptoms.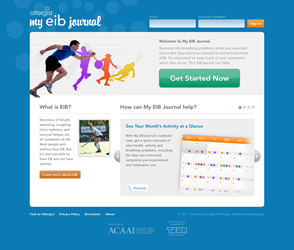 Whether you're training for the Olympics or simply trying to stay in shape, you can get access to detailed reports and statistics that will help you and your allergist best manage your condition.
With MyEIBJournal.org you can keep a daily log of exercise, symptoms, and medication use and create personalized, detailed reports and statistics that can be printed and shared with your allergist.
The tool is also accessible through mobile devices.
Most people with asthma have exercise-induced asthma, but it's also possible to have exercise-induced asthma and not have asthma.
An allergist can diagnose and treat both conditions, and treatment will depend on how serious symptoms are and whether you have exercise-induced asthma with or without asthma.
Athletes with exercise-induced asthma can exercise safely by using the same bronchodilating drugs prescribed for asthma of other origins.
The ACAAI kicked off its annual Nationwide Asthma Screening Program in May.
This public service campaign, which is designed to identify adults and children who are at risk for undiagnosed or uncontrolled asthma, continues throughout the year.