A number of lifestyle factors play a role in a man's fertility.
About 25% of the time, a man could have avoided infertility by being more aware of lifestyle choices that can harm sperm, says male fertility expert Marc Goldstein, MD, in a new article in the Wall Street Journal about the surprising causes of male infertility.
The article highlights certain lifestyle factors, specifically an adolescent groin injury, cigarette smoking, heavy drinking, intense cycling, and even using a laptop directly on the lap.
In A Baby at Last!, Dr. Goldstein and co-author Zev Rosenwaks, MD, fertility experts at New York Presbyterian/Weill Cornell Medical College, provide a list of lifestyle factors that can impair a man's fertility.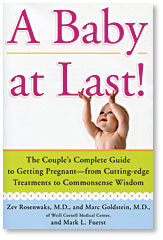 These include:
–smoking cigarettes
–heavy drinking
–stress
–excessive weight
–exposure to heat
–recreational drug use
–sexually transmitted diseases
–genital infections that lead to sperm busters called antisperm antibodies
–drugs to improve sexual performance
–health kicks such as too-strenuous exercise
On Dr. Goldstein's Cornell Institute for Reproductive Medicine website, he describes "10 Tips to a Fertile Lifestyle" that provide guidelines on how a man can maintain his fertility.
In their book, the two fertility doctors suggest what a man and a woman can do to "upgrade" their fertility.
Their take-home messages for men are:
• To optimize your chances of producing viable sperm, live a fertile lifestyle: don't smoke, limit your drinking, minimize stress, be physically active, maintain a healthy weight, eat lots of fresh fruits and leafy, green vegetables, take fertility-enhancing vitamins, and avoid recreational drugs.
• Protect yourself from damage from sexually transmitted diseases.
• If you take prescription medications regularly or you need cancer therapy, talk with your doctor about strategies to preserve your sperm.
• Reduce your exposure to environmental hazards.
• If you are a man, avoid activities that raise the temperature of your testicles, ask your doctor for help with erectile problems, and don't take hair-growth pills.
Adopting these healthy lifestyle habits, and avoiding negative habits, will help preserve your fertility and increase your chances of fathering a child.
2 Responses to "Some Surprising Causes of Male Infertility"