October 7th, 2011 |

Author:
Mark
I can't wait to play golf this weekend now that I've read Slice-Free Golf by Brian Crowell.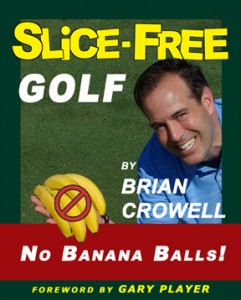 I met Brian, who is the PGA Head Golf Professional at GlenArbor Golf Club in Bedford Hills, NY, last Monday at a charity golf tournament, the FR Male Memorial Golf Classic, at Westchester Hills Country Club.
Part of the goodie bag was a copy of the Slice-Free Golf book.
Brian, who is also a golf analyst and commentator on television and radio, was on hand for a pre-round demonstration of his well-thought-out program to banish the "banana ball" — the golfer's way of describing a slice.
In his easy-going, and amusing, style, he showed the 130 golfers how to set up, swing, and release the club to hit a gently curving draw, the opposite of a slice.
The one drill that struck me was his third-eye drill, where he placed a large eye on his chest and showed us how the third eye (and your chest) should point behind the ball at impact.
I spoke to Brian at the cocktail hour after the round, and he told me his easy-to-follow program "allows you to maintain your individual style, provides fast results, leads to permanent changes, and is 100% successful."
He also counseled me how to avoid a golf injury:
"Don't stretch until you have warmed-up and try to avoid hitting balls off a mat, which can be hard on a slicer's hands and arms."
I've now read through the entire book's 25 drills and plan to put them into practice this weekend.
I'm hoping to avoid those slices from the rough that ended my team's chances to win the Male tournament.
As Brian writes in the book, I'm now prepared "to hit shots that you wouldn't have thought possible and get ready to have more FUN!"

Posted in
Books
,
Sports Injury
|

Tags:
brian crowell
,
glenarbor golf club
,
golf injury
,
pga
,
slice-free golf