Special neuromuscular warm-up exercises done before soccer and basketball practices can help teenage female athletes reduce their number of leg injuries.
Almost 1 million teenage girls play high school soccer and basketball each year.
But an estimated 1 out of 3 sustains a soccer- or basketball-related sports injury.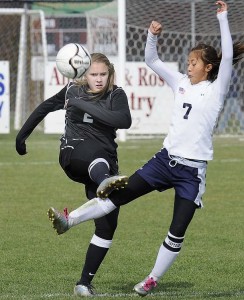 Knee injuries are the most common cause of permanent disability in female high school basketball players, accounting for up to 91% of season-ending injuries and 94% of injuries requiring surgery, according to researchers at Northwestern University in Chicago.
They invited 258 coaches from Chicago Public Schools to participate in a study to see whether a specialized warm-up program could reduce lower extremity injuries.
Overall, 90 coaches and 1,492 athletes, predominantly from low-income, urban populations, participated in the study, which was reported in the November issue of the Archives of Pediatrics & Adolescent Medicine.

Coaches in the intervention group attended a 2-hour training session 2 weeks prior to the start of the 2006-2007 season.
After learning how to implement a 20-minute neuromuscular warm-up before team practices and a shorter pregame version, the coaches in the intervention group used the prescribed warm-up before an average of 80% of practices.
The control coaches stuck to their standard warm-up protocol, including no warm-up exercises and having athletes jog or warm up on their own.
The results show that athletes in the intervention group had about half as many lower extremity injuries (50) as those in the control group (96).
And those in the neuromuscular warm-up group had a 34% decrease in non-contact ankle sprains as compared to the control group.
The neuromuscular training program combined progressive strengthening with plyometric, balance, and agility exercises.
Coaches instructed the female athletes on how to land softly, without excessive side-to-side movement and with flexed hips and knees.
One outstanding question is whether coaches will continue to implement this warm-up consistently for several seasons, or whether retraining will be needed.
I've got a personal interest since my 14-year-old daughter Sarah just finished her first season as a starter on the varsity soccer team, and began basketball practice yesterday.
I plan to send the school's athletic director the results of this study and a PDF of a similar type of training program that has been shown to enhance performance and prevent injuries.