I know how to read a food label, and I make sure to shop the outer aisles of my local grocery store to obtain fresh produce and meats.
(I do boldly go into the middle for my kids' favorite cereals).
I always take a scribbled note with me on what to buy, but lately I've been thinking there must be a better way.
Enter ShopWell 2.0.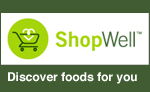 This week a free iPhone App went live to so that you can take a personalized, healthy grocery list mobile.
Grocery lists created on the ShopWell website are automatically synced to the app, and foods scanned at the store aisle or in the kitchen pantry can be added right into the lists.
You can now access all the information you need to make informed choices in the store, when you need it most.
I like the way ShopWell highlights specific points on nutrition labels to reveal not only what foods work well for you, but also which ones don't.
It also recommends consumption frequency with an easy to understand numerical score and a simple color-coded system based on your own pre-specified criteria:
• Green foods are a strong match and are okay to eat in normal portions
• Yellow foods are a medium match, so make sure to read the label carefully
• Red foods are a weak match, so should be occasional treats
"The sheer number of aisles in most grocery stores can be overwhelming for people–let alone how many products are in each one and how much information is included on food packages," says Marci Harnischfeger MS RD, ShopWell's in-house Registered Dietitian.
"Add constant shifts in diet trends and the amount of information and advice out there on how and what to eat, and suddenly grocery shopping can be intimidating and confusing.
People want to make good choices for themselves and their families, ShopWell makes it easy to do that."
Now not only can I have a digitized shopping list on hand, but I really feel like I have the backing of an expert with me while I shop.