Despite increasing awareness about concussion dangers for young athletes, a new national survey reveals 90% of men who played tackle football at the high school level or higher who suffered or suspected they suffered a concussion want their sons to play tackle football.
Not only that, nearly half (43%) believe there is too much hype over concussions.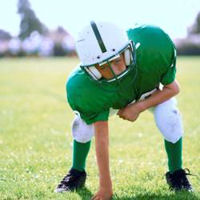 Of all football-playing dads polled, 77% say tackle football is safe for children under age 12 even though more than 3 in 5 of these dads suffered a concussion themselves during their playing days.
And even more surprising, dads say most moms (61%) agree with them that tackle football is safe for young athletes.
The survey of 300 dads who played tackle football at the high school level or higher, was commissioned by the non-profit arm of i9 Sports, the nation's first and fastest growing youth sports franchise.
Other survey results show:
• 53% of football dads say kids who play tackle sometimes think getting a concussion "is cool" or "a status symbol" that means you are "tough and play hard."
• More than 1 in 3 football dads (36%) say their son's competitive youth sports coach (any sport) is more interested in a win over safe play.
• Almost 1 in 5 football dads (19%) say despite concussion awareness, there have been no noticeable changes to the policies and procedures of youth sports.
"The startling results of this survey show even though concussion awareness is permeating youth sports today, often parents, young players and even coaches don't heed the warnings," says Brian Sanders, COO and President of i9 Sports, which has more than 550,000 members at 275 locations across the country.
"It's scary to us that dads who suffered concussions encourage their young sons to play tackle football at a young age.
Studies show a concussion can be more dangerous for young athletes because their brains are still developing."
To help ensure the health and safety of young athletes, the Centers for Disease Control has developed the "Heads Up: Concussion in Youth Sports" initiative to offer information about concussions to coaches, parents, and athletes involved in youth sports.
The Heads Up initiative provides important information on preventing, recognizing, and responding to a concussion.
"Because we're getting better at recognizing the symptoms, we are seeing more kids come into our clinics who've been hit in the head and are complaining of concussion symptoms," said Steevie Carzoo, ATC, a certified athletic trainer with Sports Medicine at Nationwide Children's Hospital.
To make sure concussions are handled properly by everyone involved in a child's life, experts at Nationwide Children's Hospital have developed one of the first, most comprehensive concussion toolkits available.
At a single internet site, there is information for everyone from athletes to parents, from teachers and counselors, to coaches and school administrators.
Children and teens are more likely to get a concussion, and take longer to recover, than adults.
Their symptoms may appear mild, but the injury can lead to significant time lost from school and even impairment that affects memory, behavior, learning, and emotions.
Appropriate diagnosis, management, and education are critical for helping young athletes with a concussion recover quickly and fully.