If you're a man who exercises mostly on the weekend, a so-called "Weekend Warrior," you have a higher risk of rupturing your Achilles tendon while playing sports than other Americans.
Kobe Bryant, the Los Angeles Lakers star basketball player who ruptured his Achilles tendon earlier this month, is in good company, according to a new study of Achilles tendon injuries in the US.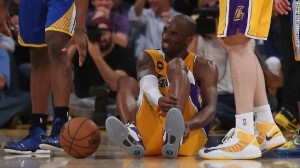 Basketball leads to about 1/3 of all Achilles ruptures in the US, followed by tennis (9%) and football (8%), report researchers in the April issue of Foot & Ankle International.
They reviewed 406 records from patients diagnosed with Achilles tendon injuries from August 2000 to December 2010.
On average, the patients who ruptured their Achilles tendon were 46 years old, mostly men (83%), and were injured playing sports (more than 2/3rds).
Older patients (over age 55) and those whose body mass index (BMI) was greater than 30 (considered obese) were more likely to have non-sports related causes and were more likely to not have been diagnosed correctly until more than one month after the injury.
More than 1/3 of the tendon ruptures not caused by sports occurred at work.
When the diagnosis was missed, it was usually because the initial diagnosis was an ankle sprain.
"Delayed diagnosis and treatment have been shown to result in poorer outcomes," says lead author Steven Raikin, MD, of the Rothman Institute in Philadelphia, PA.
"Older individuals, and those with a higher BMI, should be evaluated carefully if they have lower leg pain or swelling in the Achilles tendon region."
Re-rupture of the same tendon occurred in 5% of the group, and 6% of the study's population had previously ruptured the other leg's tendon.
The study supports previous findings that an Achilles tendon rupture on one leg increases the likelihood of a rupture on the other leg.
When the same tendon was re-ruptured, 85% of those injuries had not been treated surgically earlier.
Signs of an Achilles Rupture
One sign of an Achilles rupture is the inability to stand on your toes.
However, this test is not completely reliable.
Also, when you walk, your foot may turn out to the side.
A ruptured Achilles tendon can be confused with a partial rupture because it may cause little pain at first.
In fact, an Achilles rupture is quite often misdiagnosed.
The only foolproof way to know if you have ruptured this tendon is to lie on your stomach with your foot off the end of a bed, toes pointing down, and have someone squeeze your calf.
The front of the foot normally will move down.
If there is no flex in the foot, then the tendon is torn.
You can also compare the two legs.
Squeeze the uninjured leg first to observe the flexing movement, and then squeeze the injured leg to see whether it moves.
As this new study shows, if you injure your Achilles tendon, getting to a doctor sooner than later will speed your recovery.
When my sister-in-law Carol Peerce died suddenly at age 49 exactly three years ago, it was discovered that radiation-induced heart disease likely led to her heart attack and eventual death.
It turns out the radiation therapy to treat her Hodgkin's lymphoma 30 years previously had damaged Carol's heart.
At my wife Margie's suggestion, I looked into this condition and sure enough found medical evidence that radiation, and chemotherapy, given to Hodgkin's lymphoma patients put them at risk for later heart problems.
Then I found out that my friend Patrick Shaw, a contractor I knew in East Hampton, was one of these patients as well.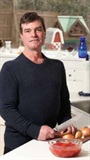 Pat had been diagnosed with Hodgkin's lymphoma at age 29 and received multiple sessions of radiation therapy and chemotherapy that included heart-toxic anthracyclines.
Little did he know that the radiation therapy and chemotherapy he received to cure his cancer would scar his heart and lead him to have several silent, near-deadly heart attacks and a stroke 20 years later.
Pat's story, and the heart risks of cancer therapies, are the basis of the cover story for the just released May 2013 issue of Heart Insight magazine.
Heart Risks from Radiation Therapy
Many people survive their cancers, but end up dying of cardiovascular disease.
Among Hodgkin's lymphoma patients who have received radiation, cardiovascular disease is one of the most common causes of death.
Studies have shown that these patients have an increased risk for coronary artery disease, heart valve disease, congestive heart failure, pericardial disease (disease of the heart lining), and sudden death.
The basic mechanism appears to be radiation-induced damage to the lining of blood vessels.
Compared to the general population, Hodgkin's lymphoma patients have higher heart risks if they were treated before age 21 or had radiation to the central part of the chest, which increases the risk of death from a fatal heart attack by 1.5 to 3 times.
In addition, a woman who received chest radiation therapy for breast cancer has a 63% increased risk of cardiac death.
With improvements in radiation techniques, including smaller amounts of radiation aimed at specific body areas, the risk of cardiovascular complications has declined.
But patients treated through the mid-1980s have a higher risk of congestive heart failure and heart valve problems.
Pat's cardiologist, Ronald Drusin, MD, Professor of Clinical Medicine at New York-Presbyterian Hospital, says: "If you had chest radiation for lymphoma in the central part of the chest and have chest pains or tightness and shortness of breath, you should be evaluated by a cardiologist."
Road to Recovery
For Pat, Dr. Drusin decided that stents to reopen the blocked coronary arteries in his heart were a better choice than bypass surgery because of radiation-induced scarring in Pat's heart.
Pat felt better after the procedure, although his recovery was complicated by a stroke.
Today, Pat's prognosis is fine, says Dr. Drusin "as long as he takes good care of himself, which he does."
Pat is back to work and now pays close attention to his exercise and diet.
As the family chef, he cooks heart-healthy meals containing more whole grains and vegetables, no salt and fewer processed foods.
He checks his blood pressure regularly and takes daily medications, a beta-blocker and baby aspirin, to keep his heart healthy.
On weekends he stays busy with his three sons' lacrosse games and other activities, including his favorite hobby, building bird houses.
Pat has some simple advice to anyone with symptoms of heart disease:
"As soon as you are not feeling well, get to a doctor," he says.
"You have to be proactive.
You are in charge of your own heart."
That's particularly true if you had radiation or chemotherapy to treat a cancer when you were younger.
It's official! The Harvard Medical School Guide to Tai Chi:12 Weeks to a Healthy Body, Strong Heart & Sharp Mind is now available in book stores and online book sellers, including Amazon.com and Barnes&Noble.com.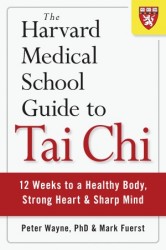 Conventional medical science on the Chinese art of Tai Chi now shows what Tai Chi masters have known for centuries: regular practice leads to more vigor and flexibility, better balance and mobility, and a sense of well-being.
Cutting-edge research from Harvard Medical School also supports the long-standing claims that Tai Chi also has a beneficial impact on the health of the heart, bones, nerves and muscles, immune system, and the mind.
This research provides fascinating insight into the underlying physiological mechanisms that explain how Tai Chi actually works.
Dr. Peter M. Wayne, a longtime Tai Chi teacher and a researcher at Harvard Medical School, developed and tested protocols similar to the simplified program he includes in this book, which is suited to people of all ages, and can be done in just a few minutes a day.
This book includes:
• The basic program, illustrated by more than 50 photographs
• Practical tips for integrating Tai Chi into everyday activities
• An introduction to the traditional principles of Tai Chi
• Up-to-date summaries of the research literature on the health benefits of Tai Chi
• How Tai Chi can enhance work productivity, creativity, and sports performance
Peter M. Wayne, PhD, is Assistant Professor of Medicine at Harvard Medical School and the Director of Research for the Osher Center for Integrative Medicine, jointly based at Harvard Medical School and Brigham and Women's Hospital.
Prior to this appointment, Dr. Wayne served as the Director of Tai Chi and Mind-Body Research Programs at the Osher Research Center and Founding Research Director at the New England School of Acupuncture.
He has more than thirty-five years of training experience in Tai Chi and Qigong and is an internationally recognized teacher of these practices.
It was an honor to work with such a renowned Tai Chi teacher and researcher to put together this new book.
I can honestly say my life is richer, and my mind and body certainly more relaxed, from having practiced Tai Chi over the past 3 1/2 years as I worked with Dr. Wayne on the book.
A simple blood test may be able to identify football players who have suffered brain damage from hits to the head, even if they don't have a concussion.
Much attention is being paid to concussions among football players and the big hits that cause them.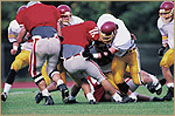 No single test can reliably diagnose a concussion, said Jeffrey Kutcher, MD, of the University of Michigan in Ann Arbor, at a recent press conference to announce the just-released, newly updated guidelines on sports concussions by the American Academy of Neurology.
Concussions can be difficult to diagnose, relying on player symptoms, cognitive tests, or very costly brain scans.
A $40 blood test for a protein, called S100B, normally found only in the brain may offer an objective measure of whether a player has endured head trauma.
Researchers at the Cleveland Clinic and University of Rochester have found that elevated blood levels of the S100B protein directly correlate to the number and severity of hits to the head during college football games.
Body contact or simply playing in a football game did not affect S100B levels in the players.
In an interview with the lead author, Damir Janigro, Ph.D., professor of molecular medicine and the director of cerebrovascular research group at Cleveland Clinic, he gave me
a scenario of how the blood test may be used.
"In a situation where a player is suspected of having a concussion, we could validate that by a blood test the following day," says Janigro.
"If the test is positive for S100B, we can assume the player had some concussive event.
If the blood test is normal, we can assume the player did not have a concussion."
In effect, the blood test could tell whether the player needs medical attention as a result of the in-game hits to the head.
In a study of 67 college football players, Janigro and colleagues found that the more hits to the head a player absorbed, the higher the levels of S100B leaked into the bloodstream after a head injury.
Typically, S100B is found only in the brain, says Janigro.
Finding it in the blood indicates damage to the layer of cells that prevent materials from the blood from entering the brain, the so-called blood-brain barrier.
Once in the bloodstream, S100B is seen by the immune system as a foreign invader, triggering an autoimmune response that releases auto-antibodies against it.
Those antibodies then seep back into the brain through the damaged blood-brain barrier, attacking brain tissue and leading to long-term brain damage.
Four of the football players tested showed signs of an autoimmune response to S100B.
Brain scans confirmed that the presence of S100B antibodies in the players' blood correlated with brain tissue damage.
"To our surprise, even when players don't have a concussion, the blood-brain barrier opens," says Janigro, adding that many European countries do blood tests for S100B to diagnose mild traumatic brain injury.
Janigro and colleagues Nicola Marchi, Ph.D., of the Cleveland Clinic and Jeffrey Bazarian, M.D., M.P.H., of the Clinical and Translational Science Institute at the University of Rochester Medical Center, published their research on March 6, 2013, in the online journal PLOS ONE.
"And to our surprise a few of the non-concussed players had changes in brain scans and balance tests after the season," says Janigro, noting that these players had the most openings in the blood-brain barrier.
With further tests, Janigro says he plans to figure out at what blood level of S100B players should stop playing to prevent further brain damage.
He also plans to look at former college football players and retired National Football League players to see whether they have S100B autoantibodies in the brain.
"It's a matter of brain health," says Janigro. "We don't have a good experimental design to look at brain health, other than scans."
He hopes to use the blood test to point out the risk factors associated with hits to the head as well as a pre-screening tool to narrow down those who may need to go for a brain scan to confirm a brain injury.
Dietary supplements are often perceived as band aids for poor lifestyle choices, including imbalanced nutrition, lack of exercise, and deficient sleep patterns. However, tales abound of people who took ill or died after using dietary supplements.
A few weeks ago USPlabs, the developer and marketer of Jack3d, a powder containing a stimulant that marketers say increases strength, speed, and endurance, was sued by the family of a soldier who died after taking the product. The suit, which also includes GNC, which sold the product, claims that the companies deceptively marketed Jack3d as safe and effective while not warning consumers about its potential health risks.
Federal regulations for dietary supplements are very different from those for prescription and over-the-counter drugs. A dietary supplement manufacturer does not have to prove a product's safety and effectiveness before it is marketed.
You will soon be able to find information on safe and legal performance-focused supplements in a book written by Kimberly Mueller, a registered dietitian and board-certified specialist in sport dietetics, and strength and conditioning coach Josh Hingst. Their upcoming book is The Athlete's Guide to Sports Supplements (Human Kinetics, June 2013).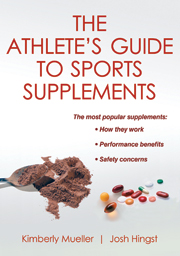 In the book, Mueller offers 5 tips that all athletes should follow when taking a supplement:
1. Talk with your health-care provider before making a decision. Be selective about where and from whom you gather information. Speak with a health-care provider, such as a doctor or pharmacist, about the potential benefits as well as safety risks of dietary supplements before taking anything.
2. Become familiar with reputable online resources for supplements. An online search of dietary supplements will likely lead to a plethora of often conflicting, usually unqualified information. A good place to start is the National Institutes of Health's Office of Dietary Supplements, which includes publications (such as "Dietary Supplements: What You Need to Know") and fact sheets on a variety of specific supplement ingredients and products.
3. Look for clean supplements. Several reviews of supplements available from the Internet and retail stores have confirmed that many supplements are laced with steroids and stimulants, which are prohibited for use in sports. If you are thinking about using a dietary supplement, make sure an independent testing lab has proven that the contents actually match what is printed on the label, there are no ingredients that are not openly disclosed on the label, and there are no unacceptable levels of contaminants present.
4. Learn how to read supplement labels. A dietary supplement label lists essential information about the product. Always read the label and follow directions for use.
5. Know how to report fraudulent supplements or adverse reactions. If you experience an adverse reaction to a dietary supplement, immediately contact your health-care provider and make sure the problem is reported directly to the FDA.
It's impossible to ignore the prevalence of dietary supplement use in athletics. And there are legitimate reasons for an athlete to use supplements in coordination with a well-balanced diet, says Mueller. It's up to you to educate yourself about supplements and use them safely and wisely.
Tai Chi can enhance balance, lower blood pressure, and improve mood, which are all important for stroke survivors.
People who have had strokes often suffer damage to the parts of the brain that help in maintaining balance.
Many people who suffer these problems with balance are more prone to falling and injuring themselves.
A handful of studies have evaluated Tai Chi as a rehabilitation exercise for stroke survivors.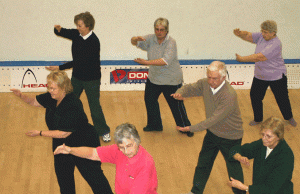 Now Arizona researchers have found that stroke survivors who learned Tai Chi had fewer falls compared with those who participated in an exercise program for older adults or those who received usual care to help them recover from a stroke.
"Learning how to find and maintain your balance after a stroke is a challenge," said Ruth E. Taylor-Piliae, Ph.D., R.N., the study's principal investigator and Assistant Professor at the University of Arizona College of Nursing in Tucson, AZ.
"Tai Chi is effective in improving both static and dynamic balance, which is important to prevent falls."
Taylor-Piliae presented the results of the study at the recent American Stroke Association's International Stroke Conference 2013 in Honolulu.
The study included 89 stroke survivors, average age 70, who had suffered a stroke an average of 3 years prior to enrolling in the study.
The researchers randomly assigned the stroke survivors to one of three groups.
One third received Tai Chi instruction for 12 weeks.
Another third took a 12-week SilverSneakers® exercise class that focused on improving muscle strength and range of movement.
A third group received weekly follow-up phone calls along with written information encouraging them to be physically active.
The Tai Chi and SilverSneakers® classes met three times a week for an hour-long workout.
During the 12-week study, the researchers found that the Tai Chi group had the fewest number of falls (5) compared to those in the usual care group (15) and in the SilverSneakers® group (14).
Only four people who fell required medical treatment.
"The main physical benefits of Tai Chi are better balance, improved strength, flexibility, and aerobic endurance," Taylor-Piliae said.
"Psycho-social benefits include less depression, anxiety and stress, and better quality of life."
Previous studies have shown that Tai Chi may help improve clinical measurements of balance, for example, the ability to maintain balance or to reach and lean both forward and backwards.
"What's noteworthy about this small, but strong, study is the researchers measured actual falls, and showed that Tai Chi translated into a reduction in falls," says Peter Wayne, PhD, Assistant Professor of Medicine, Harvard Medical School, and Director of Research, Osher Center for Integrative Medicine at Brigham and Women's Hospital and Harvard Medical School, and author of the upcoming The Harvard Medical School Guide to Tai Chi.
Wayne and his colleagues, as well as other researchers, have shown that Tai Chi improves balance and the gait of people with various neurological conditions.
New studies are now underway to study Tai Chi in Parkinson's disease.
"Tai Chi training has the potential to translate into practical improvement in daily activities," says Wayne.
"It can help people get stronger and more flexible, and improve balance, including those with severe neurological injuries.
Tai Chi also reduces the fear of falling, which helps promote a more active lifestyle."
So the bottom line is that Tai Chi not only helps you feel better and have better balance, but you are less likely to fall.
Young, active athletes with anterior cruciate ligament (ACL) injuries can rehabilitate their damaged knees and avoid reconstructive surgery.
In 2010, researchers from Lund University in Sweden reported that 60% of all ACL reconstructions could be avoided in favor of rehabilitation with experienced physiotherapists.
The study made waves around the world, and the results were met with concerns that they would not hold up in the long term.
Now a 5-year follow-up confirms that reconstructive surgery does not provide better results than physiotherapy, according to a new report in the British Medical Journal.
Half of the 120 patients, average age 26, were randomly assigned to early ACL reconstruction and the other half were given the option of having a delayed ACL reconstruction, if needed.
Half of the patients assigned to delayed ACL reconstruction had reconstructive surgery after experiencing symptoms of instability.
"In this study, there was no increased risk of osteoarthritis or meniscal surgery if the ACL injury was treated with physiotherapy alone compared with if it was treated with surgery.
Neither was there any difference in patients' experiences of function, activity level, quality of life, pain, symptoms, or general health," says lead author Richard Frobell.
In southern Sweden, Lund and his colleagues have been working to use advanced rehabilitation training as the first method of treatment.
"Our research so far has confirmed that we are right in not choosing to operate on these injuries immediately," says Lund.
"These results should encourage clinicians and young active adult patients to consider rehabilitation as a primary treatment option following an acute ACL tear."
He points out that half of the 10,000 scientific publications addressing the ACL are about surgical treatment.
However, none of these studies have shown that surgical reconstruction produces better results than rehabilitation alone.
Despite this, American surgeons perform 200,000 ACL surgeries each year.
I know that if my 19-year-old son rips up his ACL snowboarding, I will strongly suggest he rehab it before going under the knife.
The night before her most recent junior varsity basketball game, my daughter Sarah, age 15, was worried.
She had tickets with a friend to see the boy-band One Direction at Madison Square Garden, and was afraid she would be up very late.
"I'll probably be too tired to play. I hope I don't fall down and hurt myself during the game," she lamented.
And she was right to worry.
Older high school athletes who don't get a good night's sleep are the most prone to sports injuries.
On the other hand, adolescent athletes who sleep 8 or more hours each night are 68% less likely to be injured than athletes who regularly sleep less, according to new research presented at the American Academy of Pediatrics National Conference recently.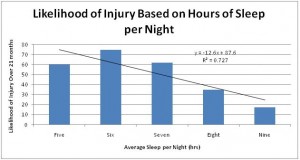 Other studies have shown that lack of sleep can affect cognitive skills and fine motor skills, but "nobody has really looked at this subject in terms of the adolescent athletic population," said lead author Matthew Milewski, MD of the Children's Orthopaedic Center, Children's Hospital of Los Angeles, Los Angeles, CA.
"When we started this study, we thought the amount of sports played, year-round play, and increased specialization in sports would be much more important for injury risk," said Dr. Milewski.
Instead, "what we found is that the two most important facts were hours of sleep and grade in school."
He suggests that older athletes may accumulate a higher injury risk after playing 3 or 4 years at the high school level.
In addition, older athletes are bigger, faster and stronger, and therefore more likely to suffer a sports injury.
In the study, the researchers asked middle and high school athletes from grades 7 to 12 enrolled at the Harvard-Westlake School in Studio City, CA, to answer questions about the number of sports they played and the time they committed to athletics, both at school and through other programs, whether they used a private coach, whether they participated in strength training, how much sleep they got on average each night, and how much they subjectively enjoyed their athletic participation.
Some 70% of the student athletes (112 out of 160 students; 54 males and 58 females; mean age 15) completed the survey, conducted in conjunction with Children's Hospital of Los Angeles.
Researchers then reviewed those students' school records pertaining to reported athletic injuries.
The study showed that hours of sleep per night was significantly associated with a decreased likelihood of injury.
In addition, the higher the grade level of the athlete, the greater the likelihood of injury – 2.3 times greater for each additional grade in school.
Injury was not significantly associated with gender, weeks of participating in sports per year, hours of participation per week, number of sports, strength training, private coaching and subjective assessments of "having fun in sports."
The researchers concluded "adolescents may benefit from additional sleep as they get older to help reduce the risk of injury during sports."
As it turns out, Sarah got to bed at 11 p.m. – earlier than usual – after the concert (which she said was "cool").
The next day, she played nearly all of the basketball game, scoring 6 of the Brooklyn Friends School team's 24 points, in a losing, but injury-free, effort.
Want to help keep your weight under control, improve your balance and range of motion, strengthen your bones, protect your joints, prevent bladder control problems, and even ward off memory loss?
Who wouldn't? Then try these 5 workouts recommended by Harvard Medical School:
1. Swimming.
You might call swimming the perfect workout.
The buoyancy of the water supports your body and takes the strain off painful joints so you can move them more fluidly.
"Swimming is good for individuals with arthritis because it's less weight bearing," explains Dr. I-Min Lee, professor of medicine at Harvard Medical School.
Research finds that swimming can improve your mental state and put you in a better mood.
Water aerobics is another option to help you burn calories and tone up.
2. Tai Chi.
Tai chi — a Chinese martial art that incorporates movement and relaxation — is good for both body and mind.
In fact, it's been called "meditation in motion."
Tai chi is made up of a series of graceful movements, one transitioning smoothly into the next.
"Tai chi often leads to more vigor and energy, greater flexibility, balance and mobility, and an improved sense of well being," says Peter Wayne, PhD, Director of Research, Osher Center for Integrative Medicine Brigham and Women's Hospital and Harvard Medical School, and author of the upcoming book, The Harvard Medical School Guide to Tai Chi.
"Cutting-edge research now lends support to long-standing claims that Tai Chi has a favorable impact on the health of the heart, bones, nerves and muscles, immune system, and the mind."
Tai chi is accessible, and valuable, for people of all ages and fitness levels.
"It's particularly good for older people because balance is an important component of fitness, and balance is something we lose as we get older," Dr. Lee says.
3. Strength training.
If you believe that strength training is a macho, brawny activity, think again.
Lifting light weights won't bulk up your muscles, but it will keep them strong.
"If you don't use muscles, they will lose their strength over time," Dr. Lee says.
Muscle also helps burn calories.
"The more muscle you have, the more calories you burn, so it's easier to maintain your weight," says Dr. Lee.
4. Walking.
Walking is simple yet powerful.
It can help you stay trim, improve cholesterol levels, strengthen bones, keep blood pressure in check, lift your mood and lower your risk for a number of diseases (diabetes and heart disease for example).
A number of studies have shown that walking and other physical activities can improve memory and resist age-related memory loss.
5. Kegel exercises.
These exercises won't help you look better, but they do something just as important — strengthen the pelvic floor muscles that support the bladder.
Strong pelvic floor muscles can go a long way toward preventing incontinence.
While many women are familiar with Kegels, these exercises can benefit men too.
To do a Kegel exercise correctly, squeeze and release the muscles you would use to stop urination or keep from passing gas.
Alternate quick squeezes and releases with longer contractions that you hold for 10 seconds, release, and then relax for 10 seconds.
Work up to three 3 sets of 10-15 Kegel exercises each day.
Many of the things we do for fun (and work) count as exercise.
Raking the yard counts as physical activity.
So does ballroom dancing and playing with your kids or grandkids.
As long as you're doing some form of aerobic exercise for at least 30 minutes a day, and you include two days of strength training a week, you can consider yourself an "active" person.
As an unprecedented number of Americans approach old age, there is a growing concern about the loss of cognitive function that is often attributed to aging.
By around age 70 1 in 6 people have mild cognitive decline.
Mild cognitive decline is considered an intermediate state between the cognitive changes of aging and the earliest clinical features of dementia, particularly Alzheimer's disease.
The good news is that due to your brain's plasticity you may be able to improve your cognitive function and offset age-related decline through exercise, stress reduction, learning new tasks, staying socially active, and learning how to focus better — all integral elements of Tai Chi training.
"A body of studies on Tai Chi and cognitive function lend support to the promise of Tai Chi for your brain and mind's health," says Peter Wayne, PhD, Assistant Professor of Medicine, Harvard Medical School Director of Research, Osher Center for Integrative Medicine Brigham and Women's Hospital and Harvard Medical School, and author of The Harvard Medical School Guide to Tai Chi.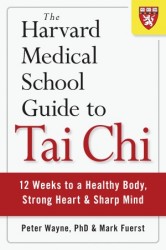 This ancient form of slow, meditative exercise helps to create mental activity, and scientists believe it may be possible to delay the onset of Alzheimer's disease.
November is National Alzheimer's Disease Awareness Month, and although there is no cure for the disease, a study published in the June issue of the Journal of Alzheimer's Disease revealed that elderly people practicing Tai Chi just three times a week can boost brain volume and improve memory and thinking.
Scientists from the University of South Florida and Fudan University in Shanghai found increases in brain volume and improvements on tests of memory and thinking in Chinese seniors who practiced Tai Chi three times a week.
The 8-month randomized controlled trial compared those who practiced Tai Chi to a group who received no intervention.
The same trial showed increases in brain volume and more limited cognitive improvements in a group that participated in lively discussions three times per week over the same time period.
"The ability to reverse this trend with physical exercise and increased mental activity implies that it may be possible to delay the onset of dementia in older persons through interventions that have many physical and mental health benefits," said lead author Dr. James Mortimer, professor of epidemiology at the University of South Florida College of Public Health.
Dr. Wayne notes that other randomized trials have evaluated Tai Chi in adults diagnosed with moderate levels of dementia.
In one large Chinese trial, a group assigned to Tai Chi showed greater improvements in cognitive performance after five months than a group assigned to a stretching and toning program, and fewer of those in the Tai Chi group progressed to dementia.
In a smaller study at the University of Illinois, a group of adults with dementia showed small increases in mental ability and self-esteem after 20 weeks of a combination of Tai Chi, cognitive behavioral therapies, and a support group as compared to an education group, who had slight losses of mental function.
"Interestingly, a follow-up companion study reported benefits of Tai Chi training to the caregivers of people with dementia," says Dr. Wayne.
"Tai Chi may offer specific benefits to cognition, but more larger-scale trials that also include longer follow-up periods are needed to make stronger conclusions."