Archive for the 'Fitness' Category
Despite Coca-Cola's new effort to shift the blame for obesity away from bad diets, now there's more evidence that shows continued consumption of sugar-sweetened beverages leads to a greater likelihood of developing type 2 diabetes.
An international team of researchers set out to assess whether habitual consumption of sugar-sweetened drinks, artificially sweetened drinks, or fruit juice was associated with the incidence of type 2 diabetes.
They conducted a systematic review and meta-analysis of 17 studies to estimate the 10-year risk attributable to sugar-sweetened drinks in the US and UK.
2 Million New Cases of Diabetes in US from Sugary Beverages

The researchers estimated that 2 million new cases of type 2 diabetes would occur in the US and 80,000 new cases in the UK between 2010 and 2020 related to the consumption of sugar-sweetened beverages.
After adjustments for body weight, even for thin or normal weight persons, 1 sugary drink per day was associated with a 13% increased risk of type 2 diabetes.
The association between artificially sweetened drinks or fruit juice and type 2 diabetes was less evident.
The researchers suggested that substituting sugar-sweetened drinks with artificially sweetened drinks or fruit juice is unlikely to be the best strategy in reducing the risk of type 2 diabetes.
So what drink should you choose?
Water or other unsweetened beverages are the better options.
Even though men are more likely to be overweight than women, men are not getting the weight-loss services they need.
Recent data from Britain is easily applied to the US, and around the world.
Using a Freedom of Information request, the Men's Health Forum in Britain asked local authorities how many people had been helped by their weight-loss programs in 2013-2014.
The results show 110,324 women as compared with 29,919 men, suggesting that a woman is 277% (3½ times) more likely to get help with weight loss than a man, according to a news release.
Two-thirds of men in Britain are overweight or obese as compared with 57% of women.
Shocking Figures

"These figures are pretty shocking," said Martin Tod, CEO of Men's Health Forum.
"We want to see local councils making much bigger efforts to design their services to work for men.
This is particularly important because men account for three-quarters of premature deaths from coronary heart disease—and middle-aged men are twice as likely as women to get diabetes."
According to a recent publication from the Men's Health Forum, How To Make Weight-Loss Services Work For Men, there are several reasons for the gender gap.
These include poor advertising or marketing, services that are inappropriate or unattractive to men, and unsuitable venues or times.
Here is a summary of the highlights from the forum guide on what works with weight-loss for men:
Key lessons
1. Obesity prevention and treatment should take into account sex and gender-related differences.
2. Weight reduction for men is best achieved and maintained with the combination of a reducing diet, advice on physical activity, and behavior change techniques.
Men prefer more factual information on how to lose weight and more emphasis on physical activity than women.
3. Men-only groups may enhance effectiveness.
Group-based interventions should also provide some individual tailoring and individual feedback to male participants.
4. Weight-loss programs for men may be better provided in social settings, such as sports clubs and workplaces, which may be more successful at engaging men.
No Strict Diets, Please

In general, men express a dislike of "strict" diets.
Intermittent periods of dieting may be more effective for men than regular periods of dieting.
► Men particularly enjoy the use of pedometers to monitor their physical activity.
► Men prefer interventions that are individualized, fact-based, flexible, use business-like language, and include simple to understand information.
► Men are less likely than women to do well using the drug Orlistat to help long-term weight-loss maintenance.
► Men differ from women when it comes to encouraging them and maintaining participation in weight-loss programs.
Men are significantly less likely than women to join a weight-loss program, but once recruited they are less likely than women to drop out.
► Middle-aged men in particular, are more motivated to lose weight once they become aware that they have a health problem, for example, being diagnosed as "obese" by a health care professional.
Understanding the health benefits of losing weight can act as a motivator for men, for example, knowing that weight loss may prevent the development of type 2 diabetes mellitus or that weight reduction may improve erectile function.
If you have heart disease, you may want to find a physical activity that you can easily maintain.
The slow-paced "meditation in motion" of Tai Chi may be just what the doctor ordered.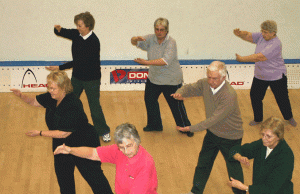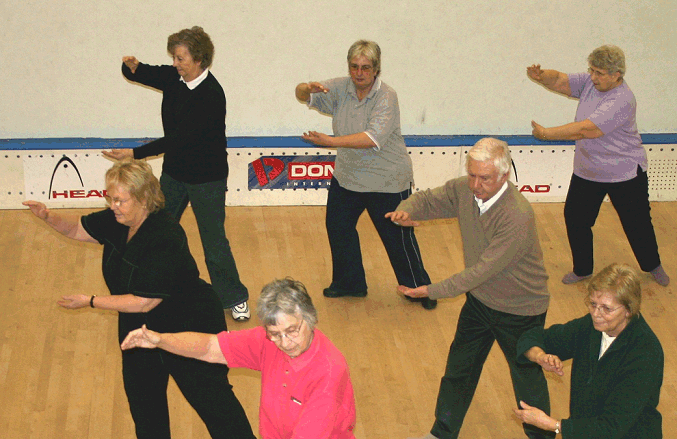 Based on the existing evidence, Tai Chi is a promising addition to regular heart care.
Cardiac rehabilitation programs are, unfortunately, underused.
"Tai Chi may be a good option for those unable or unwilling to engage in other forms of physical activity, or as a bridge to more rigorous exercise programs in frail patients," says Peter Wayne, Ph.D., assistant professor of medicine at Harvard Medical School and the director of research for the Osher Center for Integrative Medicine, jointly based at Harvard Medical School and Brigham and Women's Hospital in Boston.
"If your doctor says you have borderline high blood pressure and you are not certain you want to begin drug therapy, a non-pharmacological approach such as Tai Chi may be a way to keep your blood pressure in check.
If you have established high blood pressure and find it difficult to engage in a regular exercise regimen, again, think about using Tai Chi to aid the treatment program your doctor has designed for you."
Regular physical activity, including Tai Chi, has beneficial effects on many risk factors for heart disease, such as high blood pressure, high cholesterol levels and pre-diabetes, says Ruth E. Taylor-Piliae, Ph.D., R.N., associate professor and Robert Wood Johnson Foundation nurse faculty scholar alumna at the University of Arizona's College of Nursing in Phoenix, where she conducts Tai Chi research.
"Regular physical activity promotes weight reduction, which can help reduce high blood pressure.
Exercise can lower total LDL, or "bad", cholesterol levels, as well as raise HDL, or "good", cholesterol levels," she says.
"Among those with pre-diabetes, regular exercise can aid the body's ability to use insulin to control blood glucose levels."
Importantly, all studies to date suggest that Tai Chi may be safe for heart patients.
It may offer you additional options, whether in addition to a formal cardiac rehab program, as a part of maintenance therapy or as an exercise alternative.
Young men who undertake endurance exercise for more than 5 hours a week may increase their risk of developing an irregular heart rhythm later in life, according to the results of a new study.
"Physical activity contributes to prevention of several diseases, and in general is good for the well-being of your body and mind.
However, frequent high-intensity exercise during many years could increase the risk for atrial fibrillation (AF)," lead author Dr Nikola Drca, Department of Cardiology, Karolinska Institute, Karolinska Hospital, Stockholm, Sweden, said in an interview.
The increase in risk is real, but quite small, he added.
The researchers presented their results online in the May 14, 2014, issue of the journal Heart.
RISK FACTOR FOR STROKE
In the Swedish study, the researchers quizzed more than 44,000 men aged 45 to 79 years about their leisure-time physical activity patterns at the ages of 15, 30, 50, and during the past year, when their average age was 60.
They tracked the participants' heart health for an average of 12 years from 1997 onward to gauge how many developed AF, which is a known risk factor for stroke.
The men who had exercised intensively for more than 5 hours a week were 19% more likely to have developed AF later in their lives than those exercising for less than 1 hour a week.
The level of risk rose to 49% among those who did more than 5 hours of exercise a week at the age of 30, but who subsequently did less than an hour by the time they were age 60.
But those who cycled or walked briskly for an hour a day or more at age 60 were about 13% less likely to develop AF than those who did virtually no exercise at all.
MODERATION, MODERATION, MODERATION
"It seems that moderate doses of physical activity are enough to get the positive effects without acquiring the negative effects, while these benefits are lost with very high intensity and prolonged efforts," Dr. Drca noted.
There are several possible mechanisms by which frequent endurance exercise could increase the risk for AF, he said.
These include enlargement of the left atrium, enlargement of and left ventricular hypertrophy, inflammatory changes in the left atrium, and an increase in the activity of the parasympathetic nervous system.
"In our study, the men who had the highest risk of developing atrial fibrillation were those who were very physically active when they were young, but stopped being physical active.
I think that moderate intensity regular physical activity that you continue throughout your life is the best way to maximize the benefits obtained by regular exercise while preventing undesirable effects."
He added: "Physical inactivity and a sedentary lifestyle is a far bigger problem in the general population than excessive physical activity.
However, frequent high-intensity exercise during many years is associated with an increased risk of AF."
Older men who have high blood pressure can lower their risk of death with even moderate amounts of exercise, according to a new study.
"To substantially reduce his risk of death, an elderly man needs to walk briskly for 20 to 40 minutes a day, 4 to 6 times per week," lead author Charles Faselis, MD, Chief and Associate Professor of Medicine at George Washington University School of Medicine and Health Sciences (SMHS) in Washington, DC, said in an interview.
At the moment, only about 25% to 30% of older men engage in a brisk walk of 20 to 40 minutes most days of the week, Dr. Faselis noted.
BENEFITS OF A BRISK WALK
For the study, researchers assessed the fitness status of more than 2150 men with hypertension, aged 70 years and older, using a standard treadmill exercise test.
The researchers published their results online in the May 12, 2014 issue of Hypertension.
They used metabolic equivalents (METs)—equal to the amount of oxygen the body uses per kilogram of body weight per minute—to determine the men's peak fitness levels.
One MET is the amount of energy expended at rest; anything above that represents work.
The researchers categorized the men as very low fitness, low fitness, moderate fitness, and high fitness.
"To put this in perspective, the peak MET level of a sedentary 50-year-old is about 5 to 6 METs," said Dr. Faselis.
"For a moderately fit individual, it's about 7 to 9 METS, and for a highly fit person, it's 10 to 12 METs."
After an average follow-up of 9 years, the researchers found that the risk of death was 11% lower for every 1-MET increase in exercise capacity.
Compared with least-fit men (up to 4 peak METs), the risk of death was 18% lower in those in the low-fit category (4.1 to 6 peak METs), 36% lower in the moderately fit men (6.1 to 8 peak METs), and 48% lower in the high-fit men (peak METs of more than 8).
"A regular brisk walk most days of the week is a safe, effective form of exercise.
Most health benefits are realized at this exercise level.
More vigorous exercise is not required," said senior author Peter Kokkinos, PhD, Professor at Veterans Affairs Medical Center, Georgetown University School of Medicine and George Washington University SMHS.
He added that an exercise stress test is highly recommended for patients before they engage in any exercise program.
Also, doctors should check with the patient periodically and encourage him to maintain exercise, he said.
"PHYSICAL ACTIVITY AWARENESS" CAMPAIGN
"The evidence supporting exercise-related health benefits for all ages is overwhelming," Dr Kokkinos said.
"Physical activity is an inexpensive way to improve health.
It can easily be implemented for most populations at any age.
Yet, we are in the midst of a physical inactivity epidemic.
Health-care providers can help change all this by simply taking a few minutes to discuss physical activity with their patients."
Dr. Faselis added: "The responsibility of promoting physical activity should not stop with the health care provider.
In this digital age, where inactivity is fostered, the time has come for a 'Physical Activity Awareness' campaign nationwide."
Aerobic exercise improves cardiorespiratory fitness in patients with stroke, and also may have a beneficial effect on their brain function as well as help them improve recovery of motor function, according to the results of a new study.
Aerobic exercise elicits a variety of positive effects in people of all ages.
Recently, researchers have found significant improvements in aerobic exercise capacity among stroke patients who underwent a structured cycling exercise program.
"The effects of aerobic exercise may serve to prime the central nervous system in individuals with stroke to create an environment optimal for neuroplasticity (the brain's ability to reorganize itself)," Susan Linder, a research physical therapist at the Cleveland Clinic in Cleveland, told a packed poster session at the American Academy of Neurology annual meeting in Philadelphia.
"Our work in individuals with Parkinson's disease indicates that forced exercise administered via a motor-assisted stationary bicycle results in increased cortical activation and improved motor and non-motor function when compared to voluntary exercise," Linder said.
The precise mechanism responsible for improvements in patients with Parkinson disease is unknown, but Cleveland Clinic researchers hypothesize that aerobic exercise increases concentrations of brain-derived neurotrophic factor (BDNF), a protein released in the CNS that facilitates long-term enhancement of signals within the brain and promotes growth of dendrites, which are branched filaments in nerve cells.
"Pairing aerobic exercise with upper extremity repetitive task practice in individuals with stroke may exploit the neuroplasticity properties associated with BDNF and optimize motor learning," said Linder.
IMPROVED MOTOR OUTCOMES

She reported the results of a study of 14 patients who had a stroke within the previous 6 to 12 months.
They were randomized into 3 groups.
One group performed a 45-minute session of aerobic exercise at a forced rate within their heart rate range on an exercise cycle, followed by 45 minutes of repetitive task practice with hands or arms.
The second group performed the same exercises but exercised at their own rate.
The third group did no aerobic exercise and performed two 45-minute sessions of upper extremity exercises.
All participants exercised 3 times a week for 8 weeks, and they were able to complete the cycling protocol with modifications for fatigue.
All were able to achieve hundreds of repetitions with repetitive task practice.
"Motor outcomes are trending in a positive direction for all groups, but the group who performed forced rate exercise displayed the most consistent improvements," Linder said, noting that the control group had twice the amount of time doing upper extremity exercises.
"We also saw improvement in depression and quality of life in the aerobic exercise group trending toward favorable."
Linder added, "We know that aerobic exercise can help stroke patients' physical fitness.
Is there a neuroplasticity effect?
We hope that the byproduct of aerobic exercise is reduced amounts of rehabilitation time as well as doses that lead to better motor outcomes for stroke patients."
The Cleveland Clinic researchers are expanding their research to include 75 patients and will add in neurological examinations.
Said Linder, "We plan to look at changes in structure of connectivity within the brain using imaging and resting MRI to see whether areas of brain regrow and improve neural connections with aerobic exercise."
Good cardiovascular health may help preserve memory and thinking skills into middle age, according to the results of a new study.
"The brain health of young adults shows benefits from cardio fitness activities.
Interestingly, for those who currently have low fitness, even activities at moderate intensity are likely to be beneficial.
For couch potatoes, it's just getting moving," said David R. Jacobs, Jr, PhD, Professor, School of Public Health, Division of Epidemiology & Community Health at the University of Minnesota, MN.
"The brain, like all organs, is highly vascularized," he said.
"Factors that affect the health of the vascular system are likely to affect the health of the brain.
There is substantial evidence that many cardiovascular disease risk factors also reduce chronic low grade inflammatory conditions."
The researchers published their results online on April 2, 2014 in the journal Neurology.
TREADMILL AND COGNITIVE TESTS
For the study, more than 2700 healthy persons, average age 25 years, underwent treadmill tests in the first year and then again 20 years later.
Cognitive tests conducted 25 years after the start of the study measured verbal memory, psychomotor speed (the relationship between thinking skills and physical movement), and executive function.
Those who had smaller decreases in their time completed on the treadmill test 20 years later were more likely to perform better on the executive function test than those who had bigger decreases.
"Of course, the executive function, memory skill, and speed of processing that we studied in relation to treadmill test–based fitness are not the same as real life situations," said Dr. Jacobs.
"However, the standardized testing is useful and can be considered to represent 'thinking skills.'
Other studies in older individuals have shown that these tests are among the strongest predictors of developing dementia in the future."
Dr. Jacobs noted that many chronic diseases have their roots many years before clinical manifestation.
"It is logical that people who experience mild losses of cognitive function are at risk for dementia," he said.
"This has been shown at older ages.
However, we do not know whether the 'thinking skills' that we measured will lead to the more severe manifestations that are devastating our elderly population."
He continued: "It will take further follow-up over another 10 to 20 years to discover empirically whether the cognitive losses that we measured are in fact a risk for dementia.
DIMINISHED 'THINKING SKILL' IN MIDDLE AGE

At minimum, I speculate that people who suffer less 'thinking skill' in middle age do not function as effectively in society as people who remain sharp."
The study pointed out how middle age (defined as age 43 to 55 years) and elderly chronic disease in the brain may have roots in lifestyle behaviors during youth.
Dr. Jacobs noted that the current study does not address whether improving fitness would reduce the loss of cognitive function.
"Fitness performance on a symptom-limited treadmill test is dependent on many factors, including vigorous activity, musculoskeletal health, general robustness, smoking, adiposity, and social participation," he said.
"This is not the same as a group activity that requires exercising or just moving around.
However, encouraging patients to exercise and in general to maintain an active, engaged lifestyle may help forestall cognitive loss, among other benefits."
Men who played a varsity sport in high school tend to be physically active into their 70s, and therefore healthier, according to the results of a new study.
"Organized sports foster better health and fitness in old age," says lead author Dr Simone Dohle of ETH Zurich, Department of Health Science and Technology.
The researchers analyzed a unique data set of 712 healthy US men, average age 78 years, who had passed a rigorous physical exam in the 1940s and who were surveyed 50 years later (in 2000).
Their physical activity level after 50 years was correlated and regressed across a wide number of demographic, behavioral, and personality variables from when they were 50 years younger.
The single strongest predictor of later-life physical activity was whether a man played a varsity sport in high school, in particular, football, basketball, baseball, or track and field; this also was related to fewer self-reported visits to the doctor.
The researchers published their results in the December 1, 2013 issue of BMC Public Health.
"I believe that it is important that physicians specifically target physical activity in preventive counseling, combined with suggestions for exercise or physical activity, and information on how to start an exercise routine or where to find a sports or fitness club," says Dr. Dohle.
"When a physician takes down a patient's medical history, it would be crucial to assess physical activity levels too," she continues.
"In addition, a physician could encourage a patient by highlighting that physical activity is one of the most effective ways to prevent chronic diseases."
Physicians need to keep in mind, however, that every patient has his own needs, abilities, and constraints, Dr. Dohle says.
"Find an activity that ensures long-time involvement and that the patient enjoys."
The findings also offer some compelling reasons to maintain or enhance high school athletic programs, even in an era of shrinking school budgets.
Dr. Dohle says, "It has been noted that physical education classes may be the only opportunity for many to engage in weekly physical activity. School-based organized sports should be preserved because they contribute to later physical activity levels and decrease the risk factors for early morbidity."
She suggests that perhaps there are more cost-effective ways to maintain sports programs without eliminating them.
For younger patients, physicians need to ask about physical activity, including time spent playing outside or participation in organized sports, Dr. Dohle states.
"Parents and other caregivers play a role in encouraging them to be active and should be involved in this discussion.
It might be that other forms of relatively vigorous exercise and physical education classes could be promoted across grade levels," she notes.
"They need not concentrate on competition but rather on enjoyment, and on the benefits of and ways to stay physically active over the lifespan."
Less competitive students can be steered toward noncompetitive activities, such as dance, weight lifting, and martial arts, Dr. Dohle suggests.
If you're out in the sun playing tennis or golf, jogging or cycling, you need to protect your skin from the damaging ultraviolet rays.
Newly revised sunscreen labels should make it easier for you to make a smart choice on which products to use.
The Food and Drug Administration (FDA) now requires that labels must provide information about whether a sunscreen will protect against skin cancer in addition to sunburn, and will also have to indicate whether a sunscreen is water-resistant, which is what you want if you're exercising outside.
To reduce your risk of skin cancer and early aging, the American Academy of Dermatology recommends using a sunscreen with the following features listed on the label:
— Broad spectrum, which means the sunscreen protects against ultraviolet B (UVB) and ultraviolet A (UVA) rays.
— A sun protection factor (SPF) of 30 or higher.

SPF 15 is the FDA's minimum recommendation for protection, but the academy recommends an SPF of at least 30.
— Water-resistant for up to either 40 or 80 minutes.

This means the sunscreen provides protection while swimming or sweating for the length of time listed on the label.
Available sunscreen options include lotions, creams, gels, ointments, wax sticks, and sprays.
— Creams are best for dry skin and the face.
— Gels are good for hairy areas, such as the scalp or male chest.
— Sticks are good to use around the eyes.
Sunscreen should be applied liberally, and should be reapplied every 2 hours and after swimming or excessive sweating, according to the National Council on Skin Cancer Prevention.
Dermatologists recommend the equivalent of a shot glass full of sunscreen per application.
Sunscreens that are not water resistant must include a direction instructing consumers to use a water resistant sunscreen if swimming or sweating.
Karthik Krishnamurthy, DO, chief dermatology consultant with the Melanoma Program at Montefiore Einstein Center for Cancer Care, offers the following tips for the summer season:
• Give skin the once-over.
Just one full-body skin check by a physician can be a lifesaver.
Additionally, monthly self-exams from the top of the head to the soles of the feet are highly effective in detecting early warning signs of melanoma, such as a mole that looks different.
"I remind patients of the 'ABCDE' rule to detect changes in a mole: A is for asymmetry, B is for border, C is for color, D is for diameter, and E is for evolving," says Krishnamurthy.
"Any suspicious-looking moles or moles that have changed shape or color should be looked at by a physician as soon as possible."
• Know your risk.
Just one blistering sunburn, even in childhood, is enough to substantially increase your lifelong risk for melanoma.
Other risks include frequent sunbathing or indoor tanning, and a family history of melanoma.
"Fair-skinned individuals with red or blond hair and light-colored eyes are also at higher risk," says Krishnamurthy.
• Don't assume darker skin makes you immune.
A survey of 1,000 Hispanic adults in New York and Miami conducted by Krishnamurthy showed alarming misconceptions about perceived risk.
Nearly half believed those with darker skin cannot get skin cancer.
"This is very concerning because although melanoma is less common in darker-skinned individuals, there is a higher risk of late diagnosis with advanced melanomas and lower survival rates," he says.
Another way to prevent skin cancer is to wear protective clothing, such as a broad-brimmed hat to protect the back of the neck and ears, which are highly susceptible areas.
Darker clothes and hats block more dangerous ultraviolet rays than light-colored ones, but you have to balance out heat problems.
A light-colored cotton shirt has an SPF of about 8.
The bottom line: choose the best sunscreen for you and use it early and often to protect your skin before you head out to play your chosen sport.
Want to help keep your weight under control, improve your balance and range of motion, strengthen your bones, protect your joints, prevent bladder control problems, and even ward off memory loss?
Who wouldn't? Then try these 5 workouts recommended by Harvard Medical School:
1. Swimming.
You might call swimming the perfect workout.
The buoyancy of the water supports your body and takes the strain off painful joints so you can move them more fluidly.
"Swimming is good for individuals with arthritis because it's less weight bearing," explains Dr. I-Min Lee, professor of medicine at Harvard Medical School.
Research finds that swimming can improve your mental state and put you in a better mood.
Water aerobics is another option to help you burn calories and tone up.
2. Tai Chi.
Tai chi — a Chinese martial art that incorporates movement and relaxation — is good for both body and mind.
In fact, it's been called "meditation in motion."
Tai chi is made up of a series of graceful movements, one transitioning smoothly into the next.
"Tai chi often leads to more vigor and energy, greater flexibility, balance and mobility, and an improved sense of well being," says Peter Wayne, PhD, Director of Research, Osher Center for Integrative Medicine Brigham and Women's Hospital and Harvard Medical School, and author of the upcoming book, The Harvard Medical School Guide to Tai Chi.
"Cutting-edge research now lends support to long-standing claims that Tai Chi has a favorable impact on the health of the heart, bones, nerves and muscles, immune system, and the mind."
Tai chi is accessible, and valuable, for people of all ages and fitness levels.
"It's particularly good for older people because balance is an important component of fitness, and balance is something we lose as we get older," Dr. Lee says.
3. Strength training.
If you believe that strength training is a macho, brawny activity, think again.
Lifting light weights won't bulk up your muscles, but it will keep them strong.
"If you don't use muscles, they will lose their strength over time," Dr. Lee says.
Muscle also helps burn calories.
"The more muscle you have, the more calories you burn, so it's easier to maintain your weight," says Dr. Lee.
4. Walking.
Walking is simple yet powerful.
It can help you stay trim, improve cholesterol levels, strengthen bones, keep blood pressure in check, lift your mood and lower your risk for a number of diseases (diabetes and heart disease for example).
A number of studies have shown that walking and other physical activities can improve memory and resist age-related memory loss.
5. Kegel exercises.
These exercises won't help you look better, but they do something just as important — strengthen the pelvic floor muscles that support the bladder.
Strong pelvic floor muscles can go a long way toward preventing incontinence.
While many women are familiar with Kegels, these exercises can benefit men too.
To do a Kegel exercise correctly, squeeze and release the muscles you would use to stop urination or keep from passing gas.
Alternate quick squeezes and releases with longer contractions that you hold for 10 seconds, release, and then relax for 10 seconds.
Work up to three 3 sets of 10-15 Kegel exercises each day.
Many of the things we do for fun (and work) count as exercise.
Raking the yard counts as physical activity.
So does ballroom dancing and playing with your kids or grandkids.
As long as you're doing some form of aerobic exercise for at least 30 minutes a day, and you include two days of strength training a week, you can consider yourself an "active" person.