Archive for the 'Nutrition' Category
Even though men are more likely to be overweight than women, men are not getting the weight-loss services they need.
Recent data from Britain is easily applied to the US, and around the world.
Using a Freedom of Information request, the Men's Health Forum in Britain asked local authorities how many people had been helped by their weight-loss programs in 2013-2014.
The results show 110,324 women as compared with 29,919 men, suggesting that a woman is 277% (3½ times) more likely to get help with weight loss than a man, according to a news release.
Two-thirds of men in Britain are overweight or obese as compared with 57% of women.
Shocking Figures

"These figures are pretty shocking," said Martin Tod, CEO of Men's Health Forum.
"We want to see local councils making much bigger efforts to design their services to work for men.
This is particularly important because men account for three-quarters of premature deaths from coronary heart disease—and middle-aged men are twice as likely as women to get diabetes."
According to a recent publication from the Men's Health Forum, How To Make Weight-Loss Services Work For Men, there are several reasons for the gender gap.
These include poor advertising or marketing, services that are inappropriate or unattractive to men, and unsuitable venues or times.
Here is a summary of the highlights from the forum guide on what works with weight-loss for men:
Key lessons
1. Obesity prevention and treatment should take into account sex and gender-related differences.
2. Weight reduction for men is best achieved and maintained with the combination of a reducing diet, advice on physical activity, and behavior change techniques.
Men prefer more factual information on how to lose weight and more emphasis on physical activity than women.
3. Men-only groups may enhance effectiveness.
Group-based interventions should also provide some individual tailoring and individual feedback to male participants.
4. Weight-loss programs for men may be better provided in social settings, such as sports clubs and workplaces, which may be more successful at engaging men.
No Strict Diets, Please

In general, men express a dislike of "strict" diets.
Intermittent periods of dieting may be more effective for men than regular periods of dieting.
► Men particularly enjoy the use of pedometers to monitor their physical activity.
► Men prefer interventions that are individualized, fact-based, flexible, use business-like language, and include simple to understand information.
► Men are less likely than women to do well using the drug Orlistat to help long-term weight-loss maintenance.
► Men differ from women when it comes to encouraging them and maintaining participation in weight-loss programs.
Men are significantly less likely than women to join a weight-loss program, but once recruited they are less likely than women to drop out.
► Middle-aged men in particular, are more motivated to lose weight once they become aware that they have a health problem, for example, being diagnosed as "obese" by a health care professional.
Understanding the health benefits of losing weight can act as a motivator for men, for example, knowing that weight loss may prevent the development of type 2 diabetes mellitus or that weight reduction may improve erectile function.
Improve your overall diet quality and you will lower your risk of type 2 diabetes mellitus, independent of adopting other healthful behaviors, including increased physical activity and body weight loss, according to the results of a new study.
In an analysis of 3 large cohort studies of men and women by researchers at the Harvard School of Public Health, those who improved their diet quality index scores by 10 percent over 4 years reduced their risk for type 2 diabetes by about 20% compared to those who made no changes to their diets.
"We found that diet was indeed associated with diabetes independent of weight loss and increased physical activity," said lead author Sylvia Ley, PhD, RD, a post-doctoral fellow at the Harvard School of Public Health, at the American Diabetes Association's 74th Scientific Sessions®.
"If you improve other lifestyle factors you reduce your risk for type 2 diabetes even more, but improving diet quality alone has significant benefits."
She noted that it is often difficult for people to maintain a calorie-restricted diet for a long time.
"We want them to know that if they can improve the overall quality of what they eat – consume less red meat and sugar-sweetened beverages, and more fruits, vegetables and whole grains – they are going to improve their health and reduce their risk for diabetes," Dr Ley said.
Lifestyle changes, including individually tailored, macronutrient composition focused, calorie-restricted interventions, can prevent or delay type 2 diabetes among those at high risk, according to randomized controlled trials.
However, it is unclear whether improving overall diet quality by itself is associated with reduced risk of diabetes among healthy adults.
DIET QUALITY CHANGES LOWER RISK

Dr. Ley and colleagues investigated the association between diet quality changes during a 4-year period and subsequent 4-year type 2 diabetes risk, and simultaneous changes in multiple lifestyle factors on that risk (Abstract 74-OR).
They prospectively followed more than 148,000 participants without diabetes at baseline in the Nurses' Health Study (1986-2006), Nurses' Health Study II (1991-2011), and Health Professionals Follow-up Study (1986-2010).
The Alternative Healthy Eating Index score was used to assess diet quality.
Associations between changes in diet quality, physical activity, and body weight and diabetes risk were evaluated simultaneously.
The researchers documented more than 9,000 incident cases of type 2 diabetes during the more than 2.3 million person-year follow-up.
Greater than 10% decrease in diet quality scores over 4 years was associated with higher subsequent diabetes risk with multiple adjustments, while at least 10% improvement in dietary scores was associated with lower risk, Dr Ley said during her presentation at the ADA meeting.
When simultaneous relationships among 4-year changes in diet quality, physical activity, and body weight were assessed, improvement in each behavioral factor was independently associated with lower incident diabetes.
"Regardless of where participants started, improving diet quality was beneficial for all," she noted.
Two new studies show the heart-healthy benefits of eating a Mediterranean diet.
One study linked the diet to a lower risk of diabetes, especially among those at high risk for cardiovascular disease.
The other study tied the eating plan to lower levels of platelets and white blood cells, 2 markers of inflammation, which has been associated with a greater risk of heart attack and stroke.
The Mediterranean diet frequently emphasizes fresh fruits and vegetables, whole grains, beans, nuts, fish, olive oil, and even a glass of red wine.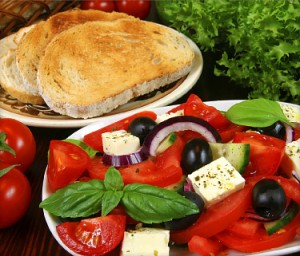 Eating an anti-inflammatory, Mediterranean style diet has been shown to not only be a delicious and enjoyable way to eat, but also is wonderful for your health.
Earlier research has shown that following the traditional Mediterranean diet also is linked to weight loss, a reduced risk of heart disease and related death, and lower blood pressure and blood cholesterol levels.
Mediterranean Diet Reduces Risk of Diabetes
In the first pooled analysis of studies evaluating the possible role of the Mediterranean diet in diabetes development, adherence to this diet was associated with a 21% reduced risk of diabetes compared with the control dietary groups.
The likelihood of developing diabetes was almost 27% less in those at high risk for cardiovascular disease than in controls.
"Adherence to the Mediterranean diet may prevent the development of diabetes irrespective of age, sex, race, or culture," said lead investigator Demosthenes Panagiotakos, PhD, professor at Harokopio University, Athens, Greece.
"This diet has a beneficial effect, even in high risk groups, and speaks to the fact that it is never too late to start eating a healthy diet."
Dr. Panagiotakos and colleagues systematically reviewed 19 original research studies that followed more than 162,000 participants for an average of 5.5 years.
These studies spanned European and non-European populations, which is important because most of the published studies have been European-based and there has been some question of possible confounding factors in these regions, including genetics, the environment, lifestyle, and lower stress levels.
Dr. Panagiotakos said he believes the Mediterranean diet lowers the risk of diabetes by helping guard against obesity.
He presented his study on March 27, 2014 at the American College of Cardiology's 63rd Annual Scientific Session in Washington, DC.
Mediterranean Diet Lowers Inflammation

To understand whether a Mediterranean diet might favorably influence platelet and white blood cell levels, Italian researchers conducted an analysis of the eating habits of nearly 15,000 healthy Italian men and women aged 35 years or older as part of a large epidemiological study.
The investigators observed that consumption of the Mediterranean diet was directly related to lower levels of platelets and white blood cells, which in turn correlated to lower levels of inflammation.
Those who strictly followed a traditional Mediterranean diet were less likely to belong to study cohorts with relatively high platelet counts and were more likely to belong to cohorts with relatively low white blood cell counts.
"Because the study included healthy participants, the lower levels of platelets and white blood cells in those who were more strictly consuming a Mediterranean diet indicate that this eating plan could account for substantial changes within normal ranges of variability," said lead author Marialaura Bonaccio, PhD.
"This is an important finding that has implications for how these anti-inflammatory markers are tracked among the general population."
Dr Bonaccio is with the Department of Epidemiology and Prevention at the IRCCS Istituto Neurologico Mediterraneo NEUROMED in Italy.
The results of her study were published online in the March 31, 2014 issue of Blood.
With tears in her eyes and joy in her heart, Tamika Catchings celebrated her first WNBA championship with Indiana Fever teammates after they won the title with an 87-78 victory over the Minnesota Lynx.
Named the Most Valuable Player of the WNBA finals, Catchings had won 3 Olympic Gold Medals, including at the 2012 Games, and an NCAA National Championship at the University of Tennessee, but had always coveted a WNBA championship.
"This is something you dream about: coming into the WNBA and winning a championship." said Catchings.
"Everything just came crashing down and the tears just came flowing, and they called me a crybaby, but this is the one time I don't care, call me whatever you want!"
The Indiana Fever made it their mission to get Catchings a WNBA championship.
"Everybody talks about the missing piece in Tamika Catchings' career, and our players took that personally," Indiana coach Lin Dunn said.
"I really believe that was an incentive."
Rain may have prevented a parade to celebrate the Fever championship on Wednesday in Indianapolis, but the fans' fever was still evident.
About 3,000 fans crowded into the team's home stadium, Bankers Life Fieldhouse, to cheer and pay tribute to Indianapolis' newest heroines.
Catchings not only is a great basketball player – she was was chosen to the All-WNBA first team again this year for the 7th time in her 11-year career – but uses her fame to promote healthy living to kids.
Her nonprofit "Catch the Stars" Foundation, established in 2004, offers underprivileged boys and girls a variety of educational opportunities, including a scholar-athlete award program that has provided more than $35,000 in college scholarships to high school student athletes, in addition to hosting basketball camps and health and wellness clinics.
Catchings is also a member of the NBA/WNBA FIT team, the league's comprehensive health and wellness program that encourages physical activity and healthy living for children and families through programs and events across the country.
Working with parents through NBA/WNBA FIT, Catchings notices the impact that parents have on a child's health.
She also acknowledges that kids look up to professional athletes as role models.
Now they have one more reason to admire her: for finally achieving the goal she set as a little girl, a WNBA championship.
Get moving with your kids to keep them active.
That's one of the messages from a sidebar, "Making Fitness Fun for Kids," to my cover story in the August 2012 issue of Heart Insight magazine, just released online.
The main subject of the cover story is Tamika Catchings, a star professional basketball player and member of the NBA/WNBA FIT team, a program that encourages physical activity and healthy living for children and families.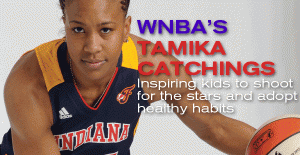 Basketball players participate in games with kids around the country and get them excited about health and fitness.
Taking my own advice, I'm heading to my local Y this afternoon to workout with my 15-year-old daughter.
Here's the full sidebar. Enjoy.
"Making Fitness Fun for Kids"
To maintain a healthy lifestyle, kids need to get regular physical activity.
Guidelines from the American Heart Association and other organizations suggest that kids should participate in at least 60 minutes of moderate to vigorous physical activity every day.
Being physically active doesn't necessarily mean playing on a school team or working out at the gym.
Kids can ride bikes, jump rope, play hopscotch and run around the park with their friends.
Any game where kids are up and moving is a great way to help them stay physically active and make their heart, bones and muscles stronger, too, says Denver Nuggets head strength coach Steve Hess.
"The fun part of physical activity comes from kids working hard at something exciting that they like to do.
If you make the activity about them, they will find out that hard work can be fun, too."
Parents need to find out what stimulates their kids and put a plan into place for optimum buy in, says Hess.
He and his sons Jordan, 13, and Korey, 10, will, on a snowy day, build 10 sledding ramps of different heights and then take turns zooming down them.
If the weather is bad, he creates an obstacle course or treasure hunt inside the house.
"Once they get into doing the activity, they lose track of time. They don't even know that they're working out and getting fit," he says.
Here are some other tips on how to make physical activity more fun for kids:
• Find activities your kids will love.
Some kids just don't like competing in sports.
There are lots of other ways to be physically active, including swimming, horseback riding, dancing, cycling, skateboarding, yoga, hopscotch or brisk walking.
Encourage your child to explore multiple activities to find one he or she really enjoys and one that is appropriate for his or her age.
• Get the whole family moving.
Plan times for everyone to be physically active.
Take walks, ride bikes, go swimming, garden or just play hide-and-seek outside.
Everyone will benefit from the exercise and the time spent together.
• Participate in a local walkathon.

Find a local fundraising walk or "fun run" and bring the whole family.
If it's animal-friendly, bring your dog along, too.
• Make household chores into a dance party.
Put on a favorite CD and allot a certain number of songs to complete a household chore.
For example, allow two songs to vacuum the living room, three songs to wash the dishes and one song to pick up toys in the playroom.
Your kids will be moving faster and working harder to beat the clock, causing their hearts to pump harder and get stronger.
• Don't make exercise a punishment.
Forcing your child to go outside and play may increase resentment and resistance.
Use physical activity to encourage your child to do something she wants to do.
For instance, tell your child she can ride a bike for 30 minutes before starting homework after school.
It's likely she'll beg for 20 more minutes outside just to put off the homework if she enjoys bike-riding.
• Mix it up to keep it interesting.
Don't get stuck in a workout rut.
Incorporate a new type of physical activity every few weeks to keep your child motivated.
Varying activities also prevents your child's body from getting used to the same workout, helping improve your child's strength and fitness.
• Break it up.
Kids don't have to have to get in 60 minutes of physical activity all at once.
As long as daily physical activity adds up to at least 60 minutes of aerobic physical activity, your child meets the guidelines.
That might mean 20 minutes of play during recess, 20 minutes of bike riding after school and 20 minutes of briskly walking the dog after dinner.
For the best effects, parents need to put their own energy and enthusiasm into an activity to set an example, says Hess.
"Parents have to get up and going, too," he says.
"When I take my sons to the park, I'm not just sitting on a bench watching.
I'll shoot hoops with Korey and ask Jordan to show me some moves on the skateboard ramps.
I am truly excited about the things they are doing, and they can see that."
Here's another reason to give New York Mayor Michael Bloomberg a pat on the back for wanting to ban the sale of large sodas and sugary soft drinks:
Young Hispanic women, a group who are at high risk for continued weight gain and obesity, felt hungrier and more desire for savory foods after ingesting a sugary drink in an experiment to test how high-calorie foods stimulate the brain's appetite control center.
The sugar in the drinks activated brain regions involved in reward and motivation for food, which "suggests that added sweeteners could be one of the main contributors to the obesity epidemic," said lead researcher Kathleen Page, MD, assistant professor at the University of Southern California, Los Angeles.
In fact, just looking at images of high-calorie foods stimulates the brain's appetite control center and results in an increased desire for food, according to the study presented today at The Endocrine Society's 94th Annual Meeting in Houston.
"We thought this was a striking finding, because the current environment is inundated with advertisements showing images of high-calorie foods," Page added.
The largest driver of increases in obesity and caloric consumption is sugary drinks, according to New York city officials when the Mayor announced his proposed ban last month.
Americans now consume 200 to 300 more calories daily than 30 years ago, they said.
Men given 18 ounces — compared with 12 ounces — of beverage drank 26% more while women drank 10% more, with no decrease in food consumption and no difference in reported fullness or thirst, city health officials said.
Yes, there are concerns about freedom of choice, vociferously voiced by the Beverage Association and others.
But we have to do something to combat widespread obesity.
These kinds of public health mandates have worked to curtail smoking, and I think they could work for weight loss, too.
I'm behind Mayor Mike's larger-than-16-ounce-drink ban, and I hope it becomes a nationwide trend.
If you have been diagnosed with prostate cancer or benign prostatic hypertrophy (BPH), you may have more options than you think.
In addition to traditional pharmaceutical drugs, surgery, and radiation therapy there are a number of dietary and lifestyle changes you can make, says Aaron Katz, MD, Vice-Chairman of Urology and Director of the Center of Holistic Urology at Columbia University Medical Center in New York.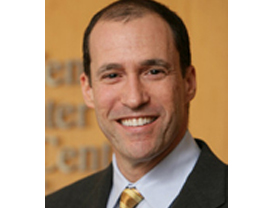 Dr. Katz is the author of Dr. Katz' Guide to Prostate Health: From Conventional to Holistic Therapies.
In the May issue of American Legion magazine, I provide Dr. Katz's 10 dietary strategies and lifestyle choices for treating and preventing prostate disease.
Dietary Strategies
1. Cut the fat.
Studies suggest that dietary fat intake and prostate cancer incidence are intimately related.
Eat a diet composed of less than 30% fat and favor unsaturated fats such as olive and canola oils over saturated and trans fats.
2. Improve your omega-6/omega-3 ratio.
Omega-3 fats (found in fatty deep-water fish and flax seeds) appear to protect the prostate, while omega-6 fats (found in vegetable oils) may have a disease-promoting effect.
Eat lots of salmon, sardines, cod, and ground flax seeds, and avoid foods made with vegetables oils like corn and soy.
3. Go organic.
Your best chance of avoiding contaminants in your food is to eat a largely organic and vegetarian diet.
Organic foods are raised, grown, and produced without the use of chemical pesticides, hormones, or drugs.
4. Fill up on fiber.
Research shows an inverse relationship between prostate cancer incidence and intake of dietary fiber.
Up your fiber intake by eating one big green salad every day, breakfasting on a bowl of steel-cut or slow-cooked oats, and switching from refined to whole grains.
5. Eat your antioxidants.
Free radical damage to DNA has been linked to many cancers, including prostate cancer.
Eat lots of foods rich in antioxidants – which protect cells against free radicals — such as leafy greens, cruciferous vegetables, and deeply colored fruits, especially berries.
Lifestyle Choices
1. Reduce your stress.
Stress amplifies the production of free radicals, hampers the function of the immune system, and has been linked with premature aging.
Try stress reduction techniques such as progressive relaxation, deep breathing, visualization, or meditation.
2. Laugh.
Researchers at UCLA are currently studying the ability of humor to blunt stress-induced physiological changes.
Laughter also releases the body's natural opiates into the bloodstream, dulling pain and improving mood.
So head to the video store and pick out some funny movies.
3. Exercise regularly.
Moderate exercise increases the body's production of antioxidant substances and mildly boosts immune function.
Try to fit in three or more workouts per week.
Men undergoing treatment for cancer or BPH may be better off sticking with very gentle exercise like yoga, tai chi, or chi kung.
4. Detoxify your home.
Trade out your conventional cleaning products for non-toxic alternatives, your garden pesticides for pest-eating bugs, and your synthetic carpets for natural ones like wool.
5. Design your space.
When colors, light, decoration, sounds, objects, and overall design are pleasing to our senses, it's much easier to relax and enjoy yourself.
Feng shui is an effective tool for making your surroundings less stressful and more health-promoting.
A new breed of health professional – wellness coaches – appeared on the healthcare scene about a decade ago.
Thousands of wellness coaches now serve as partners with their clients to elicit agendas and co-discover solutions.
The clients of wellness coaches learn how to lose weight, exercise more, and change their lifestyles with lasting results.
Wellness coaches differ from life coaches, personal trainers, or therapists because they use science-based techniques to enhance motivation, self-confidence, and self-regulation, says Margaret Moore, founder and CEO of Wellcoaches Corporation.
"Studies show wellness coaches help instill long-lasting habits that, over time, become part of the brain's hardwiring," says Moore, who is also co-director of the Institute of Coaching at McLean Hospital, an affiliate of Harvard Medical School, and a founding advisor of the Institute of Lifestyle Medicine at Harvard Medical School.
With more than a dozen years' worth of wellness coaching experience, Moore has guided thousands of coaches and hundreds of clients to make the changes toward leading healthier lives.
On a CBS TV broadcast last week, Moore said "the coach is really trained to help you take a bigger picture of you, over all aspects of your health and wellness and then come up with a formula that combines all of these things together."
And "the coaching world has come up with skills to help people make changes that last," she said.
The TV report noted that the National Consortium for Credentialing of Health & Wellness Coaches is currently working to develop a national certification for wellness coaches.
In collaboration with the American College of Sports Medicine, Wellcoaches is helping to lead this initiative.
Nutritional supplements claim to improve athletic performance, but not all supplements are created equal.
According to sports dietitian Glenn Cardwell, athletes vary greatly in their response to training, environmental conditions, psychological barriers, and nutritional supplements, which makes it difficult to assess the value of proposed ergogenic aids.
"Improvement is not proof that a supplement works.
It may be just a convenient coincidence," says Cardwell, author of the forthcoming new edition of Gold Medal Nutrition (Human Kinetics, May 2012).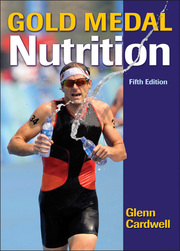 "Proof only comes when the same result can be repeated time and time again."
Before taking a nutritional supplement, Cardwell advises that you assess its potential value and ask these 9 vital questions:
1. Has there been any independent research on the supplement?

Many supplements have not been researched in healthy athletes, or the research has been done only in-house and not independently assessed.
2. If research has been conducted, has it been published in an independent, peer-reviewed scientific journal?
The marketing of some supplements relies on articles written about the product.
"An article is not the same as research," Cardwell says.
"Before an article is published in scientific journals, experts in the field review it to make sure it is up to a high standard and conclusions are valid."
3. Is the research relevant to athletes?

Many supplement manufacturers cite research articles that are unrelated to the claims for the product.
"One food bar claimed to assist body fat loss, yet none of the references cited to support its claim were about weight loss," Cardwell explains.
"If you can't assess the research yourself, ask a sports dietitian or go to a reputable website for their opinion on the research."
4. Is the supplement patented?
If a product has been patented, then the patent holders usually do most of the research because they will directly benefit from future sales.
"Truly independent research is rarely published in such circumstances," Cardwell says.
5. Is the majority of research from one researcher or laboratory?
The value of a supplement can be determined only if many researchers from different laboratories work independently to assess it under varying conditions.
"This has been done, for example, in the case of creatine and sports drinks," Cardwell notes.
6. Has the research been performed on athletes under normal training or competition condition?

Just because a product has benefits for people with certain conditions such as heart disease or nutrition deficiency, it doesn't follow that the same benefits hold for fit and healthy athletes.
7. Although there may be research suggesting a benefit of a supplement, is there any research showing no effect or possible dangerous side effects of using the supplement?
"If one research paper shows a positive effect, but 10 others show no effect, then it is disingenuous to mention the positive result and not to say that the balance of evidence is for no effect," Cardwell says.
8. Is the product suited to your sport and your level of training?

"Taking supplemental creatine can benefit sprint and power athletes, but it is unlikely to benefit marathon runners," Cardwell explains.
"If research shows a positive effect for athletes, will you get the same benefit when training purely for health and fitness?"
9. Have other independent scientists, sports dietitians, sports institutes or sports medicine groups offered supporting comments about the supplement?
Examine what organizations such as the International Society of Sports Nutrition, the National Sports Medicine Institute of the UK, the Australian Institute of Sport or Sports Dietitians Australia have to say about a supplement.
"Based on current knowledge, the best regimen for achieving optimal performance is to avoid excess body fat, drink plenty of fluids to avoid dehydration, eat enough carbohydrate to fuel your training program, eat adequate protein for muscle growth and repair, and eat for good health," Cardwell says.
"Most nutritional supplements do not enhance sports performance in well-nourished athletes."
I know how to read a food label, and I make sure to shop the outer aisles of my local grocery store to obtain fresh produce and meats.
(I do boldly go into the middle for my kids' favorite cereals).
I always take a scribbled note with me on what to buy, but lately I've been thinking there must be a better way.
Enter ShopWell 2.0.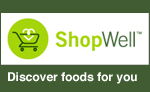 This week a free iPhone App went live to so that you can take a personalized, healthy grocery list mobile.
Grocery lists created on the ShopWell website are automatically synced to the app, and foods scanned at the store aisle or in the kitchen pantry can be added right into the lists.
You can now access all the information you need to make informed choices in the store, when you need it most.
I like the way ShopWell highlights specific points on nutrition labels to reveal not only what foods work well for you, but also which ones don't.
It also recommends consumption frequency with an easy to understand numerical score and a simple color-coded system based on your own pre-specified criteria:
• Green foods are a strong match and are okay to eat in normal portions
• Yellow foods are a medium match, so make sure to read the label carefully
• Red foods are a weak match, so should be occasional treats
"The sheer number of aisles in most grocery stores can be overwhelming for people–let alone how many products are in each one and how much information is included on food packages," says Marci Harnischfeger MS RD, ShopWell's in-house Registered Dietitian.
"Add constant shifts in diet trends and the amount of information and advice out there on how and what to eat, and suddenly grocery shopping can be intimidating and confusing.
People want to make good choices for themselves and their families, ShopWell makes it easy to do that."
Now not only can I have a digitized shopping list on hand, but I really feel like I have the backing of an expert with me while I shop.