Archive for the 'Sports Injury' Category
The biggest, most pervasive sports injury story of the year has to be the effects of concussions on football players.
From professional to college to high school players, sports-related brain injuries have become a concern in football.
Studies show that the effects of multiple concussions can be long lasting, including depression, cognitive problems, and even an increased risk of Alzheimer's disease.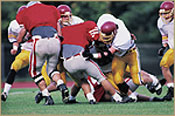 Thousands of retired National Football League (NFL) players who have suffered concussion-related injuries and disabilities filed a class-action lawsuit against the league, claiming that it did not do enough to protect their health and did not tell them about the long-term dangers of repeated head injuries.
Public awareness of the dangers of concussions was again raised after Ohio State University defensive lineman Kosta Karageorge, who had a history of concussions during his college career, was found dead in late November as the result of an apparent self-inflicted gunshot wound.
In early December, a study found that high school football players may develop impact-related brain changes over the course of a single season.
Players who experienced higher levels of head impacts showed the most changes, even in the absence of concussion.
Denver Broncos wide receiver Wes Welker may have worn a larger helmet to help him prevent further concussions in this year's Super Bowl game, but even hits to the head that don't result in concussions can affect athletes' brains and may impact learning.
This makes some athletes more susceptible to repeated head impacts that do not involve concussions.
NEW LAWS, MORE AWARENESS
The good news is that new laws regulating concussion treatment plus awareness of concussions have resulted in a large increase in the treatment of concussion-related injuries for school-age athletes, according to a new study published online on December 22, 2014 in JAMA Pediatrics.
A University of Michigan study designed to evaluate the impact of new concussion laws found a 92% increase in children seeking medical assistance for concussions in states with the legislation in place.
States without concussion laws showed a 75% increase in those seeking injury-related health care.
"There are two stories here," said senior author Steven Broglio, Associate Professor at the University of Michigan School of Kinesiology and Director of the NeuroSport Research Laboratory.
"First, the legislation works.
The other story is that broad awareness of an injury has an equally important effect. We found large increases in states without legislation, showing that just general knowledge plays a huge part."
As of 2014, all states and the District of Columbia have passed laws that outline medical care for young athletes.
The laws differ slightly, but most call for education of coaches or students, the immediate removal of an athlete from a game, or medical clearance before an athlete can return to a sport.
TECHNOLOGICAL ADVANCES
Another way to prevent brain injuries may be to add a vision-based test to evaluate athletes on the sidelines.
This may allow sports medicine doctors to better detect more athletes with concussion more quickly, which is particularly important since not all athletes reliably report their symptoms of concussion, including any vision problems.
Others are taking a more technological approach to protecting players.
Several companies have put sensors or magnets in helmets or mouth guards to detect or absorb the forces of hits to the head, with the hope of further reducing the risk of brain injury to young athletes.
The sensors cannot prevent or diagnose a concussion, but they can alert coaches and trainers to take the proper steps to determine if a player has a concussion.
Let's hope that these and other safety measures are made at all levels of football and translate into fewer concussions next year.
A woman's sports injuries are basically the same as a man's.
But there are some peculiarities due to differences in anatomy and issues related to the menstrual cycle.
Here's a look at some of the most common overuse sports injuries suffered by women, including stress fracture, runner's knee, jumper's knee, tennis elbow, and frozen shoulder, and how to treat them.
Stress Fracture
Women tend to have a higher incidence of stress fractures then men.
Stress fractures occur from repetitive forces.
They are more common in women who do not menstruate compared to those who do.
A woman with osteoporosis or osteopenia (low bone density) will also be at greater risk of stress fracture because of decreased bone density.
Weight-bearing exercises, such as walking, dancing and jogging, are particularly valuable in reducing bone loss in middle-aged and postmenopausal women, and may help prevent osteoporosis.
Runner's Knee
Runner's knee, or patellofemoral pain syndrome, is characterized by a stable, but painful knee.
This is much more common among women because a woman's pelvis is wider, making the angle between the thigh and the calf sharper, which is known as an increased Q-angle.
This results in greater force toward the front and inner part of the knee.
The tendency is for the kneecap to pull out of line and rub on the side of its groove, causing knee pain.
Conservative treatment includes physical therapy, core strengthening, stretching of quadriceps and hip external rotator muscles, bracing, and biomechanical analysis and correction.
Jumper's Knee
Jumper's knee, or patellar tendinitis, is characterized by pain in the front of the knee.
Pain increases with running and jumping, and the pain symptoms may intensify during the night and upon waking in the morning.
The pain comes from inflammation of the tendons that hook into the upper and lower ends of the kneecap.
The more you train and the higher the intensity of your training, the more you feel the pain.
The first treatment is to rest long enough to get over the acute pain, and to take anti-inflammatory agents to reduce the pain, if necessary.
If pain continues or increases, cortisone injections can help manage the pain and swelling, or surgical treatment may be required.
Tennis Elbow

Tennis elbow, or lateral epicondylitis, is an overuse injury to the tendons at the lateral humeral epicondyle, the bands of tissue that connect the arm muscles to the outside aspect of your elbow area.
It is usually associated with lack of forearm strength.
Lateral epicondylitis most often occurs in women between ages 30 and 50.
The tennis backhand stroke, which involves repeated wrist extension against resistance, increases the risk of symptoms at the outside of the elbow.
Conservative treatment should include physical therapy, bracing, and biomechanical analysis and correction of repetitive activity.
In severe cases, surgical treatment may be required.
Frozen Shoulder
Frozen shoulder, or adhesive capsulitis, is seen most often in women between ages 40 and 70.
It is often seen in combination with other shoulder conditions (such as rotator cuff problems) or diabetes mellitus.
The hallmark symptom of frozen shoulder is decreased range of motion and severe shoulder pain.
It often disappears on its own.
Conservative treatment usually involves taking anti-inflammatories to reduce pain and inflammation.
A physical therapist can teach you stretching exercises to help maintain as much mobility in your shoulder as possible.
Relief of symptoms is gradual and recovery takes from 12 to 18 months, on average.
Surgical options for adhesive capsulitis include joint manipulation under anesthesia and capsular release.
Take a Break
Overuse injuries usually require you to suspend activity.
A biomechanical analysis and correction are components to successful recovery and should be performed by sports medicine professionals.
Prevention is also a key component by maintaining a fit and healthy lifestyle.
Core training and strength training of both the lower and upper body can maintain muscular strength and endurance, and help to prevent chronic overuse injuries.
A golfer's score ultimately is determined by athletic talent, amount of time devoted to practicing and playing, and level of physical fitness.
If you're like most golfers, you probably overlook the fitness component and try to get by on natural talent and regular play.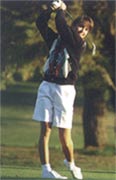 However, the more rounds you play without working on your conditioning, the greater are your chances of injury.
Mike Markee, PT, ATC, instructor of physical therapy and athletic training at Saint Louis University, has spent time on the senior PGA tour and developed exercise and fitness programs for golfers.
"It is possible to avoid injury and improve performance, especially through muscle strength and proper form," says Markee.
"The great thing is that the same things that help you avoid injury also will improve your game."
He recommends 3 things to keep your body in shape for golf:
ONE: WARM UP and KEEP MOVING
There can be a lot of down time in golf, and so it takes deliberate focus to keep moving.
Stretch before, during, and after each round.
If you're able to walk and the course allows, skip the cart and earn a few miles under your belt by the end of the game.
TWO: STRENGTHEN YOUR CORE
Golfers use the muscles closest to the spine, including hip and shoulder muscles.
This is where the power comes from in your golf swing, and, likewise, a weakness in your core can lead to an unbalanced swing, with some muscles compensating for others.
"It used to be thought that flexibility was most important thing in golf.
Golfers worried that too much muscle would cause them to lose flexibility," says Markee.
"But, with rise of Tiger Woods and now Rory Mcllroy, we've seen that you can develop more power by training the right muscles.
Now we know that strength training and flexibility aren't polar opposites, and, in fact, core strength training can actually improve your performance.
"From a health care perspective, a muscle weakness in the core or hip is something we can remedy through physical therapy or athletic training."
THREE: DEVELOP GOOD BODY MECHANICS
Golf's main injury risk comes from the repeated motions of the swing.
Working with a pro to learn to swing properly can help you reduce forces on the spine due to twisting and rotating and ensure that you aren't developing bad habits that can take their toll on your back, shoulder, and elbow.
Amateur golfers generate greater sheer force on their spine compared to professionals, Markee notes.
"Usually back pain comes from the twisting that puts stress on the spine," he says.
"Back injuries from golf are very common.
If golfers lose their spine angle on the back swing, it can increase forces on the spine, causing back pain. The torsion can be damaging if done over and over."
Learn from a pro about proper swing to develop good body mechanics and avoid pain down the line, and, if you do have pain, consult a physician sooner rather than later to avoid exacerbating the problem.
Imagine if you could tell when you were about to tear a rotator cuff well before it happened.
That's what researchers at Washington University in St. Louis hope to be able to do for athletes, and possibly prevent sports injuries.
They have developed algorithms to identify weak spots in tendons, muscles, and bones prone to tearing or breaking.
The technology may one day help pinpoint minor strains and tiny injuries in the body's tissues long before bigger problems occur.
"Tendons are constantly stretching as muscles pull on them, and bones also bend or compress as we carry out everyday activities," said senior investigator Stavros Thomopoulos, PhD, Professor of Orthopaedic Surgery at Washington University.
"Small cracks or tears can result from these loads and lead to major injuries.
Understanding how these tears and cracks develop over time therefore is important for diagnosing and tracking injuries."
Visualizing Weak Spots
The researchers have developed a way to visualize and even predict spots where tissues are weakened.
To accomplish this, they stretched tissues and tracked what happened as their shapes changed or became distorted.
The new, more powerful algorithm allowed them to find the places where the tears were beginning to form and to track them as they extended.
They believe the algorithms can be used to measure the pressures and forces that act on the body and cause tissues such as muscles and tendons to crack or tear.
Predicting Rotator Cuff Tears
"If you have a small tear in the rotator cuff, when the tendon stretches, that crack may get bigger," said Thomopoulos.
Eventually, they hope to predict problems in tendons and muscles as in the rotator cuff.
"If you have a perfectly normal rotator cuff, you can image it in a way to see how the tendon performs moving up and down.
If the tendon is normal, then the strains on it will be normal.
If you have a weak spot in the rotator cuff, the strains in that local area that may be starting to degenerate would probably be higher," he said.
Those higher strains could predict problems.
This could also help them learn why some surgeries to repair rotator cuff injuries ultimately fail.
Their goal is to increase the odds that the tissue in the shoulder will heal following surgery, and they believe the new algorithms could help them get closer to that goal.
They also want to use the algorithms to prevent additional injuries following surgery to repair knees, shoulders, and other tissues.
So far, they have only used the algorithms in the laboratory on materials, such as plastic wrap, and in animal models.
How soon the new algorithms could be used in patients depends on getting better images of the body's tissues, they said.
The researchers reported their results online on August 27, 2014 in the Journal of the Royal Society Interface.
The higher your annual income, the higher the chances that your young athlete will suffer an overuse injury.
That's the eyebrow raising result of a new study that shows, for the first time, a link between overuse injury rates in young athletes and their socioeconomic status.
The rate of serious overuse injuries in athletes who come from families that can afford private insurance is 68% higher than the rate in lower-income athletes who are on public insurance (Medicaid), according to the study.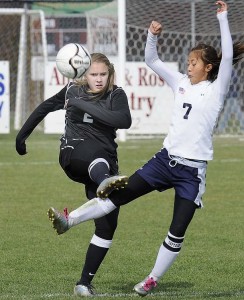 Privately insured young athletes are also twice as likely as publicly insured athletes to be highly specialized in one sport, state Loyola University researchers who previously reported that young athletes who specialize in one sport are more likely to suffer serious overuse injuries.
Neeru Jayanthi, MD, medical director of Primary Care Sports Medicine and an associate professor in the departments of Family Medicine and Orthopaedic Surgery and Rehabilitation of Loyola University Chicago Stritch School of Medicine, recently reported the results at the International Olympic Committee World Conference on Prevention of Injury & Illness in Sport in Monaco.
The findings also were presented at the American Medical Society for Sports Medicine Annual Meeting in New Orleans, LA.
"Intense specialization in one sport can cost thousands of dollars a year in equipment, fees, transportation, and private lessons," Jayanthi said.
"Having the financial resources to afford such costs may provide increased opportunities for young athletes to participate in a single sport."
RESULTS FROM ONGOING STUDY
Jayanthi and colleagues are conducting an ongoing collaborative study of athletes ages 7-18 who were seen at primary care and sports medicine clinics at Loyola University Health System and the Ann & Robert H. Lurie Children's Hospital of Chicago.
So far, nearly 1,200 athletes have been enrolled in the study.
Both institutions care for a socioeconomically diverse population.
The median income of the families of the young athletes was approximately $70,000.
About 11% came from low-income neighborhoods, while 19% are on public aid.
Athletes completed surveys reporting training volumes, age of engagement in competitive sports, and degree of specialization.
The researchers found that 30% of privately insured athletes were highly specialized in one sport, compared with 18% of athletes who were publically insured.
SERIOUS OVERUSE INJURIES
Among the privately insured athletes, 13% suffered serious overuse injuries, compared with 8% of publicly insured athletes.
Serious overuse injuries can force young athletes to the sidelines for 1 to 6 months or longer.
These injuries include stress fractures in the back or limbs, elbow ligament injuries, and osteochondral injuries (injuries to cartilage and underlying bone).
A simple vision test performed on the sidelines can help identify athletes who have suffered a concussion, according to a new study.
"Adding a vision-based test to evaluate athletes on the sidelines may allow us to better detect more athletes with concussion more quickly.
This is particularly important since not all athletes reliably report their symptoms of concussion, including any vision problems," said senior author Laura Balcer, MD, New York University School of Medicine.
She presented the results of the study at the American Academy of Neurology annual meeting in Philadelphia on April 30.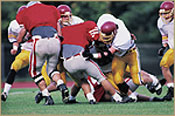 Sports medicine experts have been using standard tests based on balance and cognitive tasks to detect concussion on the sidelines.
But these tests cannot pick up subtle signs of concussion.
They started using vision tests because visual pathways are commonly affected in concussion, said Balcer.
DETECTION RATE 100%
The 1-minute vision test involves reading a series of numbers from index cards or an iPad screen.
The results on the sideline can be compared to a baseline assessment.
Any slowing in time taken to complete the test can be deemed a sign of concussion.
In the study, a total of 217 athletes aged 18 to 22 years playing on the University of Florida men's football, women's soccer, and women's lacrosse teams were tested at the start of the season and again if a concussion was suspected during play.
Among 30 athletes with a first concussion, 79% had a worsen performance on the vision test compared with 52% using a standard concussion evaluation.
Combining information from both tests, the researchers found that 89% of athletes with a concussion were correctly identified.
When results from a third test evaluating errors in balance was added, 100% were identified.
What's more, a worse score on the vision test correlated with more severe concussion symptoms.
The researchers don't think the vision test alone is enough to diagnose a concussion.
They believe it's best used in combination with standard balance and cognition tests.
The bottom-line: All athletes in sports with high concussion rates should undergo pre-season and postseason vision testing, with additional evaluations in real-time to check for suspected concussions.
A good friend of mine's son is backing playing Ultimate frisbee, having torn up his knee last spring playing Freshman football in high school.
Reconstructive surgery repaired Sam's two torn knee ligaments, including the anterior cruciate ligament (ACL), a critical ligament that stabilizes the knee joint.
ACL injuries are quite common among young athletes and have become more prevalent over the past decade as more youngsters participate in sports such as football, soccer, volleyball, and basketball, which are hard on the knees.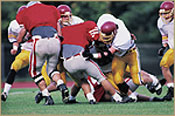 Recent research has found that screening tools, such as "hop" or isokinetic (computer/video) tests to identify neuromuscular deficits, may identify athletes more likely to suffer ACL injuries.
Biomechanical studies have led to the development of neuromuscular training programs to improve neuromuscular control and reduce ACL injury rates.
Now research led by doctors from New York-Presbyterian/Columbia University Medical Center has found that universal neuromuscular training — which focuses on the optimal way to bend, jump, land, and pivot the knee — is an effective and inexpensive way for young athletes to avoid ACL sprains and tears.
The researchers reported their results at the American Academy of Orthopedic Surgeons annual meeting on March 14, 2014.
The research team evaluated 3 strategies for young athletes: no training or screening, universal neuromuscular training, and universal screening with neuromuscular training only for identified high-risk athletes.
Risk of injury, risk reduction from training, and sensitivity and specificity of screening were based on published data from clinical trials.
Costs of training and screening programs were estimated based on existing literature.
Using a model based on data from recent clinical trials, the researchers evaluated a hypothetical group of student athletes ages 14 to 22.
They found that universal training reduced the incidence of ACL injury on average by 63% while the screening program reduced the incidence rate on average by 40%.
Of 10,000 athletes, the model predicted 300 ACL injuries in the no-screening group, 110 in the universal training group, and 180 in the universal training/screening for "at risk" group.
What's more, by reducing the risk of ACL injury universal training would save an average of $275 per player per season.
"While we were not surprised that training was more cost effective than no intervention, we were impressed by the magnitude of the benefit," said lead researcher Dr. Eric Swart, an orthopedic resident at New York-Presbyterian/Columbia University Medical Center.
"According to our model, training was so much less expensive and so much more effective than we anticipated.
In addition, fewer players injured means fewer surgical reconstruction procedures, which also saves money."
He believes that widely implementing a universal training strategy could actually pay for itself in terms of injuries prevented and surgeries avoided.
And that's doesn't include saving youngsters from the pain and anguish of recovering from major surgery.
Neuromuscular training may be too late for Sam, who continues to do physical therapy to strengthen his leg muscles to support his rebuilt knee.
But thousands of other young athletes could certainly benefit from better training to avoid devastating knee injuries.
The first time Denver Broncos' wide receiver Wes Welker takes a hit during this Sunday's Super Bowl game, questions will arise about whether he can continue.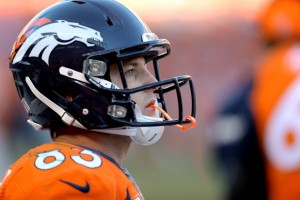 Earlier this week Welker, who sustained 2 concussions and missed the last 3 regular season games, said he would play in the Super Bowl even with a concussion.
He will wear a larger helmet that supposedly helps protect him from another concussion.
This week the National Football League announced the number of concussions had dropped 13% this season due to improvements in medical diagnoses, stiffer penalties for hits to the helmet, and fewer practices.
Many studies have shown the devastating, long-lasting health implications associated with concussions.
The growing concern is that repetitive head trauma can lead to chronic traumatic encephalopathy, a progressive neurodegenerative process leading to pronounced behavior changes and cognitive dysfunction.
But even hits to the head that don't result in concussions can affect athletes' brains and may impact learning.
Repeated blows to the head during a season of contact sports may cause changes in the brain's white matter and affect cognitive abilities even if none of the impacts resulted in a concussion, according to a new study published in the journal Neurology.
White matter, which transmits signals through nerve cells, actively affects how the brain learns and functions.
Using a form of magnetic resonance imaging, researchers at the Indiana University School of Medicine and the Geisel School of Medicine at Dartmouth College found significant differences in brain white matter of 80 varsity football and hockey players compared with a group of 79 non-contact sport athletes (track, crew and Nordic skiing) following 1 season of competition.
"The contact sports and non-contact sports groups differed, and the number of times the contact sports participants were hit, and the magnitude of the hits they sustained, were correlated with changes in the white matter measures," said lead author Thomas W. McAllister, M.D., chair of the Indiana University Department of Psychiatry, who was at Dartmouth when he conducted the study.
"In addition, there was a group of contact sports athletes who didn't do as well as predicted on tests of learning and memory at the end of the season.
We found that the amount of change in the white matter measures was greater in this group."
The results suggest that some athletes may be more susceptible to repeated head impacts that do not involve concussions.
But much more research would be necessary to determine how to identify those athletes.
So even if Welker doesn't take a hard hit to the head, he may still suffer the effects of repetitive impacts, not just those that are diagnosed as a concussion.
If you want your kids to stay clear of sports injuries, send them out to play.
But don't sign them up for a club team.
That's the message from the newest study linking specialized training in young athletes to serious overuse injuries.
Children who spend nearly twice the amount of time in organized sports than in free play, and especially in a single sport, are more likely to become injured.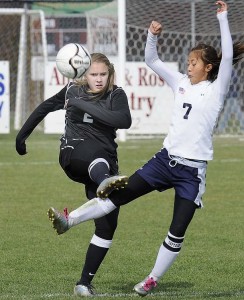 "We found a significant relationship between intense training and overuse injuries.
These kids are stressing the same areas of the body without rest while their bodies are still developing," said lead author Neeru Jayanthi, MD, Medical director of Primary Care Sports Medicine at Loyola University Health System, in an interview.
The new study found that young athletes age 8 to 18 who played more hours per week than their age – for example, an 8-year-old who played more than 8 hours per week – were more likely to be injured.
In addition, those who spend more than twice as much time in organized sports than in free play, whatever their age or sport, were more likely to be injured and have serious overuse injuries.
Typically, these injuries included stress fractures, osteochondral lesions, and low back stress fractures.
Jayanthi presented the results of the study on October 28, 2013, at the American Academy of Pediatrics annual meeting.
The study involved more than 1,200 child and adolescent athletes who came to one of two Chicago hospitals and affiliated clinics for either a sports-related injury or a sports physical.
The injured athletes tended to be slightly older than uninjured athletes, reported a higher average number of hours per week playing organized sports (11.3 vs. 9.4), and higher average hours per week in total sports activity including gym, free play, and organized sports activities (19.7 vs. 17.6).
Parents and coaches need to accept much of the responsibility for putting their children at risk for these overuse injuries, Jayanthi says.
"I believe that much of these injuries are driven by the intensity to improve skills, not just have fun," he says.
"Kids will play for hours and figure out when enough is enough.
Intense training in a single sport for most of the year teaches skill development, but sets kids up for injury.
Youth sports should be about the kids, not adults."
The bigger problem is that club teams allow the 10% of elite athletes to stay active, but "the other 90% of kids don't do much of anything," says Jayanthi.
"We need to incentivize the others to become more physically active.
We need more, not less, gym classes, and more avenues for free play in the community."
That means changing the current culture about sports and fitness so there's a positive, healthy environment for all.
Most patients with rotator cuff injuries respond well to physical therapy and don't need surgery, according to new research into repairing shoulders.
Every year, about 200,000 Americans undergo shoulder surgery related to repairing the rotator cuff, a set of four small muscles in the shoulder that helps to lift and rotate the arm.
Treatments to repair the rotator cuff include anti-inflammatory agents, steroid injections, surgery, physical therapy, or a combination of the above.
The best option may simply be physical therapy, says John E. Kuhn, MD, Chief of Shoulder Surgery at Vanderbilt University Medical Center.
After surgery "it usually takes people about four months before they can even think to get back to any kind of labor-type work and it usually takes a year to get a full recovery," says Kuhn, who is the director of the Moon Shoulder Group, a network of doctors researching the best options for repairing shoulders.
"We found exercise programs were effective at treating rotator cuff disease and we consolidated them into one physical therapy program," says Kuhn.
The program focuses on range of motion, flexibility, and strengthening.
The therapy program doesn't necessarily heal the rotator cuff, but it does take the pain away, he says.
Kuhn led a new study of 452 rotator cuff tear patients and found the exercise program helped 85% avoid surgery.
The study appeared in the May issue of the Journal of Shoulder and Elbow Surgery.
The effect lasted for 2 years, and only 2% of the patients opted for surgery.
The study also suggests that pain may be a less suitable indication for surgery than weakness or loss of function.
The entire rotator cuff home exercise program is available for free online.
Kuhn suggests you talk to your physician before starting it.
When to see your doctor
Here are some indications you may need to see your doctor for a rotator cuff problem, says Jeffrey H. Yormak, MD, a board-certified orthopaedic surgeon with Somers Orthopaedic Surgery & Sports Medicine Group:
• Pain in the front of your shoulder that radiates down the side of your arm.
• Weakness in your arm and difficulty with routine activities.
• Difficulty with routine activities, including combing your hair or reaching behind your back.
"If you've injured your shoulder or experience chronic, lasting shoulder and arm pain, it's best to see an orthopedic surgeon," Yormak says.
"Only then can you receive a definitive diagnosis and begin treatment.
Early diagnosis and treatment of a rotator cuff tear may stop symptoms, such as loss of strength and motion, from setting in."