Archive for the 'Tai Chi and Mind Body' Category
If you have heart disease, you may want to find a physical activity that you can easily maintain.
The slow-paced "meditation in motion" of Tai Chi may be just what the doctor ordered.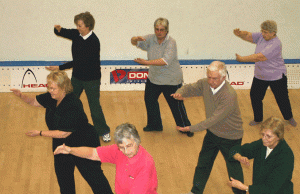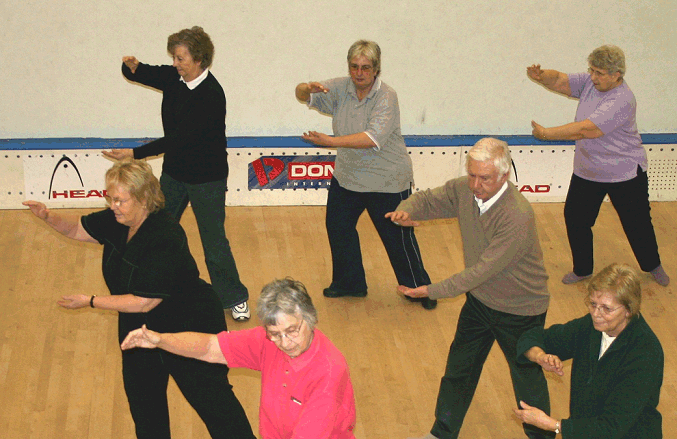 Based on the existing evidence, Tai Chi is a promising addition to regular heart care.
Cardiac rehabilitation programs are, unfortunately, underused.
"Tai Chi may be a good option for those unable or unwilling to engage in other forms of physical activity, or as a bridge to more rigorous exercise programs in frail patients," says Peter Wayne, Ph.D., assistant professor of medicine at Harvard Medical School and the director of research for the Osher Center for Integrative Medicine, jointly based at Harvard Medical School and Brigham and Women's Hospital in Boston.
"If your doctor says you have borderline high blood pressure and you are not certain you want to begin drug therapy, a non-pharmacological approach such as Tai Chi may be a way to keep your blood pressure in check.
If you have established high blood pressure and find it difficult to engage in a regular exercise regimen, again, think about using Tai Chi to aid the treatment program your doctor has designed for you."
Regular physical activity, including Tai Chi, has beneficial effects on many risk factors for heart disease, such as high blood pressure, high cholesterol levels and pre-diabetes, says Ruth E. Taylor-Piliae, Ph.D., R.N., associate professor and Robert Wood Johnson Foundation nurse faculty scholar alumna at the University of Arizona's College of Nursing in Phoenix, where she conducts Tai Chi research.
"Regular physical activity promotes weight reduction, which can help reduce high blood pressure.
Exercise can lower total LDL, or "bad", cholesterol levels, as well as raise HDL, or "good", cholesterol levels," she says.
"Among those with pre-diabetes, regular exercise can aid the body's ability to use insulin to control blood glucose levels."
Importantly, all studies to date suggest that Tai Chi may be safe for heart patients.
It may offer you additional options, whether in addition to a formal cardiac rehab program, as a part of maintenance therapy or as an exercise alternative.
It's official! The Harvard Medical School Guide to Tai Chi:12 Weeks to a Healthy Body, Strong Heart & Sharp Mind is now available in book stores and online book sellers, including Amazon.com and Barnes&Noble.com.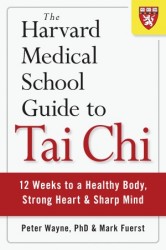 Conventional medical science on the Chinese art of Tai Chi now shows what Tai Chi masters have known for centuries: regular practice leads to more vigor and flexibility, better balance and mobility, and a sense of well-being.
Cutting-edge research from Harvard Medical School also supports the long-standing claims that Tai Chi also has a beneficial impact on the health of the heart, bones, nerves and muscles, immune system, and the mind.
This research provides fascinating insight into the underlying physiological mechanisms that explain how Tai Chi actually works.
Dr. Peter M. Wayne, a longtime Tai Chi teacher and a researcher at Harvard Medical School, developed and tested protocols similar to the simplified program he includes in this book, which is suited to people of all ages, and can be done in just a few minutes a day.
This book includes:
• The basic program, illustrated by more than 50 photographs
• Practical tips for integrating Tai Chi into everyday activities
• An introduction to the traditional principles of Tai Chi
• Up-to-date summaries of the research literature on the health benefits of Tai Chi
• How Tai Chi can enhance work productivity, creativity, and sports performance
Peter M. Wayne, PhD, is Assistant Professor of Medicine at Harvard Medical School and the Director of Research for the Osher Center for Integrative Medicine, jointly based at Harvard Medical School and Brigham and Women's Hospital.
Prior to this appointment, Dr. Wayne served as the Director of Tai Chi and Mind-Body Research Programs at the Osher Research Center and Founding Research Director at the New England School of Acupuncture.
He has more than thirty-five years of training experience in Tai Chi and Qigong and is an internationally recognized teacher of these practices.
It was an honor to work with such a renowned Tai Chi teacher and researcher to put together this new book.
I can honestly say my life is richer, and my mind and body certainly more relaxed, from having practiced Tai Chi over the past 3 1/2 years as I worked with Dr. Wayne on the book.
Tai Chi can enhance balance, lower blood pressure, and improve mood, which are all important for stroke survivors.
People who have had strokes often suffer damage to the parts of the brain that help in maintaining balance.
Many people who suffer these problems with balance are more prone to falling and injuring themselves.
A handful of studies have evaluated Tai Chi as a rehabilitation exercise for stroke survivors.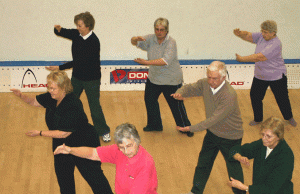 Now Arizona researchers have found that stroke survivors who learned Tai Chi had fewer falls compared with those who participated in an exercise program for older adults or those who received usual care to help them recover from a stroke.
"Learning how to find and maintain your balance after a stroke is a challenge," said Ruth E. Taylor-Piliae, Ph.D., R.N., the study's principal investigator and Assistant Professor at the University of Arizona College of Nursing in Tucson, AZ.
"Tai Chi is effective in improving both static and dynamic balance, which is important to prevent falls."
Taylor-Piliae presented the results of the study at the recent American Stroke Association's International Stroke Conference 2013 in Honolulu.
The study included 89 stroke survivors, average age 70, who had suffered a stroke an average of 3 years prior to enrolling in the study.
The researchers randomly assigned the stroke survivors to one of three groups.
One third received Tai Chi instruction for 12 weeks.
Another third took a 12-week SilverSneakers® exercise class that focused on improving muscle strength and range of movement.
A third group received weekly follow-up phone calls along with written information encouraging them to be physically active.
The Tai Chi and SilverSneakers® classes met three times a week for an hour-long workout.
During the 12-week study, the researchers found that the Tai Chi group had the fewest number of falls (5) compared to those in the usual care group (15) and in the SilverSneakers® group (14).
Only four people who fell required medical treatment.
"The main physical benefits of Tai Chi are better balance, improved strength, flexibility, and aerobic endurance," Taylor-Piliae said.
"Psycho-social benefits include less depression, anxiety and stress, and better quality of life."
Previous studies have shown that Tai Chi may help improve clinical measurements of balance, for example, the ability to maintain balance or to reach and lean both forward and backwards.
"What's noteworthy about this small, but strong, study is the researchers measured actual falls, and showed that Tai Chi translated into a reduction in falls," says Peter Wayne, PhD, Assistant Professor of Medicine, Harvard Medical School, and Director of Research, Osher Center for Integrative Medicine at Brigham and Women's Hospital and Harvard Medical School, and author of the upcoming The Harvard Medical School Guide to Tai Chi.
Wayne and his colleagues, as well as other researchers, have shown that Tai Chi improves balance and the gait of people with various neurological conditions.
New studies are now underway to study Tai Chi in Parkinson's disease.
"Tai Chi training has the potential to translate into practical improvement in daily activities," says Wayne.
"It can help people get stronger and more flexible, and improve balance, including those with severe neurological injuries.
Tai Chi also reduces the fear of falling, which helps promote a more active lifestyle."
So the bottom line is that Tai Chi not only helps you feel better and have better balance, but you are less likely to fall.
Want to help keep your weight under control, improve your balance and range of motion, strengthen your bones, protect your joints, prevent bladder control problems, and even ward off memory loss?
Who wouldn't? Then try these 5 workouts recommended by Harvard Medical School:
1. Swimming.
You might call swimming the perfect workout.
The buoyancy of the water supports your body and takes the strain off painful joints so you can move them more fluidly.
"Swimming is good for individuals with arthritis because it's less weight bearing," explains Dr. I-Min Lee, professor of medicine at Harvard Medical School.
Research finds that swimming can improve your mental state and put you in a better mood.
Water aerobics is another option to help you burn calories and tone up.
2. Tai Chi.
Tai chi — a Chinese martial art that incorporates movement and relaxation — is good for both body and mind.
In fact, it's been called "meditation in motion."
Tai chi is made up of a series of graceful movements, one transitioning smoothly into the next.
"Tai chi often leads to more vigor and energy, greater flexibility, balance and mobility, and an improved sense of well being," says Peter Wayne, PhD, Director of Research, Osher Center for Integrative Medicine Brigham and Women's Hospital and Harvard Medical School, and author of the upcoming book, The Harvard Medical School Guide to Tai Chi.
"Cutting-edge research now lends support to long-standing claims that Tai Chi has a favorable impact on the health of the heart, bones, nerves and muscles, immune system, and the mind."
Tai chi is accessible, and valuable, for people of all ages and fitness levels.
"It's particularly good for older people because balance is an important component of fitness, and balance is something we lose as we get older," Dr. Lee says.
3. Strength training.
If you believe that strength training is a macho, brawny activity, think again.
Lifting light weights won't bulk up your muscles, but it will keep them strong.
"If you don't use muscles, they will lose their strength over time," Dr. Lee says.
Muscle also helps burn calories.
"The more muscle you have, the more calories you burn, so it's easier to maintain your weight," says Dr. Lee.
4. Walking.
Walking is simple yet powerful.
It can help you stay trim, improve cholesterol levels, strengthen bones, keep blood pressure in check, lift your mood and lower your risk for a number of diseases (diabetes and heart disease for example).
A number of studies have shown that walking and other physical activities can improve memory and resist age-related memory loss.
5. Kegel exercises.
These exercises won't help you look better, but they do something just as important — strengthen the pelvic floor muscles that support the bladder.
Strong pelvic floor muscles can go a long way toward preventing incontinence.
While many women are familiar with Kegels, these exercises can benefit men too.
To do a Kegel exercise correctly, squeeze and release the muscles you would use to stop urination or keep from passing gas.
Alternate quick squeezes and releases with longer contractions that you hold for 10 seconds, release, and then relax for 10 seconds.
Work up to three 3 sets of 10-15 Kegel exercises each day.
Many of the things we do for fun (and work) count as exercise.
Raking the yard counts as physical activity.
So does ballroom dancing and playing with your kids or grandkids.
As long as you're doing some form of aerobic exercise for at least 30 minutes a day, and you include two days of strength training a week, you can consider yourself an "active" person.
As an unprecedented number of Americans approach old age, there is a growing concern about the loss of cognitive function that is often attributed to aging.
By around age 70 1 in 6 people have mild cognitive decline.
Mild cognitive decline is considered an intermediate state between the cognitive changes of aging and the earliest clinical features of dementia, particularly Alzheimer's disease.
The good news is that due to your brain's plasticity you may be able to improve your cognitive function and offset age-related decline through exercise, stress reduction, learning new tasks, staying socially active, and learning how to focus better — all integral elements of Tai Chi training.
"A body of studies on Tai Chi and cognitive function lend support to the promise of Tai Chi for your brain and mind's health," says Peter Wayne, PhD, Assistant Professor of Medicine, Harvard Medical School Director of Research, Osher Center for Integrative Medicine Brigham and Women's Hospital and Harvard Medical School, and author of The Harvard Medical School Guide to Tai Chi.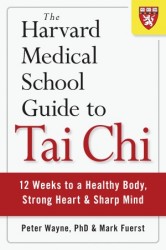 This ancient form of slow, meditative exercise helps to create mental activity, and scientists believe it may be possible to delay the onset of Alzheimer's disease.
November is National Alzheimer's Disease Awareness Month, and although there is no cure for the disease, a study published in the June issue of the Journal of Alzheimer's Disease revealed that elderly people practicing Tai Chi just three times a week can boost brain volume and improve memory and thinking.
Scientists from the University of South Florida and Fudan University in Shanghai found increases in brain volume and improvements on tests of memory and thinking in Chinese seniors who practiced Tai Chi three times a week.
The 8-month randomized controlled trial compared those who practiced Tai Chi to a group who received no intervention.
The same trial showed increases in brain volume and more limited cognitive improvements in a group that participated in lively discussions three times per week over the same time period.
"The ability to reverse this trend with physical exercise and increased mental activity implies that it may be possible to delay the onset of dementia in older persons through interventions that have many physical and mental health benefits," said lead author Dr. James Mortimer, professor of epidemiology at the University of South Florida College of Public Health.
Dr. Wayne notes that other randomized trials have evaluated Tai Chi in adults diagnosed with moderate levels of dementia.
In one large Chinese trial, a group assigned to Tai Chi showed greater improvements in cognitive performance after five months than a group assigned to a stretching and toning program, and fewer of those in the Tai Chi group progressed to dementia.
In a smaller study at the University of Illinois, a group of adults with dementia showed small increases in mental ability and self-esteem after 20 weeks of a combination of Tai Chi, cognitive behavioral therapies, and a support group as compared to an education group, who had slight losses of mental function.
"Interestingly, a follow-up companion study reported benefits of Tai Chi training to the caregivers of people with dementia," says Dr. Wayne.
"Tai Chi may offer specific benefits to cognition, but more larger-scale trials that also include longer follow-up periods are needed to make stronger conclusions."
There is a growing body of research that suggests that the slow, rhythmic breathing during Tai Chi enhances the health of patients with chronic obstructive pulmonary disease (COPD).
Conventional pulmonary rehabilitation programs that focus on aerobic exercise and strength training can improve exercise capacity, quality of life, and symptoms in patients with COPD.
In addition to extending the breathing techniques taught in pulmonary rehabilitation, mind-body interventions such as Tai Chi integrate novel elements, such as progressive relaxation, imagery/visualization, mindfulness of breathing and overall body sensations, postural training, and coordinated patterns of breathing and movement.
"These therapeutic elements may allow Tai Chi to impact COPD symptoms and pathology via complex mechanisms not specifically targeted in conventional rehabilitation and therefore may be an effective adjunct to therapy," says Peter Wayne, PhD, Director of Research, Osher Center for Integrative Medicine at Brigham and Women's Hospital and Harvard Medical School.
Wayne is the author of the upcoming book The Harvard Medical School Guide to Tai Chi.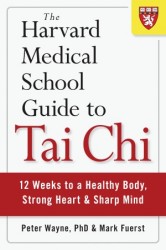 "Mind-body exercises may also allow patients with COPD to feel more confident about their ability to exercise and entice them to continue to exercise, which, of course, has the potential for lasting benefits."
A new study published online today shows that Tai Chi can be used as an effective form of exercise therapy for people with COPD.
The Australian researchers found that short-form Sun-style Tai Chi done twice a week for 12 weeks could improve the exercise capacity and quality of life in people with COPD. The research published ahead of print in the European Respiratory Journal suggests that Tai Chi may be as beneficial as pulmonary rehabilitation.
"With increasing numbers of people being diagnosed with COPD, it is important to provide different options for exercise that can be tailored to suit each individual," said lead author Regina Wai Man Leung from the Concord Repatriation General Hospital.
"The results from this small sample provide compelling evidence that Tai Chi is an effective training program for patients with COPD, and could be considered as an alternative to the usual exercise training program that are available in pulmonary rehabilitation."
At Harvard Medical School, Wayne's group has completed a small, pilot randomized controlled trial designed to determine the feasibility of administering a Tai Chi program to improve the quality of life and exercise capacity in COPD patients.
The Harvard Medical School researchers randomized 10 patients, average age 66, with moderate to severe COPD to 12 weeks of Tai Chi plus usual care or usual care alone.
The Tai Chi training consisted of a one-hour class, twice weekly, that emphasized gentle movement, relaxation, meditation, and breathing techniques.
"We looked at disease-specific symptoms and quality-of-life, exercise capacity, pulmonary function tests, mood, and self-efficacy," says Wayne.
"Participants reported enjoying the Tai Chi program, and were able to participate without experience and adverse reactions to exercising."
After 12 weeks, the Tai Chi participants said they felt significant improvement in chronic respiratory symptoms compared to the usual-care group.
The Tai Chi group also had slight improvements in their 6-minute walking distance, depression, and shortness of breath.
"Our conclusion: Tai Chi as an exercise appears to be a safe, positive adjunct to standard care and warrants further investigation," says Wayne.
Led by Dr. Gloria Yeh, the Harvard Medical School group is now conducting a 10-fold larger trial sponsored by the National Institutes of Health comparing Tai Chi to both meditative breathing exercises (isolated out of the Tai Chi program) as well as to a non-exercise education program.
I usually practice Tai Chi at my local Y in a group class and in my home on my own.
Occasionally, I'll go to the park or the beach as well.
I'll often take a Tai Chi break to relax at the end of a busy day.
And that's just what the first Chinese female astronaut, Liu Yang, did recently in her second night aboard the Tiangong -1 Space Lab Module.
Yes, she played Tai Chi in outer space.

Liu Yang performed a 3-minute routine that was specifically designed by the mission crew and a physical trainer for the Chinese astronauts.
After finishing all of her routine tasks, she strapped her feet down and performed warm up exercises and then the Tai Chi routine.
The physical trainer who designed the program, Tong Feizhou, explained that performing Tai Chi regulates the breath and relaxes the body, muscles, and bones.
And, of course, Tai Chi is a traditional Chinese sports activity.
Regular exercise in space is crucial.

According to the National Aeronautics and Space Administration, if astronauts don't exercise, their bodies start losing bone and muscle and this can reduce an astronaut's ability to do work.
The next time I do my after work/early evening Tai Chi, I'll try to imagine myself floating in space, just as Liu Yang did for real.
If you have been diagnosed with prostate cancer or benign prostatic hypertrophy (BPH), you may have more options than you think.
In addition to traditional pharmaceutical drugs, surgery, and radiation therapy there are a number of dietary and lifestyle changes you can make, says Aaron Katz, MD, Vice-Chairman of Urology and Director of the Center of Holistic Urology at Columbia University Medical Center in New York.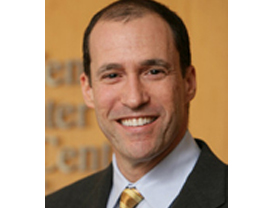 Dr. Katz is the author of Dr. Katz' Guide to Prostate Health: From Conventional to Holistic Therapies.
In the May issue of American Legion magazine, I provide Dr. Katz's 10 dietary strategies and lifestyle choices for treating and preventing prostate disease.
Dietary Strategies
1. Cut the fat.
Studies suggest that dietary fat intake and prostate cancer incidence are intimately related.
Eat a diet composed of less than 30% fat and favor unsaturated fats such as olive and canola oils over saturated and trans fats.
2. Improve your omega-6/omega-3 ratio.
Omega-3 fats (found in fatty deep-water fish and flax seeds) appear to protect the prostate, while omega-6 fats (found in vegetable oils) may have a disease-promoting effect.
Eat lots of salmon, sardines, cod, and ground flax seeds, and avoid foods made with vegetables oils like corn and soy.
3. Go organic.
Your best chance of avoiding contaminants in your food is to eat a largely organic and vegetarian diet.
Organic foods are raised, grown, and produced without the use of chemical pesticides, hormones, or drugs.
4. Fill up on fiber.
Research shows an inverse relationship between prostate cancer incidence and intake of dietary fiber.
Up your fiber intake by eating one big green salad every day, breakfasting on a bowl of steel-cut or slow-cooked oats, and switching from refined to whole grains.
5. Eat your antioxidants.
Free radical damage to DNA has been linked to many cancers, including prostate cancer.
Eat lots of foods rich in antioxidants – which protect cells against free radicals — such as leafy greens, cruciferous vegetables, and deeply colored fruits, especially berries.
Lifestyle Choices
1. Reduce your stress.
Stress amplifies the production of free radicals, hampers the function of the immune system, and has been linked with premature aging.
Try stress reduction techniques such as progressive relaxation, deep breathing, visualization, or meditation.
2. Laugh.
Researchers at UCLA are currently studying the ability of humor to blunt stress-induced physiological changes.
Laughter also releases the body's natural opiates into the bloodstream, dulling pain and improving mood.
So head to the video store and pick out some funny movies.
3. Exercise regularly.
Moderate exercise increases the body's production of antioxidant substances and mildly boosts immune function.
Try to fit in three or more workouts per week.
Men undergoing treatment for cancer or BPH may be better off sticking with very gentle exercise like yoga, tai chi, or chi kung.
4. Detoxify your home.
Trade out your conventional cleaning products for non-toxic alternatives, your garden pesticides for pest-eating bugs, and your synthetic carpets for natural ones like wool.
5. Design your space.
When colors, light, decoration, sounds, objects, and overall design are pleasing to our senses, it's much easier to relax and enjoy yourself.
Feng shui is an effective tool for making your surroundings less stressful and more health-promoting.
Positive emotions have been linked with better health, longer life, and greater well-being in numerous scientific studies.
To help you get into and maintain a healthy, positive emotional state, Harvard Health Publications has a new publication called "Positive Psychology: Harnessing the power of happiness, mindfulness, and personal strength," which is based on the latest research.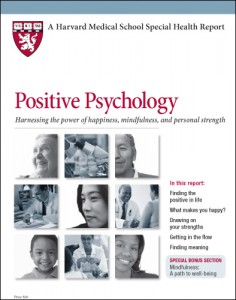 One situation that may stand out for you when you were feeling positive emotions is during a moment of effortless action.
This sense of "flow" is what athletes refer to as being "in the zone."
"The more flow experiences you have in life, the happier and more fulfilled you will be," says Margaret Moore, founder and CEO of Wellcoaches Corp. and co-author of Organize Your Mind, Organize Your Life with Harvard psychiatrist Paul Hammerness and writer John Hanc.
Here's an excerpt from "Positive Psychology" on how you can get into the flow.
Flow: Becoming more engaged
Have you ever been so immersed in what you were doing that all distractions and background chatter just fell away?
Nothing existed except the music and your guitar, your skis and the slope, your car and the road.
Mihaly Csikszentmihalyi, distinguished professor of psychology at Claremont Graduate University in Claremont, Calif., calls that state of intense absorption "flow."
For decades, he explored people's satisfaction in their everyday activities, finding that people report the greatest satisfaction when they are totally immersed in and concentrating on what they are doing.
In studies by Csikszentmihalyi and others, flow experiences led to positive emotions in the short term, and over the long term, people who more frequently experienced flow were generally happier.
Researchers have also found that people vary in how much they value having flow experiences, and in how easy they find it to enter flow.
No matter what your natural tendency, recognizing how flow occurs (or doesn't) in your life and creating opportunities for more flow experiences can be a potent route to increased happiness.
Defining flow
How do you know if you're in flow?
According to the research, Csikszentmihalyi and others found that flow experiences have several common characteristics.
You lose awareness of time.
You aren't watching the clock, and hours can pass like minutes.
As filmmaker George Lucas puts it, talent is "a combination of something you love a great deal and something you can lose yourself in — something that you can start at 9 o'clock, look up from your work and it's 10 o'clock at night."
You aren't thinking about yourself.
You aren't focused on your comfort, and you aren't wondering how you look or how your actions will be perceived by others.
Your awareness of yourself is only in relation to the activity itself, such as your fingers on a piano keyboard, or the way you position a knife to cut vegetables, or the balance of your body parts as you ski or surf.
You aren't interrupted by extraneous thoughts.
You aren't thinking about such mundane matters as your shopping list or what to wear tomorrow.
You have clear goals at each moment but aren't focused on the goal line.
Although you may be working toward an ultimate goal, such as earning a graduate degree, making a wedding cake, or winning a chess tournament, that goal is not your primary motivation.
Rather, you find the activity itself to be rewarding — mastering or explaining a line of thinking in your academic work, creating tiers of beautiful icing, or visualizing your way out of a sticky chess situation.
You are active.
Flow activities aren't passive, and you have some control over what you are doing.
You work effortlessly.
Flow activities require effort (usually more effort than involved in typical daily experience).
Although you may be working harder than usual, at flow moments everything is "clicking" and feels almost effortless.
You would like to repeat the experience.
Flow is intrinsically rewarding, something you would like to replicate.
In a 2005 study, presented at the Northeastern Recreation Research Symposium, researchers reported that 60% of people hiking the full length of the Appalachian Trail reported experiencing flow, usually on a daily basis, and more than 80% expressed a desire to hike the trail again.
In rating the things they enjoyed, the hikers said they enjoyed the experience and activity itself, as well as using their skills.
In contrast, external factors, such as competition with others and the prestige of completing the trail, were rated dead last in what made the experience enjoyable.
Enhancing your ability to experience flow in multiple domains can lead to greater happiness.
You can't force flow, but you can invite it to occur more often, even in areas of life where it might seem unlikely.
Whether you are an overworked executive, a fast-moving soccer mom, or an athlete with limited time for cross training, you need to find a way to reduce your stress.
For me, I practice the moving meditation of Tai Chi most every day.
Others successfully use sitting or standing meditations.
Even sitting still for as little as 10 minutes watching your breath may be enough to get the effects of meditation.
Meditation experts Ed and Deb Shapiro, authors of Be the Change: How Meditation Can Transform You and the World, recently debunked the 6 reasons why meditation appears to be difficult in a Huffington Post blog.
Below Jeff Cannon, a certified meditation instructor and the author of the fine book The Simple Truth: Meditation for the Modern World, gives his take on stress and provides you with some exercises on how to reduce it:
REDUCE STRESS AND WIN BACK YOUR LIFE

Stress is part of life.
But it does not have to ruin your life.
Let it out.
Release it.
Fill the empty space it leaves with the kind of positive energy that will help you live the life you love living.
The next time you feel your blood pressure jump or your brain starts to spin out of control, hit the pause button, slow the world down, and have it start spinning at your pace.
Here are some easy exercises that can be done anywhere to help you do just that.
Breathe 8-2-8.
I cannot stress enough how beneficial proper breathing is.
If you feel your heart start to race, take three deep breaths into your stomach as you focus you attention on your belly expanding and contracting.
Feel it move against your clothing as you slowly count to eight on each inhale, let your breath settle for a count of two, and then exhale for a count of eight, again letting your breath settle for two before inhaling again.
It will center you and help you regain your mental footing.
Ground yourself in your setting.
Rather than trying to escape, close your eyes and listen to the world around you.
Listen to the hum of the lights, hear the sounds of the people and equipment wherever you are.
Embrace your environment as a reality, but not your reality.
Know that you are separate from it, that the fear and angst it breeds is not something that you need to be a part of.
Relax in the knowledge that when you open your eyes it will all be there, but that it will only touch you if you let it.
You, and only you, have control over how you respond to the world around you.
Learn Your Triggers.
Identify and monitor the triggers that cause you stress.
The next time you feel your stress growing, think about what happened to cause it.
Turn your mind inward and review the emotions that were set off when that trigger was activated.
Try to remember another time in your life when you had the same emotional response.
Remember, the way an event affected you is as much a part of your past as it is your present.
Use that insight to help you separate the present event from past associations to reduce the way you escalate a small event into greater stress.
Own your stress.
Don't try to pretend it doesn't exist.
Admit to it and embrace it.
Then let it go with a great big inhale.
Running from a problem only makes it worse, and only prolongs the stress it brings.