The higher your annual income, the higher the chances that your young athlete will suffer an overuse injury.
That's the eyebrow raising result of a new study that shows, for the first time, a link between overuse injury rates in young athletes and their socioeconomic status.
The rate of serious overuse injuries in athletes who come from families that can afford private insurance is 68% higher than the rate in lower-income athletes who are on public insurance (Medicaid), according to the study.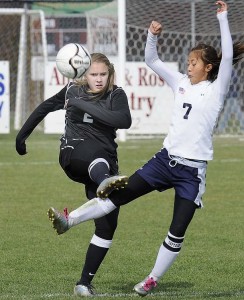 Privately insured young athletes are also twice as likely as publicly insured athletes to be highly specialized in one sport, state Loyola University researchers who previously reported that young athletes who specialize in one sport are more likely to suffer serious overuse injuries.
Neeru Jayanthi, MD, medical director of Primary Care Sports Medicine and an associate professor in the departments of Family Medicine and Orthopaedic Surgery and Rehabilitation of Loyola University Chicago Stritch School of Medicine, recently reported the results at the International Olympic Committee World Conference on Prevention of Injury & Illness in Sport in Monaco.
The findings also were presented at the American Medical Society for Sports Medicine Annual Meeting in New Orleans, LA.
"Intense specialization in one sport can cost thousands of dollars a year in equipment, fees, transportation, and private lessons," Jayanthi said.
"Having the financial resources to afford such costs may provide increased opportunities for young athletes to participate in a single sport."
RESULTS FROM ONGOING STUDY
Jayanthi and colleagues are conducting an ongoing collaborative study of athletes ages 7-18 who were seen at primary care and sports medicine clinics at Loyola University Health System and the Ann & Robert H. Lurie Children's Hospital of Chicago.
So far, nearly 1,200 athletes have been enrolled in the study.
Both institutions care for a socioeconomically diverse population.
The median income of the families of the young athletes was approximately $70,000.
About 11% came from low-income neighborhoods, while 19% are on public aid.
Athletes completed surveys reporting training volumes, age of engagement in competitive sports, and degree of specialization.
The researchers found that 30% of privately insured athletes were highly specialized in one sport, compared with 18% of athletes who were publically insured.
SERIOUS OVERUSE INJURIES
Among the privately insured athletes, 13% suffered serious overuse injuries, compared with 8% of publicly insured athletes.
Serious overuse injuries can force young athletes to the sidelines for 1 to 6 months or longer.
These injuries include stress fractures in the back or limbs, elbow ligament injuries, and osteochondral injuries (injuries to cartilage and underlying bone).