Posts Tagged 'A Baby at Last!'
Three-time mom Celine Dion says she would love to do it again – have another baby, that is.
The superstar singer has conceived twice through in vitro fertilization (IVF) with the help of Zev Rosenwaks, MD, director of the Center for Reproductive Medicine at the Weill Cornell Medical Center in New York City.
Her first son, Rene Charles, is now 10 years old, and her twin boys, Eddie and Nelson, will turn 1 this October.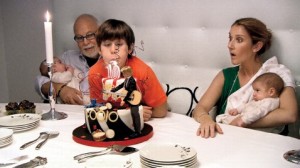 In A Baby at Last!, written by Dr. Rosenwaks and Marc Goldstein, MD, director of the Center for Male Reproductive Medicine and Microsurgery at Weill Cornell, Dion wrote:
"When I think about my association with Dr. Zev Rosenwaks, I think about the extraordinary talent and intelligence that allows him to combine nature and genius, to create new life.
I am forever in awe of this, and I'm forever grateful for his wonderful talent."
On "Good Morning America" on September 20, when asked if she would like to add to her family, Dion said:
"We'd love to."
"It's the biggest gift that you can offer yourself."
She added: "Is it gonna be possible?
"Is it gonna happen?"
"I don't know."
Dion's wish for more children will be part of the 90-minute documentary, "Celine: 3 Boys and a New Show," airing October 1 on OWN, the Oprah Winfrey Network.
Dion told GMA "Now I'm in my 40s and I think I'm blessed with my family and husband (Rene Angelil).
I'm very privileged to have them.
It's what I'm the most proud of, my family, my kids."
In her book, Celine Dion: My Story, My Dream, published just after Rene Charles' birth, Dion wrote about the meaning of family.
"The one thing that we have been working on so hard all these years is this family.
To us, this great family is more important than anything else, and no other accomplishment makes us so proud."
She also discussed plans back then to give birth again.
"The idea of having another baby is already in the back of my mind.
One of my eggs that been inseminated with Rene's sperm is kept at the fertility clinic.
It will be possible to place it back in my uterus.
If everything goes well and, and it's God's will, my belly will once again be home to a child from the man I love."
And now shes thinking of the possibility of a third IVF procedure.
"I think the best is yet to come," she said.
A number of lifestyle factors play a role in a man's fertility.
About 25% of the time, a man could have avoided infertility by being more aware of lifestyle choices that can harm sperm, says male fertility expert Marc Goldstein, MD, in a new article in the Wall Street Journal about the surprising causes of male infertility.
The article highlights certain lifestyle factors, specifically an adolescent groin injury, cigarette smoking, heavy drinking, intense cycling, and even using a laptop directly on the lap.
In A Baby at Last!, Dr. Goldstein and co-author Zev Rosenwaks, MD, fertility experts at New York Presbyterian/Weill Cornell Medical College, provide a list of lifestyle factors that can impair a man's fertility.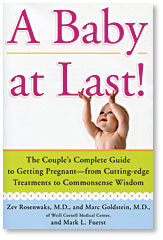 These include:
–smoking cigarettes
–heavy drinking
–stress
–excessive weight
–exposure to heat
–recreational drug use
–sexually transmitted diseases
–genital infections that lead to sperm busters called antisperm antibodies
–drugs to improve sexual performance
–health kicks such as too-strenuous exercise
On Dr. Goldstein's Cornell Institute for Reproductive Medicine website, he describes "10 Tips to a Fertile Lifestyle" that provide guidelines on how a man can maintain his fertility.
In their book, the two fertility doctors suggest what a man and a woman can do to "upgrade" their fertility.
Their take-home messages for men are:
• To optimize your chances of producing viable sperm, live a fertile lifestyle: don't smoke, limit your drinking, minimize stress, be physically active, maintain a healthy weight, eat lots of fresh fruits and leafy, green vegetables, take fertility-enhancing vitamins, and avoid recreational drugs.
• Protect yourself from damage from sexually transmitted diseases.
• If you take prescription medications regularly or you need cancer therapy, talk with your doctor about strategies to preserve your sperm.
• Reduce your exposure to environmental hazards.
• If you are a man, avoid activities that raise the temperature of your testicles, ask your doctor for help with erectile problems, and don't take hair-growth pills.
Adopting these healthy lifestyle habits, and avoiding negative habits, will help preserve your fertility and increase your chances of fathering a child.