Posts Tagged 'alternative medicine'
More and more infertile couples are turning to holistic techniques to increase their odds of conception and to cope with the stresses of trying to conceive.
There is increasing evidence of the effectiveness of alternative medical approaches. Some fertility clinics recommend that couples introduce yoga, relaxation, and nutrition into their fertility treatment plans, or, in difficult cases, to try acupuncture in addition to assisted reproductive technologies, such as in vitro fertilization (IVF).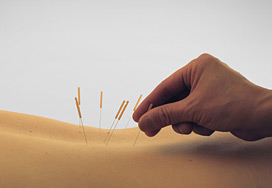 As a fertility treatment, acupuncture is said to increase blood flow to the uterus, relax the cervix, and help stabilize the nervous system to allow the body to handle stress better.
The effects of acupuncture may also be based on brain chemistry. Acupuncture may help to improve a woman's chances of conceiving by balancing the hormones released by the brain. In 2002, Weill Cornell researchers, including Dr. Zev Rosenwaks, searched the medical literature and found a clear link between acupuncture treatments and increased production of endorphins, the body's natural pain-killing brain chemical.
The studies they reviewed suggested that certain effects of acupuncture are mediated through endorphins, and the endorphins influence secretions of reproductive hormones. So it's logical to hypothesize that acupuncture may influence ovulation and fertility.
This new blog post says prominent acupuncturist Jin Jin Hua asserts acupuncture can be used in conjunction with IVF to further enhance your fertility chances to a "surprising success rate of 60% among infertile women."
Since IVF pregnancy rates are at about 50%, adding acupuncture might boost a woman's chance of having a baby by about 10%.
But the jury is still out as to whether acupuncture can help increase your chances of getting pregnant with IVF, based on very mixed results of clinical trials.
While there are still some unresolved issues about acupuncture and IVF, it's unlikely that acupuncture does any harm, and probably does reduce the stress associated with fertility treatment.
If you do decide to try acupuncture, always check on the training and qualifications of the acupuncturist. The National Certification Commission for Acupuncture and Oriental Medicine can help you locate a board-certified, licensed acupuncturist in your area.
What's your experience in using acupuncture along with IVF?