Posts Tagged 'Alzheimer's disease'
As an unprecedented number of Americans approach old age, there is a growing concern about the loss of cognitive function that is often attributed to aging.
By around age 70 1 in 6 people have mild cognitive decline.
Mild cognitive decline is considered an intermediate state between the cognitive changes of aging and the earliest clinical features of dementia, particularly Alzheimer's disease.
The good news is that due to your brain's plasticity you may be able to improve your cognitive function and offset age-related decline through exercise, stress reduction, learning new tasks, staying socially active, and learning how to focus better — all integral elements of Tai Chi training.
"A body of studies on Tai Chi and cognitive function lend support to the promise of Tai Chi for your brain and mind's health," says Peter Wayne, PhD, Assistant Professor of Medicine, Harvard Medical School Director of Research, Osher Center for Integrative Medicine Brigham and Women's Hospital and Harvard Medical School, and author of The Harvard Medical School Guide to Tai Chi.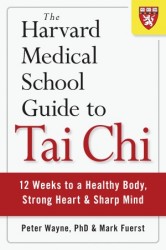 This ancient form of slow, meditative exercise helps to create mental activity, and scientists believe it may be possible to delay the onset of Alzheimer's disease.
November is National Alzheimer's Disease Awareness Month, and although there is no cure for the disease, a study published in the June issue of the Journal of Alzheimer's Disease revealed that elderly people practicing Tai Chi just three times a week can boost brain volume and improve memory and thinking.
Scientists from the University of South Florida and Fudan University in Shanghai found increases in brain volume and improvements on tests of memory and thinking in Chinese seniors who practiced Tai Chi three times a week.
The 8-month randomized controlled trial compared those who practiced Tai Chi to a group who received no intervention.
The same trial showed increases in brain volume and more limited cognitive improvements in a group that participated in lively discussions three times per week over the same time period.
"The ability to reverse this trend with physical exercise and increased mental activity implies that it may be possible to delay the onset of dementia in older persons through interventions that have many physical and mental health benefits," said lead author Dr. James Mortimer, professor of epidemiology at the University of South Florida College of Public Health.
Dr. Wayne notes that other randomized trials have evaluated Tai Chi in adults diagnosed with moderate levels of dementia.
In one large Chinese trial, a group assigned to Tai Chi showed greater improvements in cognitive performance after five months than a group assigned to a stretching and toning program, and fewer of those in the Tai Chi group progressed to dementia.
In a smaller study at the University of Illinois, a group of adults with dementia showed small increases in mental ability and self-esteem after 20 weeks of a combination of Tai Chi, cognitive behavioral therapies, and a support group as compared to an education group, who had slight losses of mental function.
"Interestingly, a follow-up companion study reported benefits of Tai Chi training to the caregivers of people with dementia," says Dr. Wayne.
"Tai Chi may offer specific benefits to cognition, but more larger-scale trials that also include longer follow-up periods are needed to make stronger conclusions."