In a bit of shameless promotion, I'm proud to state that the American Society of Journalists and Authors (of which I'm a long-time member and past president) just announced its list of ASJA 2011 Awards, and A Baby at Last! won an honorable mention in the Outstanding Book Service/Self-help category: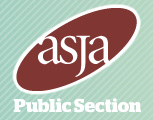 The awards will be presented on April 29 during the 40th Annual ASJA Writers Conference, which will be held in New York City, April 29 – May 1, 2011.
Here's a list of all the award winners:
2011 Award Winners
Outstanding Book Awards

General Nonfiction:
Winner: Murder in the High Himalaya (Public Affairs) — Jonathan Green
Honorable mentions:
The Lost Dogs: Michael Vick's Dogs and their Tale of Rescue and Redemption (Gotham) — Jim Gorant
The Tin Ticket: The Heroic Journey of Australia's Convict Women (Berkley Books) — Deborah J. Swiss
Memoir/Autobiography
Winner: Crossing the Heart of Africa (Harper Perennial) — Julian Smith
Service/Self-help

Winner: Green Sense (The Taunton Press) — Kevin Daum
Honorable mentions: A Baby at Last (Simon & Schuster) — Mark Fuerst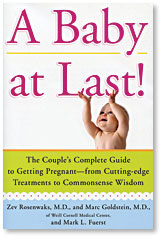 The Complete Guide to Self-Publishing (Writers Digest Books) — Marilyn Ross
Children/YA
Winner: My Orange Duffel Bag (Operation Orange Media) — Echo Garrett
Outstanding Article Awards Business/Technology
Winner: "Take us to the River" (Fast Company) — Michael Fitzgerald
Honorable Mentions:
"Entry Fee" (Proto) — Rachael Moeller Gorman
"How to Save the Grasslands" (Time.com) — Judith Schwartz
First-person (personal experience or dramatic narrative)
Winner: "My Mother's Brain" (D Magazine) — Beatriz Terrazas
Honorable mention:
"Do it Yourself Genetics" (Duke Magazine) — Barry Yeoman
Lifestyle
Winner: "A Strange and not Unpleasant Experience" (Bicycling Magazine) — Florence Williams
Honorable mention:
"Timeless Sardines" (Leite's Culinaria) Mary Ann Castronovo Fusco
Personal essay/opinion/op-ed
Winner: "Taking Grief Step by Step" (Whole Living) — Judi Ketteler
Honorable mention:
"Hometown Exile" (Texas Observer) — Beatriz Terrazas
Profile
Winner: "How Mya Saved Jacob" (Spirit Magazine) — Kate Silver
Honorable Mentions:
"Little Bill Clinton: Easing into a Comfort Zone" (The Christian Science Monitor) — Mary Wiltenburg
"Looking for a Greener Way of Death" (Salon.com) — Rachel Dickinson
Reporting on a significant topic
Co-winners: "Where are we Headed? The Future of Energy" (The Christian Science Monitor) — Douglas Fox
"The African Divide" (The Christian Science Monitor) — Jina Moore
Honorable mention:
"Confronting Rape as a War Crime" (Congressional Quarterly Press Global Researcher) — Jina Moore
Service Article
Winner: "Understanding Depression at Mid-Life" (Woman's Day) — Cheryl Platzman Weinstock
Honorable Mentions:
"Your Brain on Meditation" (Yoga Journal) — Kelly McGonigal
"Between the Lines" (Better Homes and Gardens) –Leslie Pepper
Trade
Co-winners: "Mindfulness and Weight loss" (IDEA Fitness Journal) — Kelly McGonigal
"When IT is Asked to Spy" (Computerworld) — Tam Harbert
ASJA Founders' Award for Career Achievement
Grace Weinstein, ASJA past president
The Arlene Eisenberg Award for Writing That Makes A Difference
Winner: "School of Hard Knocks" (Good Housekeeping) — Barry Yeoman
Honorable mention:
"Finding Ann Marie (Bethesda Magazine) — Christine Koubeck
June Roth Memorial Award for Medical Journalism
Winner: "The Hot Zone" (Discover Magazine) — Linda Marsa
Donald Robinson Memorial Award for Investigative Journalism
No winners.
Honorable mentions:
"A Risky Play" (City Limits) — Patrick Arden
"A Return to Baghdad"(Gay City News) — Michael Luongo