A simple vision test performed on the sidelines can help identify athletes who have suffered a concussion, according to a new study.
"Adding a vision-based test to evaluate athletes on the sidelines may allow us to better detect more athletes with concussion more quickly.
This is particularly important since not all athletes reliably report their symptoms of concussion, including any vision problems," said senior author Laura Balcer, MD, New York University School of Medicine.
She presented the results of the study at the American Academy of Neurology annual meeting in Philadelphia on April 30.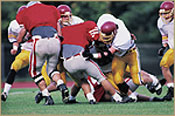 Sports medicine experts have been using standard tests based on balance and cognitive tasks to detect concussion on the sidelines.
But these tests cannot pick up subtle signs of concussion.
They started using vision tests because visual pathways are commonly affected in concussion, said Balcer.
DETECTION RATE 100%
The 1-minute vision test involves reading a series of numbers from index cards or an iPad screen.
The results on the sideline can be compared to a baseline assessment.
Any slowing in time taken to complete the test can be deemed a sign of concussion.
In the study, a total of 217 athletes aged 18 to 22 years playing on the University of Florida men's football, women's soccer, and women's lacrosse teams were tested at the start of the season and again if a concussion was suspected during play.
Among 30 athletes with a first concussion, 79% had a worsen performance on the vision test compared with 52% using a standard concussion evaluation.
Combining information from both tests, the researchers found that 89% of athletes with a concussion were correctly identified.
When results from a third test evaluating errors in balance was added, 100% were identified.
What's more, a worse score on the vision test correlated with more severe concussion symptoms.
The researchers don't think the vision test alone is enough to diagnose a concussion.
They believe it's best used in combination with standard balance and cognition tests.
The bottom-line: All athletes in sports with high concussion rates should undergo pre-season and postseason vision testing, with additional evaluations in real-time to check for suspected concussions.
Dietary supplements are often perceived as band aids for poor lifestyle choices, including imbalanced nutrition, lack of exercise, and deficient sleep patterns. However, tales abound of people who took ill or died after using dietary supplements.
A few weeks ago USPlabs, the developer and marketer of Jack3d, a powder containing a stimulant that marketers say increases strength, speed, and endurance, was sued by the family of a soldier who died after taking the product. The suit, which also includes GNC, which sold the product, claims that the companies deceptively marketed Jack3d as safe and effective while not warning consumers about its potential health risks.
Federal regulations for dietary supplements are very different from those for prescription and over-the-counter drugs. A dietary supplement manufacturer does not have to prove a product's safety and effectiveness before it is marketed.
You will soon be able to find information on safe and legal performance-focused supplements in a book written by Kimberly Mueller, a registered dietitian and board-certified specialist in sport dietetics, and strength and conditioning coach Josh Hingst. Their upcoming book is The Athlete's Guide to Sports Supplements (Human Kinetics, June 2013).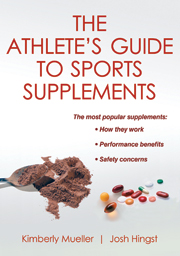 In the book, Mueller offers 5 tips that all athletes should follow when taking a supplement:
1. Talk with your health-care provider before making a decision. Be selective about where and from whom you gather information. Speak with a health-care provider, such as a doctor or pharmacist, about the potential benefits as well as safety risks of dietary supplements before taking anything.
2. Become familiar with reputable online resources for supplements. An online search of dietary supplements will likely lead to a plethora of often conflicting, usually unqualified information. A good place to start is the National Institutes of Health's Office of Dietary Supplements, which includes publications (such as "Dietary Supplements: What You Need to Know") and fact sheets on a variety of specific supplement ingredients and products.
3. Look for clean supplements. Several reviews of supplements available from the Internet and retail stores have confirmed that many supplements are laced with steroids and stimulants, which are prohibited for use in sports. If you are thinking about using a dietary supplement, make sure an independent testing lab has proven that the contents actually match what is printed on the label, there are no ingredients that are not openly disclosed on the label, and there are no unacceptable levels of contaminants present.
4. Learn how to read supplement labels. A dietary supplement label lists essential information about the product. Always read the label and follow directions for use.
5. Know how to report fraudulent supplements or adverse reactions. If you experience an adverse reaction to a dietary supplement, immediately contact your health-care provider and make sure the problem is reported directly to the FDA.
It's impossible to ignore the prevalence of dietary supplement use in athletics. And there are legitimate reasons for an athlete to use supplements in coordination with a well-balanced diet, says Mueller. It's up to you to educate yourself about supplements and use them safely and wisely.