Posts Tagged 'brain changes'
Older men with sleep disturbances appear more likely to have brain changes associated with dementia, according to a new study, adding to evidence that poor sleep may play a role in mental decline.
"These findings suggest that low blood oxygen levels and reduced slow wave sleep may contribute to the processes that lead to cognitive decline and dementia," said lead author Rebecca P. Gelber, MD, DrPH, of the VA Pacific Islands Health Care System and the Pacific Health Research and Education Institute in Honolulu.
Dr. Gelber and colleagues conducted a prospective cohort study of 167 Japanese American men, mean age 84 years, in Honolulu who underwent at-home sleep studies in 1999–2000.
All of the men were monitored until they died an average of 6.4 years later.
Autopsies were conducted on their brains to look for microinfarcts (tiny abnormalities in brain tissue), loss of brain cells, the plaques and tangles associated with Alzheimer disease, and Lewy bodies found in Lewy body dementia.
Loss of brain cells was more common in men who spent less time in slow wave, or deep, sleep (sleep that is important in processing new memories and remembering facts) than in those who spent more time in slow wave sleep.
People tend to spend less time in slow wave sleep as they age, the researchers noted.
Loss of brain cells also is associated with Alzheimer disease and dementia.
LOW OXYGEN LEVELS LEAD TO BRAIN CHANGES
The researchers divided the participants into 4 groups based on the percentage of time spent with lower than normal blood oxygen levels during sleep.
The lowest group spent 13% of their time or less with low oxygen levels, and the highest group spent 72% to 99% of the night with low oxygen levels.
Microinfarcts in the brain were seen almost 4 times as frequently in the one-fourth of men with the lowest oxygen levels during sleep than in men who had the highest oxygen levels.
There was no association between the sleep measures and the level of plaques and tangles.
The researchers noted that the causes of low oxygen levels during sleep were unclear and that brain changes could have occurred before the sleep tests.
Previous studies also have shown a link between sleep stages and dementia.
But this is the first study to show that certain sleep features are related to brain changes, Dr. Gelber noted.
"More research is needed to determine how slow wave sleep may play a restorative role in brain function and whether preventing low blood oxygen levels may reduce the risk of dementia," she said.
Although the study did not actually show that sleep apnea per se is related to brain changes, Dr. Gelber noted that a previous study showed that use of a continuous positive airway pressure machine for obstructive sleep apnea may improve cognition, even after dementia has developed.
The researchers published their results on December 10, 2014 in the online issue of Neurology.
The biggest, most pervasive sports injury story of the year has to be the effects of concussions on football players.
From professional to college to high school players, sports-related brain injuries have become a concern in football.
Studies show that the effects of multiple concussions can be long lasting, including depression, cognitive problems, and even an increased risk of Alzheimer's disease.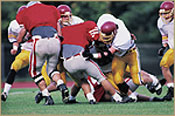 Thousands of retired National Football League (NFL) players who have suffered concussion-related injuries and disabilities filed a class-action lawsuit against the league, claiming that it did not do enough to protect their health and did not tell them about the long-term dangers of repeated head injuries.
Public awareness of the dangers of concussions was again raised after Ohio State University defensive lineman Kosta Karageorge, who had a history of concussions during his college career, was found dead in late November as the result of an apparent self-inflicted gunshot wound.
In early December, a study found that high school football players may develop impact-related brain changes over the course of a single season.
Players who experienced higher levels of head impacts showed the most changes, even in the absence of concussion.
Denver Broncos wide receiver Wes Welker may have worn a larger helmet to help him prevent further concussions in this year's Super Bowl game, but even hits to the head that don't result in concussions can affect athletes' brains and may impact learning.
This makes some athletes more susceptible to repeated head impacts that do not involve concussions.
NEW LAWS, MORE AWARENESS
The good news is that new laws regulating concussion treatment plus awareness of concussions have resulted in a large increase in the treatment of concussion-related injuries for school-age athletes, according to a new study published online on December 22, 2014 in JAMA Pediatrics.
A University of Michigan study designed to evaluate the impact of new concussion laws found a 92% increase in children seeking medical assistance for concussions in states with the legislation in place.
States without concussion laws showed a 75% increase in those seeking injury-related health care.
"There are two stories here," said senior author Steven Broglio, Associate Professor at the University of Michigan School of Kinesiology and Director of the NeuroSport Research Laboratory.
"First, the legislation works.
The other story is that broad awareness of an injury has an equally important effect. We found large increases in states without legislation, showing that just general knowledge plays a huge part."
As of 2014, all states and the District of Columbia have passed laws that outline medical care for young athletes.
The laws differ slightly, but most call for education of coaches or students, the immediate removal of an athlete from a game, or medical clearance before an athlete can return to a sport.
TECHNOLOGICAL ADVANCES
Another way to prevent brain injuries may be to add a vision-based test to evaluate athletes on the sidelines.
This may allow sports medicine doctors to better detect more athletes with concussion more quickly, which is particularly important since not all athletes reliably report their symptoms of concussion, including any vision problems.
Others are taking a more technological approach to protecting players.
Several companies have put sensors or magnets in helmets or mouth guards to detect or absorb the forces of hits to the head, with the hope of further reducing the risk of brain injury to young athletes.
The sensors cannot prevent or diagnose a concussion, but they can alert coaches and trainers to take the proper steps to determine if a player has a concussion.
Let's hope that these and other safety measures are made at all levels of football and translate into fewer concussions next year.