Posts Tagged 'children exercise'

May 4th, 2011 |

Author:
Mark
If you felt the ground shake slightly at 10 a.m. today, that was because millions of children all over the world were exercising simultaneously in what's known as the world's largest exercise class.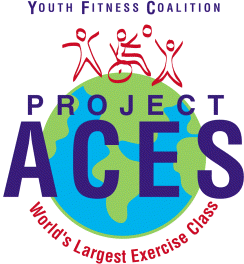 Today is Project ACES (All Children Exercise Simultaneously) Day, designed to engage millions of children, parents, and teachers each year to participate in physical activity at their schools and homes.
Through Project ACES, children learn the value and importance of good nutrition, adequate physical fitness, and healthy decision-making.
Len Saunders, a physical education teacher from New Jersey, started Project ACES in 1989. He and HJ Saunders, of The Youth Fitness Coalition, now organize the event each year.
The American College of Sports Medicine is also a partner, and other groups providing organizational support include the President's Council on Physical Fitness & Sports and the American Heart Association.
Children from all 50 states and more than 50 countries were expected to join in today.
Schools and organizations can also join Project ACES clubs, which commit to exercising daily, weekly, or monthly, concluding with the main ACES event the first Wednesday in May.
There's also a wealth of education material on the Project ACES website. I particularly found two worksheets informative and fun, one on "Nutrition Fuels Fitness" and the other on "What's Your Family Fitness IQ?".

Posted in
Fitness
,
Health
,
Nutrition
|

Tags:
children exercise
,
exercise
,
nutrition
,
physical activity
|

2 Comments »