If you have obstructive lung disease such as asthma, bronchitis, or chronic obstructive pulmonary disease (COPD), you may be more likely to have problems with memory and information processing.
New evidence suggests that the more diminished your airflow, the greater your impairment.
"Persons with obstructive lung disease experience cognitive impairment mainly in memory and information processing, which is partially related to impaired lung function," said Fiona Cleutjens, MSc, of the Center of Expertise in Chronic Organ Failure in Horn, the Netherlands.
"We know from other studies that cognitive impairment may have negative consequences for daily functioning, health status, and treatment adherence."
The researchers presented their results at the 2013 European Respiratory Society Annual Congress.
Earlier studies suggested that those with obstructive lung disease often experience problems with a range of mental processes.
But those studies looked only at global cognitive function.
The new study looked at specific cognitive functions that affect those with obstructive lung disease.
Cleutjens and colleagues conducted a large prospective cohort study of more than 500,000 Scottish, English, and Welsh persons aged 40 to 70 years that focused on genetics, environmental exposures, and lifestyle.
They identified more than 5000 men and women who had obstructive lung disease and more than 37,000 comparable people who did not have lung disease.
All completed several tests to examine cognitive performance and lung function.
Worse Scores on Memory Tests
Those with obstructive lung disease had significantly worse scores on memory tests as well as slower reaction speeds compared with those without lung disease, which is an indirect indication of the cognitive processing speed, Ms Cleutjens said.
They also scored worse on tests that reflect the capacity to understand and remember the spatial relations among objects.
They also scored significantly more poorly for all but the test of fluid intelligence, which Ms Cleutjens described as reflecting the capacity to solve problems that require logic and reasoning ability.
Those with the least severe obstructive airway disease had significantly better fluid intelligence scores than those in the intermediate group and significantly better numeric memory than those in the most impaired group.
Ms Cleutjens noted that cognitive problems associated with obstructive lung disease can be debilitating, particularly for a patient who is already dealing with the symptoms of lung disease.
She added that obstructive lung diseases such as asthma and COPD often exist alongside other conditions.
Routine Screening for Cognitive Problems

Ms Cleutjens recommended routine screening for cognitive problems in patients with obstructive lung disease and suggested that a simple screening questionnaire would be a good first step.
Then any patients showing problems could be tested further with a neurocognitive battery to determine which aspects of cognition are impaired or a physician may decide to test only those patients who report cognitive difficulties or who have other risk factors for cognitive impairment, such as vascular problems.
Medications also may affect cognitive performance.
For example, anticholinergic drugs often prescribed for obstructive lung disease are associated with memory loss in some patients.
Ms Cleutjens noted, "Clinicians and health care professionals need to be alert to the possible impact of cognitive impairment in the self-management, clinical management, and pulmonary rehabilitation of obstructive lung disease patients."
There is a growing body of research that suggests that the slow, rhythmic breathing during Tai Chi enhances the health of patients with chronic obstructive pulmonary disease (COPD).
Conventional pulmonary rehabilitation programs that focus on aerobic exercise and strength training can improve exercise capacity, quality of life, and symptoms in patients with COPD.
In addition to extending the breathing techniques taught in pulmonary rehabilitation, mind-body interventions such as Tai Chi integrate novel elements, such as progressive relaxation, imagery/visualization, mindfulness of breathing and overall body sensations, postural training, and coordinated patterns of breathing and movement.
"These therapeutic elements may allow Tai Chi to impact COPD symptoms and pathology via complex mechanisms not specifically targeted in conventional rehabilitation and therefore may be an effective adjunct to therapy," says Peter Wayne, PhD, Director of Research, Osher Center for Integrative Medicine at Brigham and Women's Hospital and Harvard Medical School.
Wayne is the author of the upcoming book The Harvard Medical School Guide to Tai Chi.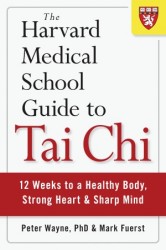 "Mind-body exercises may also allow patients with COPD to feel more confident about their ability to exercise and entice them to continue to exercise, which, of course, has the potential for lasting benefits."
A new study published online today shows that Tai Chi can be used as an effective form of exercise therapy for people with COPD.
The Australian researchers found that short-form Sun-style Tai Chi done twice a week for 12 weeks could improve the exercise capacity and quality of life in people with COPD. The research published ahead of print in the European Respiratory Journal suggests that Tai Chi may be as beneficial as pulmonary rehabilitation.
"With increasing numbers of people being diagnosed with COPD, it is important to provide different options for exercise that can be tailored to suit each individual," said lead author Regina Wai Man Leung from the Concord Repatriation General Hospital.
"The results from this small sample provide compelling evidence that Tai Chi is an effective training program for patients with COPD, and could be considered as an alternative to the usual exercise training program that are available in pulmonary rehabilitation."
At Harvard Medical School, Wayne's group has completed a small, pilot randomized controlled trial designed to determine the feasibility of administering a Tai Chi program to improve the quality of life and exercise capacity in COPD patients.
The Harvard Medical School researchers randomized 10 patients, average age 66, with moderate to severe COPD to 12 weeks of Tai Chi plus usual care or usual care alone.
The Tai Chi training consisted of a one-hour class, twice weekly, that emphasized gentle movement, relaxation, meditation, and breathing techniques.
"We looked at disease-specific symptoms and quality-of-life, exercise capacity, pulmonary function tests, mood, and self-efficacy," says Wayne.
"Participants reported enjoying the Tai Chi program, and were able to participate without experience and adverse reactions to exercising."
After 12 weeks, the Tai Chi participants said they felt significant improvement in chronic respiratory symptoms compared to the usual-care group.
The Tai Chi group also had slight improvements in their 6-minute walking distance, depression, and shortness of breath.
"Our conclusion: Tai Chi as an exercise appears to be a safe, positive adjunct to standard care and warrants further investigation," says Wayne.
Led by Dr. Gloria Yeh, the Harvard Medical School group is now conducting a 10-fold larger trial sponsored by the National Institutes of Health comparing Tai Chi to both meditative breathing exercises (isolated out of the Tai Chi program) as well as to a non-exercise education program.