Posts Tagged 'depressive symptoms'
Men referred for borderline testosterone levels may have high rates of depression and depressive symptoms that are under-recognized, according to the results of a new study.
"In an era where more and more men are being tested for 'Low T' — or lower levels of testosterone — there is very little data about the men who have borderline low testosterone levels.
We felt it important to explore the mental health of this population," said lead author Michael S. Irwig, MD, associate professor of medicine and director of the Center for Andrology at the George Washington School of Medicine and Health Sciences in Washington, DC.
The number of testosterone prescriptions has grown exponentially over the past decade.
Along with it has been a corresponding increase in direct-to-consumer marketing about the effects of "Low T" on decreased sexual function and low energy in middle-aged men.
The study included 200 adult men, mean age 48 years, who were referred for borderline total testosterone levels between 200 and 350 ng/dL.
Doctors typically treat men for hypogonadism if they have symptoms of low testosterone and their testosterone levels are below 300 ng/dL.
The researchers gathered information on demographics, medical histories, medication use, signs and symptoms of hypogonadism, and assessments of depressive symptoms and/or a known diagnosis of depression or use of an antidepressant.
All of the study participants who were not diagnosed with depression or who were taking medications for the condition answered standardized test questions aimed at measuring mood.
More Than Half Showed Signs of Depression
The results show that more than half (56%) of the men had depression or depressive symptoms, which is significantly higher than rates seen in general populations.
A recent survey of US adults found that 6% of those who are overweight or obese were depressed.
One-quarter of the men used antidepressants.
Rates of depression were 62% for those in their 20s and 30s, 65% for those in their 40s, 51% for those in their 50s, and 45% for those who were age 60 and higher.
Notably, the men had high rates of overweight or obesity and physical inactivity.
Common symptoms were erectile dysfunction, decreased libido, fewer morning erections, low energy, and sleep disturbances.
Sexual and nonspecific symptoms, such as fatigue, likely prompted measurements of testosterone in this selected population, the researchers pointed out.
They concluded that "clinicians should consider screening for depression/depressive symptoms and overweight and unhealthy lifestyle risk factors in men referred for tertiary care for potential hypogonadism."
Testosterone replacement therapy can improve the signs and symptoms of low testosterone in these men, the researchers said.
The researchers published their results online on July 1, 2015 in the Journal of Sexual Medicine.

The ancient Chinese mind-body exercise of Tai Chi can help relieve the symptoms of depression in older people.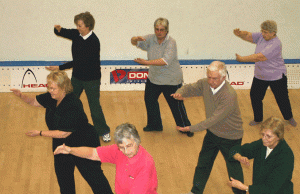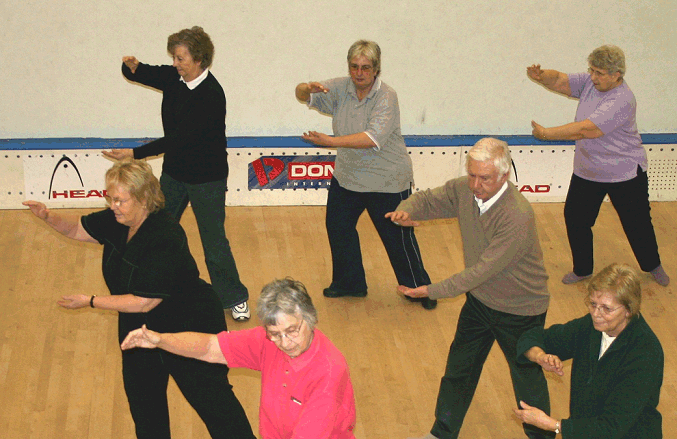 More than 18 million American adults suffer from depression, and 2 million of them are age 65 or older. A new study from the University of California at Los Angeles shows that 10 weeks of Tai Chi classes for 2 hours per week helped to relieve depressive symptoms, as well as improve quality of life, memory, and cognition, and provide more overall energy, among 112 adults age 60 or older with major depression who were also treated with an antidepressant drug.
The study in the current online edition of the American Journal of Geriatric Psychiatry is the first study to demonstrate the benefits of Tai Chi in the management of late-life depression, said lead author Dr. Helen Lavretsky, a UCLA professor-in-residence of psychiatry.
Any kind of exercise may seem the last thing you want to do if you are depressed, but exercise may help relieve your symptoms. The links between anxiety, depression, and exercise is quite robust. There's good evidence to suggest that exercise can improve depression and anxiety, and exercise may be just as good as drugs in treating depression.
Exercise probably helps in a number of ways, including releasing feel-good brain chemicals (neurotransmitters and endorphins) and reducing immune system chemicals that can worsen depression. Exercise has many psychological and emotional benefits as well. These include gains in self-confidence, feeling better about your appearance, relaxation of the mind, and enhancement of social interactions.
A number of Tai Chi studies have reported improvement in mood, decreases in anxiety, and enhancement in vigor. A recent meta-analysis of 40 Tai Chi studies including more than 3,800 subjects conducted by Dr. Chenchen Wang from the Division of Rheumatology at Tufts University School of Medicine found that Tai Chi reduced stress, anxiety, depression, and mood disturbance, and increased self-esteem.
"Tai Chi provides a perfect combination of exercise, mood enhancement, stress reduction, and social support," says Dr. Peter Wayne, Director of Tai Chi and Mind-Body Research Programs at Harvard Medical School's Osher Research Center. "Being part of a group has therapeutic value for a variety of medical conditions, including depression and anxiety. In ongoing Tai Chi classes, students develop a strong sense of community, and with rich interactions and support from teachers and peers, often undergo a profound journey of self-discovery."
Tai Chi may just be a natural way for our aging population to handle the psychological aspects of depression and improve their physical health at the same time.