Does stress affect fertility?
A body of evidence continues to build about the effects of chronic stress on a woman's ovulation and a man's sperm production. Stress may lead to a cascade of hormonal events that led to inhibition of the body's central reproductive hormone signal, and subsequently disturb ovulation or sperm production and sexual activity, write Weill Cornell fertility doctors Drs. Zev Rosenwaks and Marc Goldstein in A Baby at Last!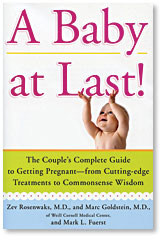 Humans are designed to endure acute stress. That's a part of life. But the significant amount of stress couples endure, cycle after cycle, as they attempt to conceive may disrupt reproductive function. Normal fitness and diet routines may fall by the wayside, leading to a more frazzled, stressed lifestyle. Putting this into Eastern philosophic terms, if you are not in harmony with yourself and your culture, you are stressed.
However in studies attempting to make a direct connection between stress and lower in vitro fertilization success rates, the results are mixed.
A new meta-analysis of 14 studies and more than 3,500 infertile women undergoing assisted reproductive treatment found emotional distress did not affect their chances of becoming pregnant. In the Feb. 24, 2011 online edition of the British Medical Journal, Cardiff University psychologists conclude: "The findings of this meta-analysis should reassure women and doctors that emotional distress caused by fertility problems or other life events co-occurring with treatment will not compromise the chance of becoming pregnant."
We still need more information to determine the exact relationship between stress and its effects. It may be helpful for couples to know that anxiety and depression won't necessarily ruin their chances of having a baby.