Posts Tagged 'head trauma'
The first time Denver Broncos' wide receiver Wes Welker takes a hit during this Sunday's Super Bowl game, questions will arise about whether he can continue.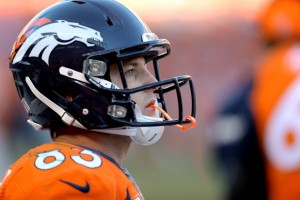 Earlier this week Welker, who sustained 2 concussions and missed the last 3 regular season games, said he would play in the Super Bowl even with a concussion.
He will wear a larger helmet that supposedly helps protect him from another concussion.
This week the National Football League announced the number of concussions had dropped 13% this season due to improvements in medical diagnoses, stiffer penalties for hits to the helmet, and fewer practices.
Many studies have shown the devastating, long-lasting health implications associated with concussions.
The growing concern is that repetitive head trauma can lead to chronic traumatic encephalopathy, a progressive neurodegenerative process leading to pronounced behavior changes and cognitive dysfunction.
But even hits to the head that don't result in concussions can affect athletes' brains and may impact learning.
Repeated blows to the head during a season of contact sports may cause changes in the brain's white matter and affect cognitive abilities even if none of the impacts resulted in a concussion, according to a new study published in the journal Neurology.
White matter, which transmits signals through nerve cells, actively affects how the brain learns and functions.
Using a form of magnetic resonance imaging, researchers at the Indiana University School of Medicine and the Geisel School of Medicine at Dartmouth College found significant differences in brain white matter of 80 varsity football and hockey players compared with a group of 79 non-contact sport athletes (track, crew and Nordic skiing) following 1 season of competition.
"The contact sports and non-contact sports groups differed, and the number of times the contact sports participants were hit, and the magnitude of the hits they sustained, were correlated with changes in the white matter measures," said lead author Thomas W. McAllister, M.D., chair of the Indiana University Department of Psychiatry, who was at Dartmouth when he conducted the study.
"In addition, there was a group of contact sports athletes who didn't do as well as predicted on tests of learning and memory at the end of the season.
We found that the amount of change in the white matter measures was greater in this group."
The results suggest that some athletes may be more susceptible to repeated head impacts that do not involve concussions.
But much more research would be necessary to determine how to identify those athletes.
So even if Welker doesn't take a hard hit to the head, he may still suffer the effects of repetitive impacts, not just those that are diagnosed as a concussion.
A simple blood test may be able to identify football players who have suffered brain damage from hits to the head, even if they don't have a concussion.
Much attention is being paid to concussions among football players and the big hits that cause them.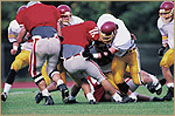 No single test can reliably diagnose a concussion, said Jeffrey Kutcher, MD, of the University of Michigan in Ann Arbor, at a recent press conference to announce the just-released, newly updated guidelines on sports concussions by the American Academy of Neurology.
Concussions can be difficult to diagnose, relying on player symptoms, cognitive tests, or very costly brain scans.
A $40 blood test for a protein, called S100B, normally found only in the brain may offer an objective measure of whether a player has endured head trauma.
Researchers at the Cleveland Clinic and University of Rochester have found that elevated blood levels of the S100B protein directly correlate to the number and severity of hits to the head during college football games.
Body contact or simply playing in a football game did not affect S100B levels in the players.
In an interview with the lead author, Damir Janigro, Ph.D., professor of molecular medicine and the director of cerebrovascular research group at Cleveland Clinic, he gave me
a scenario of how the blood test may be used.
"In a situation where a player is suspected of having a concussion, we could validate that by a blood test the following day," says Janigro.
"If the test is positive for S100B, we can assume the player had some concussive event.
If the blood test is normal, we can assume the player did not have a concussion."
In effect, the blood test could tell whether the player needs medical attention as a result of the in-game hits to the head.
In a study of 67 college football players, Janigro and colleagues found that the more hits to the head a player absorbed, the higher the levels of S100B leaked into the bloodstream after a head injury.
Typically, S100B is found only in the brain, says Janigro.
Finding it in the blood indicates damage to the layer of cells that prevent materials from the blood from entering the brain, the so-called blood-brain barrier.
Once in the bloodstream, S100B is seen by the immune system as a foreign invader, triggering an autoimmune response that releases auto-antibodies against it.
Those antibodies then seep back into the brain through the damaged blood-brain barrier, attacking brain tissue and leading to long-term brain damage.
Four of the football players tested showed signs of an autoimmune response to S100B.
Brain scans confirmed that the presence of S100B antibodies in the players' blood correlated with brain tissue damage.
"To our surprise, even when players don't have a concussion, the blood-brain barrier opens," says Janigro, adding that many European countries do blood tests for S100B to diagnose mild traumatic brain injury.
Janigro and colleagues Nicola Marchi, Ph.D., of the Cleveland Clinic and Jeffrey Bazarian, M.D., M.P.H., of the Clinical and Translational Science Institute at the University of Rochester Medical Center, published their research on March 6, 2013, in the online journal PLOS ONE.
"And to our surprise a few of the non-concussed players had changes in brain scans and balance tests after the season," says Janigro, noting that these players had the most openings in the blood-brain barrier.
With further tests, Janigro says he plans to figure out at what blood level of S100B players should stop playing to prevent further brain damage.
He also plans to look at former college football players and retired National Football League players to see whether they have S100B autoantibodies in the brain.
"It's a matter of brain health," says Janigro. "We don't have a good experimental design to look at brain health, other than scans."
He hopes to use the blood test to point out the risk factors associated with hits to the head as well as a pre-screening tool to narrow down those who may need to go for a brain scan to confirm a brain injury.