Posts Tagged 'healthy weight week'
Healthy Weight Week (January 15 to 21) kicks off today to celebrate healthy diet-free living habits that last a lifetime and prevent weight problems.
Two-thirds of the American population is overweight or obese, and obesity numbers will continue to rise unless Americans stop eating more calories than they use, according to Brian Sharkey, a leading fitness researcher and author of Fitness Illustrated (Human Kinetics, 2011).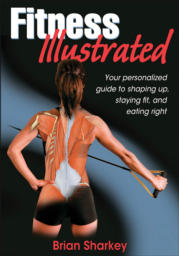 "In ages past, when the human food supply was unpredictable, people could not count on three square meals a day; as a result, the human body learned how to store energy in the form of fat," Sharkey says.
"Today, most of us enjoy access to a dependable and plentiful food supply, but our bodies still store energy even though the need for doing so is gone."
To lose weight, Sharkey says people often turn to restrictive diets, which can backfire and cause weight gain.
"When you diet, your body becomes more fuel efficient and your metabolic rate declines," Sharkey explains.
"As a result, even more dieting or exercise is required in order to reduce excess weight.
During this cycle, your weight loss slows, and you regain weight three times faster."
When a person is on a diet, the body uses protein for energy, which means a person can lose muscle protein with each dieting cycle.
As muscle is lost, the capacity to burn calories is reduced.
"Thus, each time you diet to lose weight, you lose lean tissue and must therefore decrease your caloric intake in order to avoid subsequent weight gain," Sharkey adds.
"As a result, the only way to minimize the loss of lean tissue while dieting is to exercise."
The safest way to lose weight and keep it off is to eat fewer calories and burn more with physical activity.
In Fitness Illustrated, Sharkey offers six keys to maintaining a healthy weight:
1. If you are active, consume 55 to 60 percent of each day's calories in the form of complex carbohydrate (beans, brown rice, corn, potatoes, or whole-grain products) and fruit.
2. Limit your fat intake and avoid saturated fat and trans fat.
3. Eat a sufficient amount of lean, high-quality protein (15 percent of your daily caloric intake) to meet your protein needs during training.
4. Achieve weight control by balancing your caloric intake with your caloric expenditure.
5. Since metabolic rate declines with age, you will have to eat less, engage in more activity, or do both in order to maintain a healthy weight.
6. Remember that dieting often leads to future weight gain, especially when it is done without physical activity.