Posts Tagged 'heart-healthy lifestyle'
Offer middle school students healthier cafeteria food, get them more gym class time, and teach them about making good health choices and they can reduce their risk of future heart disease.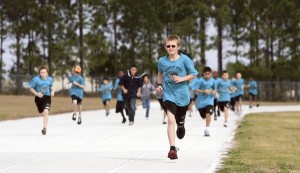 So say the results of a new study presented today at American Heart Association's Quality of Care and Outcomes Research 2011 Scientific Sessions in Washington, D.C.
Over the past 4 years, researchers at the University of Michigan have collected information on nearly 600 middle schoolers who participated in Project Healthy Schools.
This school-based intervention program educated 6th graders about heart-healthy lifestyles in hopes of reducing their future risk of heart disease and diabetes.
The program's five main goals for the kids were:
1. Eat more fruits and vegetables
2. Make better beverage choices
3. Include at least 150 minutes of physical activity each week
4. Eat less fatty foods
5. Spend less time in front of the TV and computer
Students received classroom education, healthier cafeteria selections, and more opportunities for physical activity to meet these goals.
The researchers collected yearly follow-up data, including body mass index, lipid levels, blood pressure, heart rate, and self-evaluation of healthy eating, exercise habits, and other lifestyle behaviors.
After 4 years, the results show significant improvements in total cholesterol, low-density lipoprotein (LDL) cholesterol (so-called "bad" cholesterol), and resting heart rates (an indicator of fitness level).
The wellness survey indicates that the students continued to make health-conscious decisions by eating more fruits and vegetables, participating in more organized physical activities, and spending less time in front of the TV and computer.
By improving overall cholesterol and LDL's, choosing to eat healthier food, and participating in more physical activities, these children effectively decreased their risk of CV disease and diabetes, the researchers concluded.
"This 4-year school intervention in Ann Arbor, Mich., was designed to promote healthier lifestyle choices and it shows that programs like this could have long-term impact on obesity and other health risks," said study co-author Elizabeth A. Jackson, M.D., M.P.H., assistant professor of internal medicine at the University of Michigan.
The program, which is a coalition of the University of Michigan and local community and business organizations, was considered so successful that it's now being expanded to about 20 middle schools in Michigan.
Just goes to show that simple lifestyle changes and a little education goes a long way to help kids stay healthy.