Posts Tagged 'Heart Insight'
Get moving with your kids to keep them active.
That's one of the messages from a sidebar, "Making Fitness Fun for Kids," to my cover story in the August 2012 issue of Heart Insight magazine, just released online.
The main subject of the cover story is Tamika Catchings, a star professional basketball player and member of the NBA/WNBA FIT team, a program that encourages physical activity and healthy living for children and families.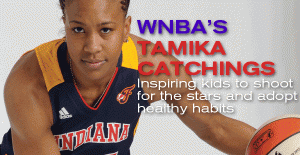 Basketball players participate in games with kids around the country and get them excited about health and fitness.
Taking my own advice, I'm heading to my local Y this afternoon to workout with my 15-year-old daughter.
Here's the full sidebar. Enjoy.
"Making Fitness Fun for Kids"
To maintain a healthy lifestyle, kids need to get regular physical activity.
Guidelines from the American Heart Association and other organizations suggest that kids should participate in at least 60 minutes of moderate to vigorous physical activity every day.
Being physically active doesn't necessarily mean playing on a school team or working out at the gym.
Kids can ride bikes, jump rope, play hopscotch and run around the park with their friends.
Any game where kids are up and moving is a great way to help them stay physically active and make their heart, bones and muscles stronger, too, says Denver Nuggets head strength coach Steve Hess.
"The fun part of physical activity comes from kids working hard at something exciting that they like to do.
If you make the activity about them, they will find out that hard work can be fun, too."
Parents need to find out what stimulates their kids and put a plan into place for optimum buy in, says Hess.
He and his sons Jordan, 13, and Korey, 10, will, on a snowy day, build 10 sledding ramps of different heights and then take turns zooming down them.
If the weather is bad, he creates an obstacle course or treasure hunt inside the house.
"Once they get into doing the activity, they lose track of time. They don't even know that they're working out and getting fit," he says.
Here are some other tips on how to make physical activity more fun for kids:
• Find activities your kids will love.
Some kids just don't like competing in sports.
There are lots of other ways to be physically active, including swimming, horseback riding, dancing, cycling, skateboarding, yoga, hopscotch or brisk walking.
Encourage your child to explore multiple activities to find one he or she really enjoys and one that is appropriate for his or her age.
• Get the whole family moving.
Plan times for everyone to be physically active.
Take walks, ride bikes, go swimming, garden or just play hide-and-seek outside.
Everyone will benefit from the exercise and the time spent together.
• Participate in a local walkathon.

Find a local fundraising walk or "fun run" and bring the whole family.
If it's animal-friendly, bring your dog along, too.
• Make household chores into a dance party.
Put on a favorite CD and allot a certain number of songs to complete a household chore.
For example, allow two songs to vacuum the living room, three songs to wash the dishes and one song to pick up toys in the playroom.
Your kids will be moving faster and working harder to beat the clock, causing their hearts to pump harder and get stronger.
• Don't make exercise a punishment.
Forcing your child to go outside and play may increase resentment and resistance.
Use physical activity to encourage your child to do something she wants to do.
For instance, tell your child she can ride a bike for 30 minutes before starting homework after school.
It's likely she'll beg for 20 more minutes outside just to put off the homework if she enjoys bike-riding.
• Mix it up to keep it interesting.
Don't get stuck in a workout rut.
Incorporate a new type of physical activity every few weeks to keep your child motivated.
Varying activities also prevents your child's body from getting used to the same workout, helping improve your child's strength and fitness.
• Break it up.
Kids don't have to have to get in 60 minutes of physical activity all at once.
As long as daily physical activity adds up to at least 60 minutes of aerobic physical activity, your child meets the guidelines.
That might mean 20 minutes of play during recess, 20 minutes of bike riding after school and 20 minutes of briskly walking the dog after dinner.
For the best effects, parents need to put their own energy and enthusiasm into an activity to set an example, says Hess.
"Parents have to get up and going, too," he says.
"When I take my sons to the park, I'm not just sitting on a bench watching.
I'll shoot hoops with Korey and ask Jordan to show me some moves on the skateboard ramps.
I am truly excited about the things they are doing, and they can see that."