A life-threatening heart condition nearly ended Ronny Turiaf's professional career before it began.
His health scare and successful open-heart surgery inspired the New York Knicks center to become a passionate advocate for heart-health awareness.
Tonight, his Heart-to-Heart Foundation is holding its first-ever fundraiser at The Lincoln Center in Spokane, WA.
"A Night with Ronny Turiaf" is designed to raise funds for the Ronny Turiaf Heart to Heart Foundation, which provides health services, such as heart surgeries, EKGs, and ECHO cardiac screenings and defibrillators to children and schools in need.
The foundation was established in August 2009 to provide medical care for children who do not have health insurance and cannot afford the care that they so desperately need.
When I interviewed Ronny for a cover story for Heart Insight magazine, he told me he established the foundation because "I told myself that if I was financially stable enough, I would do whatever I could to help others."
Ronny is truly a good guy with a big heart.
He continues to raise awareness about life-threatening heart conditions, and to fund prevention, detection, and treatment for those in need.
If you can't make it to the fundraiser to hear Cedric "The Entertainer" roast Ronny, you can still make a donation to help his cause, as I have done.
A votre sante!
A toast to the health of all fathers looking forward to a cold beer on a hot day this Sunday.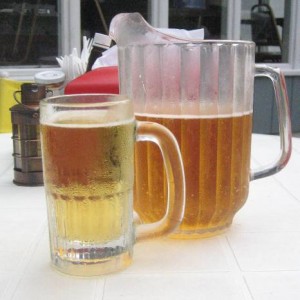 Beer can be beneficial to the heart, kidneys, and bones, says Ethan A. Bergman, PhD, RD, CD, FADA, American Dietetic Association President-Elect.
"A cold beer is the perfect way to relax at the end of the day, it tastes great, and in moderation, it can even be good for you," he says.
Here's how your favorite beer can enhance your health:
–Studies show one or two drinks a day can reduce your chances of heart disease by increasing levels of so-called "good" high-density lipoprotein cholesterol.
The barley in beer also contains a type of fiber that lowers cholesterol levels.
And beer is a good source of B vitamins, including B6 and B12, which lower levels of homocysteine, an amino acid that can damage arteries and encourage blood clots.
–Beer, compared to other alcoholic drinks, is more likely to lower your risk of kidney stones, probably due to its high water content.
The hops found in beer may also slow the release of calcium, and high calcium levels may lead to kidney stones.
–One or two beers a day can make your bones stronger.
The silicon in beer may be the key element that increases bone density.
So as you celebrate Father's Day this weekend, consider you're doing your body a favor.
One or two beers a day is a healthful way to celebrate.
Just don't try get in a week's worth of health all in one day.