Posts Tagged 'high blood pressure'
If you have heart disease, you may want to find a physical activity that you can easily maintain.
The slow-paced "meditation in motion" of Tai Chi may be just what the doctor ordered.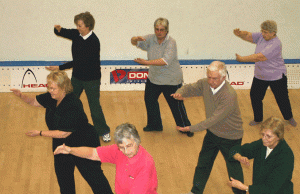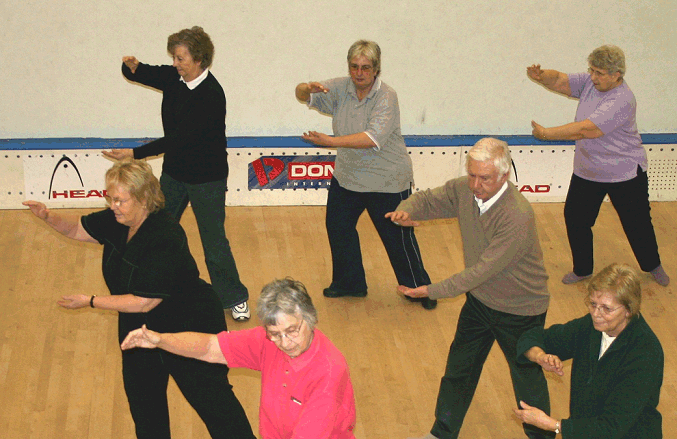 Based on the existing evidence, Tai Chi is a promising addition to regular heart care.
Cardiac rehabilitation programs are, unfortunately, underused.
"Tai Chi may be a good option for those unable or unwilling to engage in other forms of physical activity, or as a bridge to more rigorous exercise programs in frail patients," says Peter Wayne, Ph.D., assistant professor of medicine at Harvard Medical School and the director of research for the Osher Center for Integrative Medicine, jointly based at Harvard Medical School and Brigham and Women's Hospital in Boston.
"If your doctor says you have borderline high blood pressure and you are not certain you want to begin drug therapy, a non-pharmacological approach such as Tai Chi may be a way to keep your blood pressure in check.
If you have established high blood pressure and find it difficult to engage in a regular exercise regimen, again, think about using Tai Chi to aid the treatment program your doctor has designed for you."
Regular physical activity, including Tai Chi, has beneficial effects on many risk factors for heart disease, such as high blood pressure, high cholesterol levels and pre-diabetes, says Ruth E. Taylor-Piliae, Ph.D., R.N., associate professor and Robert Wood Johnson Foundation nurse faculty scholar alumna at the University of Arizona's College of Nursing in Phoenix, where she conducts Tai Chi research.
"Regular physical activity promotes weight reduction, which can help reduce high blood pressure.
Exercise can lower total LDL, or "bad", cholesterol levels, as well as raise HDL, or "good", cholesterol levels," she says.
"Among those with pre-diabetes, regular exercise can aid the body's ability to use insulin to control blood glucose levels."
Importantly, all studies to date suggest that Tai Chi may be safe for heart patients.
It may offer you additional options, whether in addition to a formal cardiac rehab program, as a part of maintenance therapy or as an exercise alternative.
Older men who have high blood pressure can lower their risk of death with even moderate amounts of exercise, according to a new study.
"To substantially reduce his risk of death, an elderly man needs to walk briskly for 20 to 40 minutes a day, 4 to 6 times per week," lead author Charles Faselis, MD, Chief and Associate Professor of Medicine at George Washington University School of Medicine and Health Sciences (SMHS) in Washington, DC, said in an interview.
At the moment, only about 25% to 30% of older men engage in a brisk walk of 20 to 40 minutes most days of the week, Dr. Faselis noted.
BENEFITS OF A BRISK WALK
For the study, researchers assessed the fitness status of more than 2150 men with hypertension, aged 70 years and older, using a standard treadmill exercise test.
The researchers published their results online in the May 12, 2014 issue of Hypertension.
They used metabolic equivalents (METs)—equal to the amount of oxygen the body uses per kilogram of body weight per minute—to determine the men's peak fitness levels.
One MET is the amount of energy expended at rest; anything above that represents work.
The researchers categorized the men as very low fitness, low fitness, moderate fitness, and high fitness.
"To put this in perspective, the peak MET level of a sedentary 50-year-old is about 5 to 6 METs," said Dr. Faselis.
"For a moderately fit individual, it's about 7 to 9 METS, and for a highly fit person, it's 10 to 12 METs."
After an average follow-up of 9 years, the researchers found that the risk of death was 11% lower for every 1-MET increase in exercise capacity.
Compared with least-fit men (up to 4 peak METs), the risk of death was 18% lower in those in the low-fit category (4.1 to 6 peak METs), 36% lower in the moderately fit men (6.1 to 8 peak METs), and 48% lower in the high-fit men (peak METs of more than 8).
"A regular brisk walk most days of the week is a safe, effective form of exercise.
Most health benefits are realized at this exercise level.
More vigorous exercise is not required," said senior author Peter Kokkinos, PhD, Professor at Veterans Affairs Medical Center, Georgetown University School of Medicine and George Washington University SMHS.
He added that an exercise stress test is highly recommended for patients before they engage in any exercise program.
Also, doctors should check with the patient periodically and encourage him to maintain exercise, he said.
"PHYSICAL ACTIVITY AWARENESS" CAMPAIGN
"The evidence supporting exercise-related health benefits for all ages is overwhelming," Dr Kokkinos said.
"Physical activity is an inexpensive way to improve health.
It can easily be implemented for most populations at any age.
Yet, we are in the midst of a physical inactivity epidemic.
Health-care providers can help change all this by simply taking a few minutes to discuss physical activity with their patients."
Dr. Faselis added: "The responsibility of promoting physical activity should not stop with the health care provider.
In this digital age, where inactivity is fostered, the time has come for a 'Physical Activity Awareness' campaign nationwide."