Posts Tagged 'high school athletes'
The night before her most recent junior varsity basketball game, my daughter Sarah, age 15, was worried.
She had tickets with a friend to see the boy-band One Direction at Madison Square Garden, and was afraid she would be up very late.
"I'll probably be too tired to play. I hope I don't fall down and hurt myself during the game," she lamented.
And she was right to worry.
Older high school athletes who don't get a good night's sleep are the most prone to sports injuries.
On the other hand, adolescent athletes who sleep 8 or more hours each night are 68% less likely to be injured than athletes who regularly sleep less, according to new research presented at the American Academy of Pediatrics National Conference recently.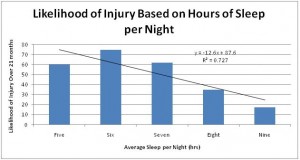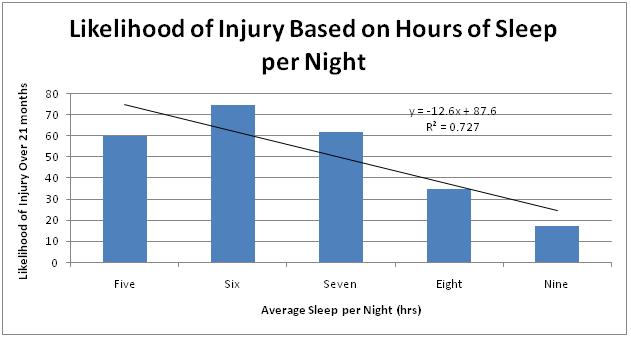 Other studies have shown that lack of sleep can affect cognitive skills and fine motor skills, but "nobody has really looked at this subject in terms of the adolescent athletic population," said lead author Matthew Milewski, MD of the Children's Orthopaedic Center, Children's Hospital of Los Angeles, Los Angeles, CA.
"When we started this study, we thought the amount of sports played, year-round play, and increased specialization in sports would be much more important for injury risk," said Dr. Milewski.
Instead, "what we found is that the two most important facts were hours of sleep and grade in school."
He suggests that older athletes may accumulate a higher injury risk after playing 3 or 4 years at the high school level.
In addition, older athletes are bigger, faster and stronger, and therefore more likely to suffer a sports injury.
In the study, the researchers asked middle and high school athletes from grades 7 to 12 enrolled at the Harvard-Westlake School in Studio City, CA, to answer questions about the number of sports they played and the time they committed to athletics, both at school and through other programs, whether they used a private coach, whether they participated in strength training, how much sleep they got on average each night, and how much they subjectively enjoyed their athletic participation.
Some 70% of the student athletes (112 out of 160 students; 54 males and 58 females; mean age 15) completed the survey, conducted in conjunction with Children's Hospital of Los Angeles.
Researchers then reviewed those students' school records pertaining to reported athletic injuries.
The study showed that hours of sleep per night was significantly associated with a decreased likelihood of injury.
In addition, the higher the grade level of the athlete, the greater the likelihood of injury – 2.3 times greater for each additional grade in school.
Injury was not significantly associated with gender, weeks of participating in sports per year, hours of participation per week, number of sports, strength training, private coaching and subjective assessments of "having fun in sports."
The researchers concluded "adolescents may benefit from additional sleep as they get older to help reduce the risk of injury during sports."
As it turns out, Sarah got to bed at 11 p.m. – earlier than usual – after the concert (which she said was "cool").
The next day, she played nearly all of the basketball game, scoring 6 of the Brooklyn Friends School team's 24 points, in a losing, but injury-free, effort.
Teenage boys who play football suffer more concussions than any other high school athletes, but girls who play soccer and basketball, and boys who wrestle, play ice hockey or lacrosse also are at risk of head injury.
Nearly half (47%) of concussions among high school athletes happen on the football field, according to a new study published in the January issue of American Journal of Sports Medicine.
This data comes from a large, national sample of US high schools who reported injury data for 20 sports during the 2008-2010 academic years.
"Although interest in sports-related concussions is usually focused on full-contact sports like football and ice hockey, concussions occur across a wide variety of high school sports," conclude the authors from the Research Institute at Nationwide Children's Hospital in Columbus, OH, led by researcher Natalie McIlvain.
Most of the head injuries happened when players collided with each other, but even some children in non-contact sports, such as softball, gymnastics, cheerleading and swimming, suffered blows to the head.
Girls having a 70% higher concussion rate than boys in "gender-comparable" sports.
It's not clear why, but it may have to do with lesser neck strength among girls, said Christy Collins, a senior research associate at Nationwide Children's Hospital.
"The real danger is returning to play too soon," Collins says.
To prevent concussions, young athletes should learn to play by the rules of the game and be in good physical shape when they start playing, writes Jane Gillett, MD, in Brainline
"Someone who is unable to keep up with the pace of the game is more likely to get hurt," writes Gillett.
"And practicing the skills of the game in a non-competitive manner through drills and structured workouts help athletes hone the necessary skills like being aware of where others are in play, where the ball is, and ways to improve balance, mobility, and hand/eye coordination.
Another important component is to teach your young athlete sportsmanship.
That means not to take things said or done as a personal attack and not to respond to an aggressive act by becoming more aggressive themselves.
Being a role model in 'turning the other cheek' will help demonstrate this behavior."
The coach should also be aware of the signs and symptoms of a concussion — being dazed, confused, stunned, or even experiencing a brief loss of consciousness, according to Gillett.
Other symptoms include headache, dizziness, and transitory memory loss of the event or of events earlier that day.
"The coach should then keep the player out of the game and future games until the effects of the concussion are truly gone … and only with an official doctor's note of approval," writes Gillett.
"For players, coaches, and parents, the philosophy to remember is: when in doubt, sit it out."