Posts Tagged 'infertility treatment'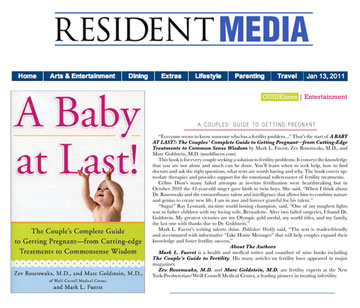 Welcome to my new blog. My current news is the positive responses I've been getting regarding my latest book, A Baby At Last!
A very favorable review ran in this month's issue of the Resident magazine.
A Couples' Guide to Getting Pregnant
"Everyone seems to know someone who has a fertility problem…"  That's the start of  A Baby At Last!: The Couples' Complete Guide to Getting Pregnant—from Cutting-Edge Treatments to Common Sense Wisdom by Mark L. Fuerst, Zev Rosenwaks, M.D., and Marc Goldstein, M.D.
This book is for every couple seeking a solution to fertility problems. It conveys the knowledge that you are not alone and much can be done. You'll learn when to seek help, how to find doctors and ask the right questions, what tests are worth having and why. The book covers up-to-date therapies and provides support for the emotional rollercoaster of fertility treatments.
Céline Dion's many failed attempts at in-vitro fertilization were heartbreaking but in October 2010 the 42-year-old singer gave birth to twin boys. She said, "When I think about Dr. Rosenwaks and the extraordinary talent and intelligence that allows him to combine nature and genius to create new life, I am in awe and forever grateful for his talent."
"Sugar" Ray Leonard, six-time world boxing champion, said, "One of my toughest fights was to father children with my loving wife, Bernadette. After two failed surgeries, I found Dr. Goldstein. My greatest victories are my Olympic gold medal, my world titles, and my family, the last one with thanks due to Dr. Goldstein."
Mark L. Fuerst's writing talents shine. Publishers Weekly said, "The text is reader-friendly and accentuated with informative 'Take Home Messages' that will help couples expand their knowledge and foster fertility success."
About the Authors
Mark L. Fuerst is a health and medical writer and coauthor of ten books including The Couple's Guide to Fertility. His many articles on fertility have appeared in major magazines.
Zev Rosenwaks, M.D. and Marc Goldstein, M.D. are fertility experts at the NewYork-Presbyterian/Weill Cornell Medical Center, a leading pioneer in treating infertility.
By Dorri Olds