January 18th, 2011 |

Author:
Mark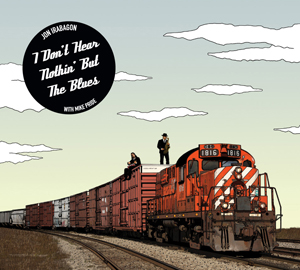 I took my daughter, Sarah, age 13, to a concert about 10 days ago to to hear her drum teacher, Mike Pride, and tenor saxophonist Jon Irabagon play a gig in nearby Brooklyn. These guys are two of the hottest young jazz players, and their album "I Don't Hear Nothin' But the Blues" was named one of the top jazz albums in 2009.
Just before the show at Barbes in Park Slope, I took another listen to the album, which is only one, 47-minute long cut.  There's just the two of them, a sax and a drummer.  Critics say they sound like John Coltrane or Sonny Rollins, but I hear some Ornette Coleman in there, too.
Even with the listen, I wasn't prepared for the powerful, raw energy from this duo  in person. It was like listening to a conversation between two well-versed, highly intelligent friends. The basic motif came back three times during the extended jam. In between, we heard Jon's braying sax and Mike's thrashing beats as they constantly traded licks.
At the end, Mike introduced me to Jon, and I told them that I had the privilege to hear 90-plus minutes of their music, half live, half on CD. "The live version was the same, but totally different!" I told them. The feathery themes were still there, but the improv parts were recalibrated.
I know the show was an eye-opener for Sarah, who's more into pop music (think Justin Bieber) than avant-garde jazz. She got to play her first gig last summer at Rockinsummercamp, a week-long day-camp that ended  with a performance of a handful of rock covers at a small club. "Why did they play with their eyes closed?" she asked. I suggested that may have helped them to listen  to each other better. We both agreed that the farting-like sound Jon made into his reed at times was weird, but we said we definitely wanted to see them again to see what else they could cook up between them.

Posted in
Music
|

Tags:
drums
,
jazz
,
Jon Irabagon
,
Mike Pride
,
music
,
rock music
,
saxophone
|

No Comments »