Posts Tagged 'national childhood obesity awareness month'
What is the top health concern adults have for children?
The answer is obesity (tied with drug abuse), according to the 5th annual survey of the top 10 health concerns for kids conducted by the University of Michigan C.S. Mott Children's Hospital National Poll on Children's Health.
September is National Childhood Obesity Awareness Month and the cause comes with good reason.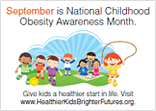 More than 23 million American children and teenagers are overweight or obese, which puts them at risk for Type 2 diabetes, high blood pressure, heart disease, and even stroke, diseases usually only seen among adults.
Last year, the White House Task Force on Childhood Obesity, created by the president as part of first lady Michelle Obama's "Let's Move" campaign, aimed to solve the childhood obesity epidemic.
"Let's Move" set out 4 primary goals: educate and empower parents, provide more-healthful foods in schools, increase access to healthful foods in underserved neighborhoods and encourage more physical activity.
But prevention programs alone are not enough for children who are already obese, particularly minorities, say University of Michigan researchers.
"Because so many children are already obese, there need to be greater efforts focused on treatment if we're going to have success," says Joyce M. Lee, MD, MPH, a clinician at University of Michigan C.S. Mott Children's Hospital.
Prevention strategies alone, particularly for minority children, will not help the White House Task Force reach its goal, wrote Lee, the lead author of an article published online ahead of print in Obesity Journal.
Rates of childhood obesity in the U.S. are much higher for minority children, with 20% of black and Mexican-American children affected, compared with just 15% for Caucasian children.
Better diet, including access to healthful and affordable foods, is just one part of the solution for minority children.
Last December, research published in Medicine & Science in Sports & Exercise noted that the most overweight and obese ethnic groups are also some of the most active.
Combating childhood obesity is a complex mix of physical activity, nutrition, weight management, and fitness.
The Awareness Month is one of the creative solutions needed to help curb this epidemic.
To find out more about National Childhood Obesity Awareness Month, check out the website that offers a free, downloadable toolkit filled with resources and ideas.
The website includes an events calendar, so you can list events taking place in your community that support the goals of the month.
To make it more personal, you can take small steps on your own — eat more balanced meals and snacks and engage in physical activity more regularly — and let family members and friends know about your personal plan and commitment.