Posts Tagged 'New York Knicks'

February 15th, 2011 |

Author:
Mark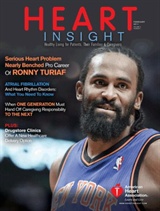 My latest cover story for Heart Insight (February 2011 issue) is about Ronny Turiaf, the veteran basketball player who had a serious heart problem that nearly benched his pro career. Here's an excerpt from the article:
Anyone who watches Ronny Turiaf play basketball can plainly see he puts his heart and soul into each game. But fans may not realize that a life-threatening heart condition nearly ended his professional career before it began. His own health scare and successful open-heart surgery inspired the New York Knicks center to become a passionate advocate for heart-health awareness.
After a stellar college career at Gonzaga University in Spokane, WA, Ronny was selected by the Los Angeles Lakers in the second round of the 2005 National Basketball Association Draft. A routine physical examination turned up a heart abnormality, and an echocardiogram confirmed there was a bulge in his aorta right at the root, where the artery connects to the left ventricle of the heart. The condition was deemed serious enough to require surgery.
"My surgeon gave me two choices — not play basketball again and do limited physical activities, or have surgery. It was impossible for me to stop playing basketball and not continue to help my family," says Ronny, who had left his home on the French island of Martinique at the age of 14 to play high school basketball in France. He chose the surgery without hesitation.

Posted in
Medicine
,
Sports Injury
|

Tags:
basketball
,
heart problem
,
National Basketball Association
,
New York Knicks
,
Ronny Turiaf
|

No Comments »