Posts Tagged 'premature menopause'
Cancer treatments such as chemotherapy and radiation can cause a woman to experience premature menopause and diminish her chance of getting pregnant. Similarly, chemotherapy, radiotherapy, or radical pelvic surgery can reduce a man's ability to produce sperm.
In fact, 140,000 men and women younger than 45 years old face a cancer diagnosis each year.
But all is not lost for those who suffer from infertility caused by cancer treatments. Many survive treatment and are still young enough to have children.
There are ways to preserve a woman's fertility, including freezing embryos, freezing her eggs, or freezing tissue from her ovaries before she goes for cancer treatment.
In the first and most effective method, a woman can undergo an IVF stimulation cycle, and the retrieved eggs can be fertilized with her partner's or donor sperm.
The newly created embryos are then frozen with the anticipation that she will have the embryos replaced back to her uterus when she is cured.
That's just what Ewelina and Dominic Saputo did.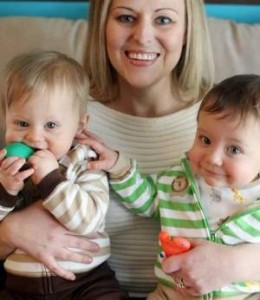 Ewelina received a leukemia diagnosis when she was 23, and she and her then finance went through the process to create and freeze embryos, according to a recent Detroit Free Press article.
Six years later, the young couple from Sterling Heights, MI, just north of Detroit, went through an IVF procedure, and they now have twin, 10-month-old boys, Julian and Antonio.
For men, sperm collected before cancer treatment can be saved for many years.
World-renowned cyclist Lance Armstrong became a father for the fourth time after his sperm were preserved before his treatment for testicular cancer.
One of the innovative techniques available to men is to obtain tissue samples with a tiny needle and then use them to fertilize an egg stored for later use, which is called testicular sperm extraction.
The newspaper article includes a nice chart of simple or minimally invasive techniques available or coming soon to leading fertility programs for both men and women.
If you receive a cancer diagnosis, ask your oncologist how you can preserve your fertility.
New IVF techniques have taken fertility preservation to a whole new level.