Posts Tagged 'reconstructive surgery'
A good friend of mine's son is backing playing Ultimate frisbee, having torn up his knee last spring playing Freshman football in high school.
Reconstructive surgery repaired Sam's two torn knee ligaments, including the anterior cruciate ligament (ACL), a critical ligament that stabilizes the knee joint.
ACL injuries are quite common among young athletes and have become more prevalent over the past decade as more youngsters participate in sports such as football, soccer, volleyball, and basketball, which are hard on the knees.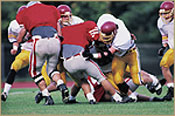 Recent research has found that screening tools, such as "hop" or isokinetic (computer/video) tests to identify neuromuscular deficits, may identify athletes more likely to suffer ACL injuries.
Biomechanical studies have led to the development of neuromuscular training programs to improve neuromuscular control and reduce ACL injury rates.
Now research led by doctors from New York-Presbyterian/Columbia University Medical Center has found that universal neuromuscular training — which focuses on the optimal way to bend, jump, land, and pivot the knee — is an effective and inexpensive way for young athletes to avoid ACL sprains and tears.
The researchers reported their results at the American Academy of Orthopedic Surgeons annual meeting on March 14, 2014.
The research team evaluated 3 strategies for young athletes: no training or screening, universal neuromuscular training, and universal screening with neuromuscular training only for identified high-risk athletes.
Risk of injury, risk reduction from training, and sensitivity and specificity of screening were based on published data from clinical trials.
Costs of training and screening programs were estimated based on existing literature.
Using a model based on data from recent clinical trials, the researchers evaluated a hypothetical group of student athletes ages 14 to 22.
They found that universal training reduced the incidence of ACL injury on average by 63% while the screening program reduced the incidence rate on average by 40%.
Of 10,000 athletes, the model predicted 300 ACL injuries in the no-screening group, 110 in the universal training group, and 180 in the universal training/screening for "at risk" group.
What's more, by reducing the risk of ACL injury universal training would save an average of $275 per player per season.
"While we were not surprised that training was more cost effective than no intervention, we were impressed by the magnitude of the benefit," said lead researcher Dr. Eric Swart, an orthopedic resident at New York-Presbyterian/Columbia University Medical Center.
"According to our model, training was so much less expensive and so much more effective than we anticipated.
In addition, fewer players injured means fewer surgical reconstruction procedures, which also saves money."
He believes that widely implementing a universal training strategy could actually pay for itself in terms of injuries prevented and surgeries avoided.
And that's doesn't include saving youngsters from the pain and anguish of recovering from major surgery.
Neuromuscular training may be too late for Sam, who continues to do physical therapy to strengthen his leg muscles to support his rebuilt knee.
But thousands of other young athletes could certainly benefit from better training to avoid devastating knee injuries.
Young, active athletes with anterior cruciate ligament (ACL) injuries can rehabilitate their damaged knees and avoid reconstructive surgery.
In 2010, researchers from Lund University in Sweden reported that 60% of all ACL reconstructions could be avoided in favor of rehabilitation with experienced physiotherapists.
The study made waves around the world, and the results were met with concerns that they would not hold up in the long term.
Now a 5-year follow-up confirms that reconstructive surgery does not provide better results than physiotherapy, according to a new report in the British Medical Journal.
Half of the 120 patients, average age 26, were randomly assigned to early ACL reconstruction and the other half were given the option of having a delayed ACL reconstruction, if needed.
Half of the patients assigned to delayed ACL reconstruction had reconstructive surgery after experiencing symptoms of instability.
"In this study, there was no increased risk of osteoarthritis or meniscal surgery if the ACL injury was treated with physiotherapy alone compared with if it was treated with surgery.
Neither was there any difference in patients' experiences of function, activity level, quality of life, pain, symptoms, or general health," says lead author Richard Frobell.
In southern Sweden, Lund and his colleagues have been working to use advanced rehabilitation training as the first method of treatment.
"Our research so far has confirmed that we are right in not choosing to operate on these injuries immediately," says Lund.
"These results should encourage clinicians and young active adult patients to consider rehabilitation as a primary treatment option following an acute ACL tear."
He points out that half of the 10,000 scientific publications addressing the ACL are about surgical treatment.
However, none of these studies have shown that surgical reconstruction produces better results than rehabilitation alone.
Despite this, American surgeons perform 200,000 ACL surgeries each year.
I know that if my 19-year-old son rips up his ACL snowboarding, I will strongly suggest he rehab it before going under the knife.