Posts Tagged 'sperm count'
The You Docs — Mehmet Oz, host of "The Dr. Oz Show" and Mike Roizen of the Cleveland Clinic — the authors of several best-selling health books, write about a sperm improvement plan in a recent syndicated column.
"Healthy sperm and a robust sperm count improve your odds that a single sperm will survive its ultra-marathon journey and meet an eligible egg," they write.
To give your sperm a healthy "makeover" and improve your fertility, take these 8 steps for super-swimmer sperm:
1. Eat less (like none) of the bad fats and more of the good ones.

Eating lots of saturated fat — found in red meats, processed meats, full-fat dairy products and many snack foods and desserts — can reduce sperm counts by 38%, and slow the swimming ability of the remaining 62%.
But getting more omega-3 fatty acids from fish like salmon and wild trout means higher counts.
To get more omega-3s you can also take a supplement of 1,500 mg DHA (the most active omega-3) daily for 10 weeks, then cut back to 1,000 mg a day.
2. Hang out at the farm stand.

Filling up on fruit and veggies protects sperm quality and quantity by revving up your body's defenses that keep them healthy.
3. Add vitamin D-3 and zinc.
Plenty of vitamin D-3 helps sperm swim better and faster.
Aim for 1,000 IU a day from a D-3 supplement.
Add 12 mg of zinc a day for a healthy sperm count and superior shape.
Great and healthy food sources of zinc include poultry, beans, cashews and no-fat, no-added-sugar yogurt.
4. Get that laptop off your lap and your phone out of your pocket.

Surfing the web or checking email with a Wi-Fi-connected laptop humming in your lap is bad news for sperms' swimming skills and the precious DNA cargo they carry.
Phones may hamper male fertility, too.
5. Keep cool where it counts.
Sperm production needs temperatures cooler than the rest of your body, which is why hot tubs, a fever and even a desk job can torpedo your count.
Take stand-up breaks at work, let 'em breathe, and make the switch to boxers from briefs.
Tight skivvies can reduce sperm counts by up to 50 percent.
Cyclists, mix up your exercise routine, too.
6. Skip the drinks and smokes.

Smoking slashes your sperm count by 13-17% and triggers genetic abnormalities.
There's evidence marijuana is also bad news.
More than one beer, glass of wine or cocktail a day also messes with sperm quality.
After two drinks, sperm get mixed up and travel in weird directions.
7. Stay trim for your swimmers.

Adding extra pounds subtracts from your sperm count and ups the number of abnormal sperm in your arsenal.
Why?
Obesity may alter hormone levels and heat up your testicles.
8. Don't hold back in the bedroom.
Daily fun between the sheets improves sperm quality dramatically.
Compared to several days of abstinence, daily intimacy reduces DNA damage in sperm by about 30%.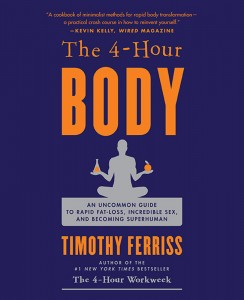 In his new best-selling book, The 4-Hour Body: An Uncommon Guide to Rapid Fat-loss, Incredible Sex, and Becoming Superhuman, Tim Ferriss sets out to rewrite the rules on how to reshape your body. He describes how he developed a minimalist approach to fitness and health, using himself as a human guinea pig to test every fad, diet, supplement, and workout he could find to identify the things that really work.
The back cover boasts about a dozen things you will learn (in less than 30 minutes), including how to double your sperm count. Ferriss has some interesting ideas here, which I ran by Marc Goldstein, MD, who is the Director of the Center for Male Reproductive Medicine and Microsurgery at Weill Cornell Medical Center, and one of my co-authors of A Baby at Last!.
Ferriss had his sperm tested in his early 30s after a friend developed testicular cancer. Even though he was in top physical shape, his sperm count was borderline normal. After researching the medical literature, he hit upon the effects of cell phone radiation on sperm. So the first thing Ferris did was to remove the cell phone from his pants pocket and carry it either in an armband or in the front pocket of a backpack.
Good idea says, Dr. Goldstein: "I agree with that. Rat studies were randomized controlled studies and indicate live cell phones near testicles might have a negative effect. I give that advice to my patients. I include this in my updated list of lifestyle changes to preserve a man's fertility."
In addition, Ferriss started cold treatments, taking short ice baths and/or cold showers 10 minutes upon waking and before bed, even though he admits that the effects on sex hormones are largely untested. And he began eating Brazil nuts, which contain selenium, a mineral Dr. Goldstein says has been shown to increase sperm production and sperm quality.
After 11 weeks, Ferriss had his sperm tested again, and says he nearly tripled his motile sperm (the number of good swimmers) per ejaculate. His ejaculate volume increase by 44%, motile sperm per millimeter by 100%, and motile sperm per ejaculate by 185%.
"The increases in his numbers are well within the large range of variability seen in multiple semen analysis in the same man," says Dr. Goldstein. "They could have nothing to do with the changes he made unless he didn't mention that he also stopped drinking heavily and using drugs." Ferriss doesn't say anything about limiting alcohol or drug use.
Ferriss also recommends that men over age 30 highly consider storing their sperm because, in general, men are becoming more infertile, many medical conditions and procedures can render men infertile, and men may change their minds about wanting kids, so why not do it?
Dr. Goldstein's advice is not so liberal: "Only store your sperm if you are going to be treated for cancer, or already have a critically low sperm count."
Ferriss has other intriguing ideas in The 4-Hour Body I'll comment about in the future.