Tai Chi can enhance balance, lower blood pressure, and improve mood, which are all important for stroke survivors.
People who have had strokes often suffer damage to the parts of the brain that help in maintaining balance.
Many people who suffer these problems with balance are more prone to falling and injuring themselves.
A handful of studies have evaluated Tai Chi as a rehabilitation exercise for stroke survivors.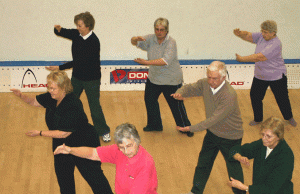 Now Arizona researchers have found that stroke survivors who learned Tai Chi had fewer falls compared with those who participated in an exercise program for older adults or those who received usual care to help them recover from a stroke.
"Learning how to find and maintain your balance after a stroke is a challenge," said Ruth E. Taylor-Piliae, Ph.D., R.N., the study's principal investigator and Assistant Professor at the University of Arizona College of Nursing in Tucson, AZ.
"Tai Chi is effective in improving both static and dynamic balance, which is important to prevent falls."
Taylor-Piliae presented the results of the study at the recent American Stroke Association's International Stroke Conference 2013 in Honolulu.
The study included 89 stroke survivors, average age 70, who had suffered a stroke an average of 3 years prior to enrolling in the study.
The researchers randomly assigned the stroke survivors to one of three groups.
One third received Tai Chi instruction for 12 weeks.
Another third took a 12-week SilverSneakers® exercise class that focused on improving muscle strength and range of movement.
A third group received weekly follow-up phone calls along with written information encouraging them to be physically active.
The Tai Chi and SilverSneakers® classes met three times a week for an hour-long workout.
During the 12-week study, the researchers found that the Tai Chi group had the fewest number of falls (5) compared to those in the usual care group (15) and in the SilverSneakers® group (14).
Only four people who fell required medical treatment.
"The main physical benefits of Tai Chi are better balance, improved strength, flexibility, and aerobic endurance," Taylor-Piliae said.
"Psycho-social benefits include less depression, anxiety and stress, and better quality of life."
Previous studies have shown that Tai Chi may help improve clinical measurements of balance, for example, the ability to maintain balance or to reach and lean both forward and backwards.
"What's noteworthy about this small, but strong, study is the researchers measured actual falls, and showed that Tai Chi translated into a reduction in falls," says Peter Wayne, PhD, Assistant Professor of Medicine, Harvard Medical School, and Director of Research, Osher Center for Integrative Medicine at Brigham and Women's Hospital and Harvard Medical School, and author of the upcoming The Harvard Medical School Guide to Tai Chi.
Wayne and his colleagues, as well as other researchers, have shown that Tai Chi improves balance and the gait of people with various neurological conditions.
New studies are now underway to study Tai Chi in Parkinson's disease.
"Tai Chi training has the potential to translate into practical improvement in daily activities," says Wayne.
"It can help people get stronger and more flexible, and improve balance, including those with severe neurological injuries.
Tai Chi also reduces the fear of falling, which helps promote a more active lifestyle."
So the bottom line is that Tai Chi not only helps you feel better and have better balance, but you are less likely to fall.