Want to help keep your weight under control, improve your balance and range of motion, strengthen your bones, protect your joints, prevent bladder control problems, and even ward off memory loss?
Who wouldn't? Then try these 5 workouts recommended by Harvard Medical School:
1. Swimming.
You might call swimming the perfect workout.
The buoyancy of the water supports your body and takes the strain off painful joints so you can move them more fluidly.
"Swimming is good for individuals with arthritis because it's less weight bearing," explains Dr. I-Min Lee, professor of medicine at Harvard Medical School.
Research finds that swimming can improve your mental state and put you in a better mood.
Water aerobics is another option to help you burn calories and tone up.
2. Tai Chi.
Tai chi — a Chinese martial art that incorporates movement and relaxation — is good for both body and mind.
In fact, it's been called "meditation in motion."
Tai chi is made up of a series of graceful movements, one transitioning smoothly into the next.
"Tai chi often leads to more vigor and energy, greater flexibility, balance and mobility, and an improved sense of well being," says Peter Wayne, PhD, Director of Research, Osher Center for Integrative Medicine Brigham and Women's Hospital and Harvard Medical School, and author of the upcoming book, The Harvard Medical School Guide to Tai Chi.
"Cutting-edge research now lends support to long-standing claims that Tai Chi has a favorable impact on the health of the heart, bones, nerves and muscles, immune system, and the mind."
Tai chi is accessible, and valuable, for people of all ages and fitness levels.
"It's particularly good for older people because balance is an important component of fitness, and balance is something we lose as we get older," Dr. Lee says.
3. Strength training.
If you believe that strength training is a macho, brawny activity, think again.
Lifting light weights won't bulk up your muscles, but it will keep them strong.
"If you don't use muscles, they will lose their strength over time," Dr. Lee says.
Muscle also helps burn calories.
"The more muscle you have, the more calories you burn, so it's easier to maintain your weight," says Dr. Lee.
4. Walking.
Walking is simple yet powerful.
It can help you stay trim, improve cholesterol levels, strengthen bones, keep blood pressure in check, lift your mood and lower your risk for a number of diseases (diabetes and heart disease for example).
A number of studies have shown that walking and other physical activities can improve memory and resist age-related memory loss.
5. Kegel exercises.
These exercises won't help you look better, but they do something just as important — strengthen the pelvic floor muscles that support the bladder.
Strong pelvic floor muscles can go a long way toward preventing incontinence.
While many women are familiar with Kegels, these exercises can benefit men too.
To do a Kegel exercise correctly, squeeze and release the muscles you would use to stop urination or keep from passing gas.
Alternate quick squeezes and releases with longer contractions that you hold for 10 seconds, release, and then relax for 10 seconds.
Work up to three 3 sets of 10-15 Kegel exercises each day.
Many of the things we do for fun (and work) count as exercise.
Raking the yard counts as physical activity.
So does ballroom dancing and playing with your kids or grandkids.
As long as you're doing some form of aerobic exercise for at least 30 minutes a day, and you include two days of strength training a week, you can consider yourself an "active" person.
I can't think of a better way to beat the heat of a hot summer day than a dip in a pool or the ocean.
I even deigned to dive through the waves at Atlantic Beach in East Hampton last Saturday.
The water was warm enough and I was hot enough.
A cool way to stay cool.
Swimming is probably the most nearly perfect form of exercise.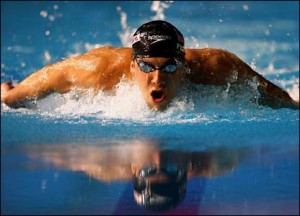 And you don't have to put in thousands of hours in the pool like Olympic champion Michael Phelps to get a good workout.
• It's non-weight-bearing and so imposes no stress on the bones and joints.
Even people with bad backs can exercise in the water without fear of injury.
• It exercises and strengthens the upper and lower body.
• It's an exercise in which it's easy to reach your training range (which exercises your heart) and maintain it.
• It's an effective weight-control exercise.
An hour of vigorous swimming burns about as many calories as running 6 miles in an hour.
• It's a form of meditation.
It calms your nerves in addition to providing a good workout.
• It's a good exercise for people with exercise-induced bronchospasm.
People with this condition are unable to warm and moisten the air to the lungs when they breathe hard.
Although swimming isn't considered a sport that leads to injuries, serious swimmers often have problems with their shoulders.
The most common injury is referred to as "swimmer's shoulder" and can affect up to 70% of competitive swimmers.
Swimmer's shoulder is basically a rotator cuff sports injury.
The rotator cuff muscles, which hold the head of the shoulder in the joint, are not meant to be overstressed with the arm at an angle above parallel to the ground.
All swimming strokes (except the breaststroke) place the arm in this over-the-head position and stress these muscles as the arm is pulled through the water.
The small rotator cuff muscles become stretched, allowing the head to slip around in the shallow socket.
As it slips, it catches the bicep tendons, pinching them and causing pain.
If you feel shoulder pain after swimming, rest for several weeks and then modify your training program by using a kickboard or doing the breaststroke to maintain conditioning.
Combine this with a shoulder-strengthening program using light weights.
Here are some more tips on how to minimize the risk of a shoulder injury from John Cavanaugh, PT, a physical therapist at Hospital for Special Surgery in New York City:
• Do not attempt to swim if you are too tired, too cold, or overheated.
• Make sure to warm up properly.
• Focus on swimming technique. Poor technique can leave you more prone to injury.
• Engage in a general exercise program on land to develop muscle strength, endurance, balance, and flexibility. This includes strengthening the core abdominal muscles.
• Do not swim vigorously if you have a fever, upper respiratory infection, or ear infection.
• If you are training for a triathlon, note that the swim is completely different from pool swimming.
Generally, in open water, you can't see where you're going and there are people all around you.
Be aware of the bodies and avoid them as much as you can.