Posts Tagged 'The 4-Hour Body'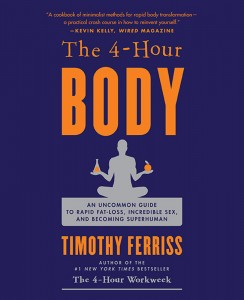 In his new best-selling book, The 4-Hour Body: An Uncommon Guide to Rapid Fat-loss, Incredible Sex, and Becoming Superhuman, Tim Ferriss sets out to rewrite the rules on how to reshape your body. He describes how he developed a minimalist approach to fitness and health, using himself as a human guinea pig to test every fad, diet, supplement, and workout he could find to identify the things that really work.
The back cover boasts about a dozen things you will learn (in less than 30 minutes), including how to double your sperm count. Ferriss has some interesting ideas here, which I ran by Marc Goldstein, MD, who is the Director of the Center for Male Reproductive Medicine and Microsurgery at Weill Cornell Medical Center, and one of my co-authors of A Baby at Last!.
Ferriss had his sperm tested in his early 30s after a friend developed testicular cancer. Even though he was in top physical shape, his sperm count was borderline normal. After researching the medical literature, he hit upon the effects of cell phone radiation on sperm. So the first thing Ferris did was to remove the cell phone from his pants pocket and carry it either in an armband or in the front pocket of a backpack.
Good idea says, Dr. Goldstein: "I agree with that. Rat studies were randomized controlled studies and indicate live cell phones near testicles might have a negative effect. I give that advice to my patients. I include this in my updated list of lifestyle changes to preserve a man's fertility."
In addition, Ferriss started cold treatments, taking short ice baths and/or cold showers 10 minutes upon waking and before bed, even though he admits that the effects on sex hormones are largely untested. And he began eating Brazil nuts, which contain selenium, a mineral Dr. Goldstein says has been shown to increase sperm production and sperm quality.
After 11 weeks, Ferriss had his sperm tested again, and says he nearly tripled his motile sperm (the number of good swimmers) per ejaculate. His ejaculate volume increase by 44%, motile sperm per millimeter by 100%, and motile sperm per ejaculate by 185%.
"The increases in his numbers are well within the large range of variability seen in multiple semen analysis in the same man," says Dr. Goldstein. "They could have nothing to do with the changes he made unless he didn't mention that he also stopped drinking heavily and using drugs." Ferriss doesn't say anything about limiting alcohol or drug use.
Ferriss also recommends that men over age 30 highly consider storing their sperm because, in general, men are becoming more infertile, many medical conditions and procedures can render men infertile, and men may change their minds about wanting kids, so why not do it?
Dr. Goldstein's advice is not so liberal: "Only store your sperm if you are going to be treated for cancer, or already have a critically low sperm count."
Ferriss has other intriguing ideas in The 4-Hour Body I'll comment about in the future.