Posts Tagged 'wellness coaches'
A new breed of health professional – wellness coaches – appeared on the healthcare scene about a decade ago.
Thousands of wellness coaches now serve as partners with their clients to elicit agendas and co-discover solutions.
The clients of wellness coaches learn how to lose weight, exercise more, and change their lifestyles with lasting results.
Wellness coaches differ from life coaches, personal trainers, or therapists because they use science-based techniques to enhance motivation, self-confidence, and self-regulation, says Margaret Moore, founder and CEO of Wellcoaches Corporation.
"Studies show wellness coaches help instill long-lasting habits that, over time, become part of the brain's hardwiring," says Moore, who is also co-director of the Institute of Coaching at McLean Hospital, an affiliate of Harvard Medical School, and a founding advisor of the Institute of Lifestyle Medicine at Harvard Medical School.
With more than a dozen years' worth of wellness coaching experience, Moore has guided thousands of coaches and hundreds of clients to make the changes toward leading healthier lives.
On a CBS TV broadcast last week, Moore said "the coach is really trained to help you take a bigger picture of you, over all aspects of your health and wellness and then come up with a formula that combines all of these things together."
And "the coaching world has come up with skills to help people make changes that last," she said.
The TV report noted that the National Consortium for Credentialing of Health & Wellness Coaches is currently working to develop a national certification for wellness coaches.
In collaboration with the American College of Sports Medicine, Wellcoaches is helping to lead this initiative.
Wellness coaches work with people to improve their health and well-being in a way that lasts.
One of the nation's top wellness coaches, Margaret Moore, aka Coach Meg, is the founder and CEO of Wellcoaches Corporation, a leader in building international standards for professional coaches in health and wellness.
She is the co-author of a new book, Organize Your Mind, Organize Your Life, with Harvard Medical School psychiatrist Paul Hammerness, MD, and writer John Hanc.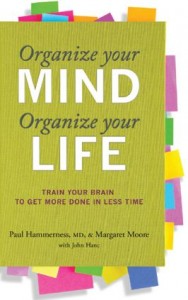 This well-written book does a great job in describing the latest neuroscience research on the brain's extraordinary built-in system of organization, and translates that science into solutions.
One section on "Foster Positivity" hit home with me.
Moore mentions research by Barbara Fredrickson, a leader in the field of positive psychology, that states you need at least a 3:1 ratio of positive emotions to negative emotions for your brain to function at its best.
In other words, you need a 75/25 positive energy ratio to succeed.
Moore lists some ways you can work on the most common positive emotions that Fredrickson has identified:
— Cultivate curiosity about and interest in the challenge of change.
— Seek inspiration form others who have been successful.
— Be grateful for something, anything.
— Savor small moments on the journey.
— Enjoy the pride of doing something well — appreciate even small steps forward.
— Celebrate early wins.
It's very easy to ruminate on the negative.
It's less familiar to focus on the positive.
— Have fun.
Making positive changes in your life can be extremely enjoyable, says Moore.
Discover joy in the process of changing, and you probably will change.