When the administrators of the Milton Hershey School recently reviewed the school's BMI data they realized they had a problem.
The school administration knew they could make a difference in the students' lives by making health and fitness a priority this school year by highlighting physical activity and nutrition.
Most students at the private school in Derry Township, PA, live at the school, which is funded by the Milton Hershey School Trust.
The new approach, called the "Wellness Revolution", includes the school's 5-hour rule.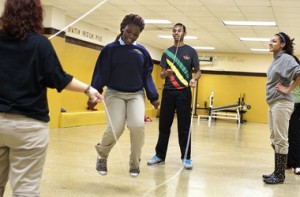 Students must account for 5 hours of physical activity beyond normal school hours between Monday and Sunday, according to an article in local daily newspaper, The Patriot-News.
There's no mandated activity; no sit-up requirement or 10,000 steps to count.
Instead, the school's staff put together a list of activities — from ice hockey, to bicycle riding to weight lifting and swimming — and let the students follow their own desires, writes reporter Nick Malawskey.
As expected, there was some grumbling at first.
But the students have gotten into the groove.
Some of their physical activities include Zumba, turbo kickboxing, and yoga.
Menus at the school have changed as well.
Chicken nuggets, ramen noodles, and spaghetti are out.
Vegetables and buffalo chicken salad are in.
The students said they're more conscious about what goes into their food — keeping an eye out for high fructose corn syrup and saturated fat content — than they were before, reports Malawskey.
It will take a few years to compile data to see how well the Wellness Revolution is working.
But some students have already lost more than 30 pounds and say they feel better.
If they learn how to maintain a healthy lifestyle, the real gain will be in the prevention of obesity and other chronic diseases when they go off on their own into the real world.